Wha­t's this?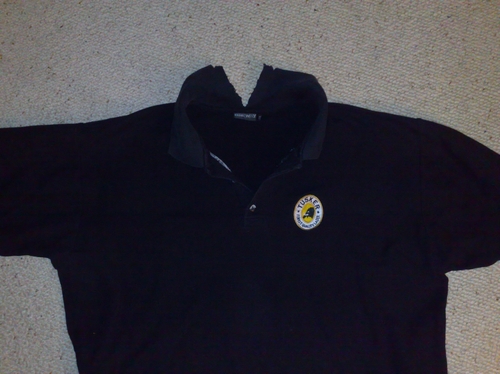 Blog mate­ri­al.
No, serious­ly — what you see here is my bro­ken Tus­ker polo shirt.
Bought this One-Way XXL shirt some­time in 2006 and after only 4 mon­ths in use, the col­lar sud­dendly fell apart. Obvious­ly, the­re's some­thing to the one-way name that did­n't qui­te appe­ar to me when I coughed up the mbe­ca for this Tus­ker goo­die. Also, "XXL" is meant to be read: "this shaat will shrink once you hand-wash (!) it at 30°C".
A tailor in Embu even tried to fix it the other day but it just would­n't work. Appar­ent­ly, the col­lar went into ear­ly retirement.
I am the polo shirt guy. Tha­t's why you'll hard­ly ever see me in t‑shirts. Bar­Camp Nai­ro­bi shirt? Africantees.com? Naaa.…no polo shirt (no col­lar), no deal with JKE.
Actual­ly, I just bought this polo shirt becau­se of the TUSKER logo, but then: I would­n't mind if the­re was "JKE" on it ins­tead, as long as it comes in a good qua­li­ty. Some­thing that will stay in shape after washing (and mind you, I am not using any dry­er), won't expand like tho­se many Made-in-Ban­gla­desh clothes as found @ H&M & Zara and tha­t's still affordable.
Wha­t's the best shirt then? I hate to admit it, but I qui­te like the­se Ralph Lau­ren clas­sic polo shirts becau­se — if ori­gi­nal — they'll just be as solid as Bar­bour wax jackets.
The other day I deci­ded to get a used (ati, I am cheap..) RL polo shirt from eBay and…well…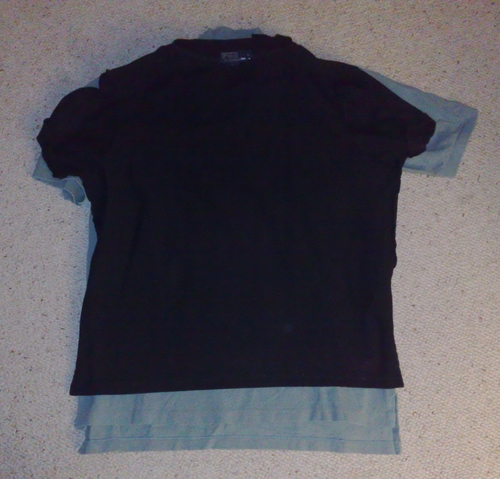 …baaad idea. What you see abo­ve are two RL polo shirts in size XL. The tur­quoi­se one is my old one, the black one on top is the "new" used one from eBay. Can you see the dif­fe­rence? Ati­ri­iri…how am I sup­po­sed to cover my Tus­ker bel­ly with such a short shaat?
So, becau­se I know I am not the only one out here with pecu­li­ar dres­sing habits, let me ask you: is the­re any brand out the­re you can recom­mend? Any polo shirts that will just remain in shape after the 20th washing and that come without any stu­pid logos or bran­dings? I know you folks from the USA will laugh about this, but the­re seems to be a dif­fe­rence bet­ween the clothes you can buy in Euro­pe and tho­se you'll get in the US. Even if they are all made in some low cost countries.
@Bwana Kobia: polo shaats @Africantees and I'm your next customer! :-)