I've atten­ded the IFAT 2008 today — the "15th Inter­na­tio­nal Tra­de Fair for Water — Sewa­ge — Refu­se — Recy­cling". The­re's an IFAT in Chi­na and one in Munich, Ger­ma­ny. I had alrea­dy atten­ded the last IFAT in 2005 and was once again invi­ted to Munich this time around, with my focus being set on low-bud­get solutions.
As you may alrea­dy know, I am acti­ve in the field of sus­tainab­le sani­ta­ti­on and con­se­quent­ly tried to spot tho­se solu­ti­ons that go bey­ond the typi­cal high-tech gad­gets one would expect to (and will) find on such an inter­na­tio­nal tra­de fair. The IFAT real­ly is THE fair for all tech­ni­cal solu­ti­ons with 2.560 exhi­bi­tors and 120.000 visi­tors from all over the world. Think of was­te collec­tion, recy­cling machi­nes, com­ple­te sewa­ge tre­at­ment plants with all their pumps, scree­ning plants and tech­ni­cal sta­te of the start gui­de­li­nes. In short: if you'­re into envi­ron­men­tal engi­nee­ring, this is your fair.
I was still a bit dis­s­ap­poin­ted though to find almost the same pro­ducts I had come across in 2005 and, obvious­ly, most of them being from the high-tech ran­ge. In other words: high-tech = $$ (€€), but not necessa­ri­ly sustainable.
For examp­le, most sewa­ge tre­at­ment plants still pro­du­ce lots of sludge that needs to be pro­ces­sed, i.e. dried, com­pos­ted or inci­ne­ra­ted. To my mind, such a pro­ce­du­re is far from fol­lowing any sus­tainab­le con­cept. The only sus­taina­bi­li­ty to that is that it pro­vi­des a secu­red inco­me to tho­se com­pa­nies acti­ve in the sale of tre­at­ment opti­ons. The uti­li­sa­ti­on of sewa­ge sludge on the other hand is still dis­cus­sed on local levels though, which each federal sta­te (in Ger­ma­ny) having his own per­cep­ti­on of what *should* be done with it and how the law should be adjus­ted to pro­vi­de a legal frame­work aka the pres­su­re on the indus­try to act accord­in­gly. A ticking time bomb, I think. But any­ways, poli­tics are an evil game and the­re sure are lots of dif­fe­rent inte­rests at sta­ke here.
Ano­t­her examp­le could be the avai­li­bil­ty of various sor­ting machi­nes used in recy­cling dif­fe­rent frac­tions of plastics, glass, metalls and so on. Nice. But will they also allow an upcy­cling of pro­ducts? What they won't tell you, is that most recy­cled mate­ri­als only pro­vi­de enough qua­li­ty for a down­cy­cling pro­cess. Or take the refu­se inci­ne­ra­tors. You mean we should burn all *was­te* to gene­ra­te ther­mal ener­gy? Is that sus­tainab­le in any way? Again, the­re's a huge indus­try behind this — and they will make sure that this tech­no­lo­gy will always be sold.
Well, ins­tead of ela­bo­ra­ting any fur­ther cri­ti­cism, lem­me switch to the inte­res­ting part and show you some mixed visu­als I had cap­tu­red on the IFAT 2008:

One cra­zy exhi­bi­tor put up this masi­ve ice block on their stand. It las­ted from Mon­day to Fri­day (5–9 May) to melt approx. 20cm on each side. An impres­si­ve way to attract visitors…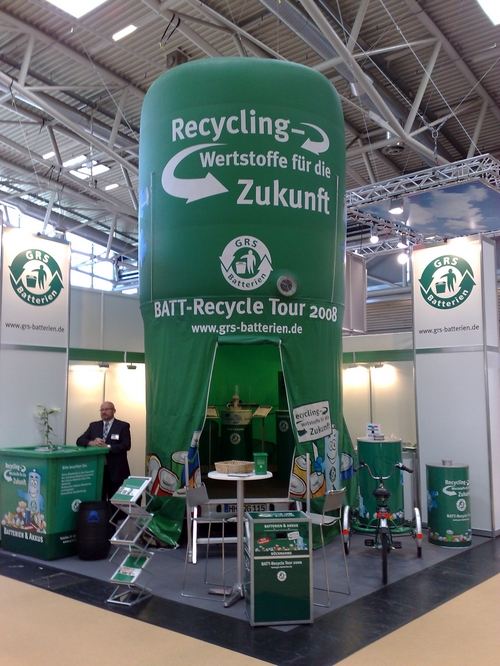 The bat­te­ry recy­cling booth. As men­tio­ned ear­lier, I am drea­ming about an Afri­ca-wide bat­te­ry recy­ling sys­tem which would help us remo­ve ticking time bombs from your local sham­ba. Let's face it: most ppl (world-wide) just dis­po­se of their empty bat­te­ries in the next takataka site. Would you want to have lea­king bat­te­ries sit­ting next to your suku­ma plants? Well — this sce­n­a­rio is still the norm, and ppl can't be bla­med for it becau­se a) they were pre­vious­ly used to orga­nic was­te (mai­ze combs, goat bones, etc.) and b) were given toxic pro­ducts. Bat­te­ries are harm­ful to the envi­ron­ment! So as long as they aren't pro­du­ced of envi­ron­ment­al­ly friend­ly mate­ri­als, we will need to collect them and, if pos­si­ble, try to recy­cle them. Pro­blem is: Only the con­tai­ned nickel will be of inte­rest and alrea­dy is a com­mo­di­ty with limi­ted avai­li­bi­li­ty. Hence any bat­te­ry recy­cling sys­tem would have to be big enough to cover a cri­ti­cal mass and also requi­re the sup­port of future genera­ti­ons who are well sen­si­ti­zed to this matter.
The Stif­tung Gemein­sa­mes Rück­nah­me­sys­tem Bat­te­rien (GRS) is a foun­da­ti­on for the recy­cling of bat­te­ries and finan­ced by all manu­fac­tu­rers of bat­te­ries in Ger­ma­ny. Again, the­re are tho­se bat­te­ries for sale in Euro­pe (and Kenya, for instance) which were made in Chi­na. Tho­se Asi­an manu­fac­tu­rers never paid their con­tri­bu­ti­on to this foun­da­ti­on, but an up-com­ing law will chan­ge this in future whe­re tho­se who put any bat­te­ries on the mar­ket will have to pay a levy. Good.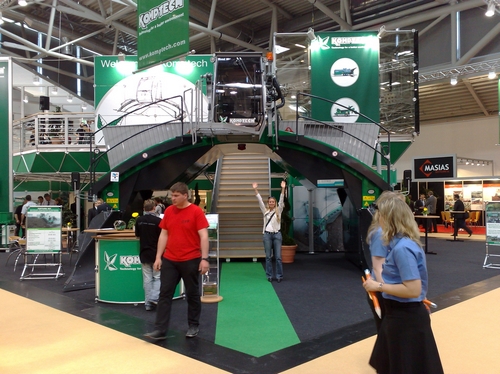 One of tho­se HUUUUGE self-pro­pel­led com­post tur­ning machi­nes.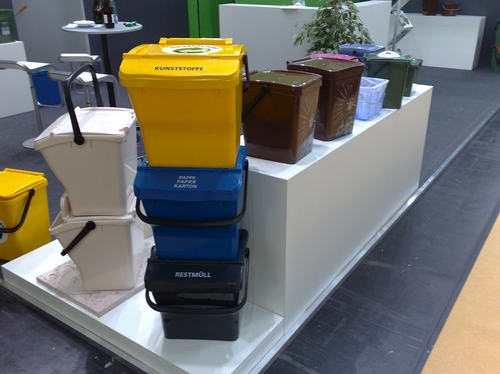 Nice litt­le colour-coded plastic con­tai­ners used for the sepa­ra­ti­on of house­hold was­te frac­tions, made by an Ita­li­an com­pa­ny. Tho­se grey colou­red ver­si­ons are alrea­dy in use in an Ita­li­en city — adjus­ted to the colour of the pave­ment so that they aren't that obvious (in regard to the Ita­li­en was­te collec­tion sys­tem which is dif­fe­rent from the Ger­man, also due to cli­ma­tic dif­fe­ren­ces). Lik­ed tho­se very much and thought that the­se sizes would prol­ly sell qui­te well if sold through IKEA (hint, hint). Cus­to­mers in Euro­pe want this (real­ly!) to sort their house­hold waste.

A din­ou­saur made out of old prin­ted cir­cuit boards and other electri­cal mate­ri­als. Obvious­ly, this com­pa­ny is into the E‑Waste business.

The Tal­king lit­ter­bin! Took this pic for fel­low blog­ger Afro­mu­sing :-)
The pro­duct mana­ger of this com­pa­ny — OTTO — the big­gest and best known manu­fac­tu­rer of public was­te collec­tion sys­tems (see pic­tu­re below with a wall full of this well-known black 2‑wheel con­tai­ner almost every pri­va­te house­hold in Ger­ma­ny owns) told me that a cus­to­mer had the idea of fixing solar panels on top of this lit­ter­bin and put­ting a moti­on sen­sor insi­de so that it actual­ly talks to you (e.g. "thank you, have a nice day", etc. — adjus­ta­ble). Well, I think that is a very smart and simp­le idea. Ima­gi­ne this ver­si­on in Kenya! Yani, it would "walk away" wit­hin a mat­ter of 2 days, sindiyo? ;-(
Still, the idea of com­bi­ning (simp­le, poly­li­thic) solar cells with appro­ved lit­ter­bin sys­tems is smart. I like it.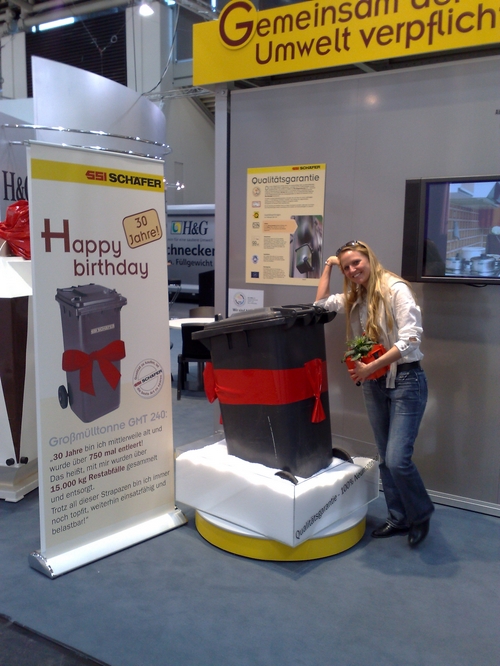 Tal­king of this well-known "Groß­müll­ton­ne", the­re was this 30 year old, used 2‑wheel con­tai­ner on dis­play. Sil­ke vol­un­te­e­red to jump in on the pic­tu­re as both were "born" in 1976 (this con­tai­ner is as old as she is and it is STILL in good con­di­ti­on). Impressive.

Yeah — tha­t's an old VW Golf II on top of this Ham­mel Pri­ma­ry Shred­der.
Sil­ke then told me: "Hey, you just took that pic becau­se of that *girl* in front of the machine."
Being the nerd I am, I only then rea­li­zed her sit­ting the­re and con­se­quent­ly told Sil­ke: "Hmm…ati, it's true, the­re's this beau­ti­ful blon­de vamp in front of the machi­ne. What a was­te. This sure is one machi­ne that will attract any man just becau­se it crus­hes cars. We like demo­li­ti­on. But it's an inte­res­ting sight. Lem­me blog this."
So here you go.
I actual­ly com­bed through all stalls at IFAT to find this inte­res­ting pie­ce of "fur­ni­tu­re" I had alrea­dy seen way back in 2005. Tha­t's a 4‑wheeled metal con­tai­ner nor­mal­ly used for collec­ting was­te — tur­ned into a comfy sofa. Smart!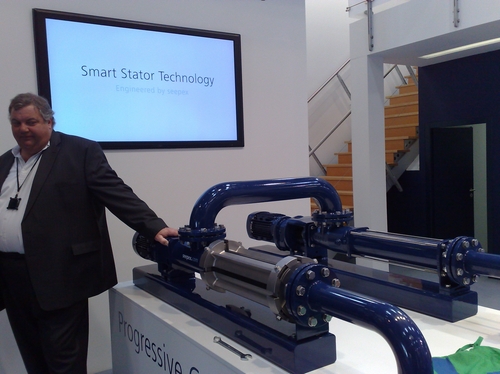 My new friend Keith from seepex.com. Keith is a Sales Mana­ger from the US who does­n't speak Ger­man, but he sure had an inte­res­ting pro­duct. See the­se two sta­tor pumps? The one on the right side is the con­ven­tio­nal pro­duct, the one on the left is the new­ly impro­ved ver­si­on com­ing with a 4‑piece cover that may be dis­sassem­bled wit­hin 6 minu­tes. The old one wit­hin 20 minu­tes. If you'­ve ever worked with such pumps, you will know the pain such a sys­tem will give you. With the new rub­ber housing, the exchan­ge of parts on this pump is such an easy game.
Keith gave me a ring span­ner to test it mys­elf and hey — I had lot's of fun dis­sassemb­ling and reas­semb­ling it wit­hin the given time­frame. This incon­spi­ciuous impro­ve­ment will be LOVED by many many frus­tra­ted fun­dis out there.…now tha­t's what I call a Smart Sta­tor Pump.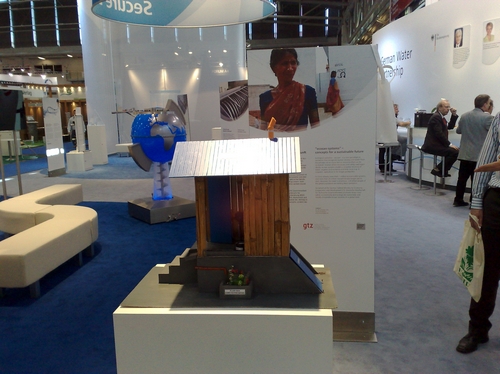 Even­tual­ly, "our" litt­le jua kali model of a Uri­ne Diver­si­on Dehy­dra­ti­on Toi­let (UDDT) on dis­play at the booth of new­ly foun­ded Ger­man Water Part­ners­hip (GWP). Ima­gi­ne the faces of the­se guys from GWP when we tur­ned up with our impro­vi­sed UDDT — a .….*ahem*.…low-budget? solu­ti­on on dis­play in a smal­ler sca­le, becau­se the­se approa­ches may not be a gua­ran­tee for huge reve­nues, but they sure clo­se the nut­ri­ent loop and pro­vi­de an effi­ci­ent use of was­te streams (fae­ces, uri­ne, grey­wa­ter). This is a model for sus­tainab­le sani­ta­ti­on. And bes­i­des, such toi­lets are alrea­dy in use all over the world (the model abo­ve was pre­pa­red by stu­dents from The Phil­ip­pi­nes, for instance) and pro­vi­de sani­ta­tio­nal faci­li­ties to tho­se are­as whe­re ppl just can't afford access to con­ven­tio­nal sani­ta­ti­on sys­tems. And tha­t's about 2,4 bil­li­on peop­le out the­re who are still lacking access to a decent toilet.
Ok, enough for the day. Hope the­se pic­tures could pro­vi­de you with some insight into the world of evi­ron­men­tal gad­gets, even though I belie­ve the real tech­ni­cal solu­ti­ons are still to be deve­lo­ped and will hope­ful­ly pro­vi­de much more sus­taina­bi­li­ty than wha­t's cur­r­ent­ly for sale. As long as low-bud­get / DIY solu­ti­ons are still con­si­de­red to be some­what "inap­pro­pria­te" for "deve­lo­ped" coun­tries, we'll prol­ly con­ti­nue run­ning sites like Afri­gad­get becau­se tha­t's whe­re tech­no­lo­gy meets peo­p­le's needs. The­re will pro­bab­ly always be a mar­ket for each niche, but let me be honest: the Worl­d's envi­ron­men­tal issu­es won't be sol­ved by high-tech machi­nes ONLY, but by smar­ter pro­ducts and bro­thers and sis­ters who will actively walk their talk on envi­ron­men­tal pro­tec­tion and start with clea­ning their own backyard.