The One Lap­top Per Child (OLPC) initia­ti­ve — yeah, "nice" — but let's look at rea­li­ty and at what we can / what we'­ve alrea­dy done in the past: inheri­ting a used, older com­pu­ter to a mem­ber of the exten­ded fami­ly — I call it the One Lap­top Per Fami­ly initiative :-)
Be it in Euro­pe, Afri­ca or the US — in most cases we (we as in "the com­pu­ter guys") aren't always around so what we'll often do is giving them a Win­dows XP machi­ne with basic soft­ware — hoping that they'll be respon­si­ble enough not to click on any stran­ge e‑mail attach­ments. But then, mal­wa­re may even enter a healt­hy sys­tem through swapa­ble media dri­ves, such as USB flash memo­ry sticks. With a gro­wing popu­la­ri­ty of the­se memo­ry dri­ves, a sys­tem is quick­ly infec­ted and delays pro­duc­ti­vi­ty or even ren­ders it useless. But what can we do instead?
A year ago, I gave my old desk­top com­pu­ter to my mum and left her with that WinXP instal­la­ti­on. She was a com­ple­te com­pu­ter new­bie back then and I knew that she would also attend some com­pu­ter trai­ning cour­ses whe­re they would teach her how to wri­te an MS Office Word docu­ment, hand­le MS Excel or even just wri­te an email, using MS Out­look (Express).
Knowing that I would­n't be able to help her when I am not around, I initi­al­ly had some doubts about this set­up and asked mys­elf if I shouldnt have gone for a Linux distro ins­tead — also sin­ce she was com­ple­te­ly new to com­pu­ters. Why Linux? Well, it's much more secu­re and I wouldnt have to worry about any mal­wa­re infec­ting the system.
Ear­lier last week, I'd paid her a visit and repai­red the com­pu­ter — reinstal­ling Win­dows XP becau­se I did­n't have enough time tea­ching her how to use Linux (Ubuntu/Freespire with an XPDE desk­top ) ins­tead and set­ting it up to work with all exter­nal devices.
And this is exac­te­ly whe­re the pro­blem is: what kind of ope­ra­ting sys­tem (OS) would / will / have YOU instal­led on tho­se machi­nes you'­ve left with your loved ones? Yes?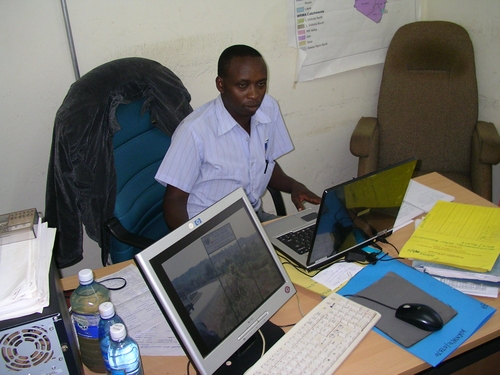 Zakayo @ work in his office (hey, you'­ve just been blog­ged, dude :-)
Take my col­league Abdou­laye, for instance. He stays in Paris, Fran­ce, works as a con­sul­tant in Frank­furt during the week and made the tra­gic mista­ke of buy­ing a desk­top-lap­top three years ago. "Desk­top-lap­top"? Well, it's an Asus Z8100 which comes with the same parts as a desk­top com­pu­ter, inclu­ding the bat­te­ry-eating cpu, a very loud fan, a hor­ri­ble bat­te­ry life and hea­vy weight. You wouldnt want to car­ry this machi­ne around with you. Alas, this is exact­ly what he has done in the past. So we are in the pro­cess of get­ting him a bet­ter machi­ne @ smal­ler size and made up plans how to set up his Asus Z8100 for use with his par­ents in (The) Sene­gal .
So the­re you are: an older com­pu­ter at your hands that will be given to the exten­ded fami­ly back home and the quest for a bet­ter ope­ra­ting sys­tem which *just* works.
With (a french ver­si­on of) WinXP, we'll sure find enough guys back home who'll pro­vi­de assi­s­tance in case of emer­gen­cy and it will also be pos­si­ble to con­nect a mobi­le pho­ne to the com­pu­ter (= inet access) with PC Sui­tes that are avail­ab­le online from Nokia, Sony Erics­son and so on.
But then — the­re SURE will be someo­ne unin­ten­tio­nal­ly infec­ting the machi­ne with mal­wa­re and/or or things hap­pe­ning that will quick­ly kill pro­duc­ti­vi­ty on this machi­ne. The alternative?
The alter­na­ti­ve could be a free and open (alter­na­ti­ve) ope­ra­ting sys­tem — such as Ubun­tu — but it lacks this out-of-box-expe­ri­ence to sup­port a mobi­le pho­ne and/or pro­vi­de instant inter­net access. Also, it will be har­der to find some local assi­s­tance in case of problems.
You see, the­re are cur­r­ent­ly many dif­fe­rent Linux distros out the­re that all do a nice job of pro­vi­ding an inte­res­ting alter­na­ti­ve — but which one of them pro­vi­des this out-of-the-box-expe­ri­ence so that any average dude or dudet­te out the­re may just down­load a fresh copy, burn it to a CD, take an older com­pu­ter, install it and give it to his/her fami­ly back home?
Some­thing that will auto­ma­ti­cal­ly set­up a mobi­le pho­ne to the machi­ne (given that mobi­le pho­nes / GPRS modems often are the only reli­able way of acces­sing the inet in rural or peri-urban are­as — pro­vi­ded that the area is cove­r­ed with a wireless/gsm net­work); some­thing that will auto­ma­ti­cal­ly sup­port most com­mon desk­top prin­ters; some­thing that will just work and pro­vi­de a maxi­mum con­nec­ti­vi­ty and secu­ri­ty even during power fail­u­res (no unsta­ble file sys­tems, that is).
This is why I think that initia­ti­ves like Ubun­tu and or the gene­ral pro­mo­ti­on of Free Open Source Soft­ware (FOSS) are much more important than giving out dedi­ca­ted hard­ware to users becau­se it's the soft­ware that makes the dif­fe­rence, not hard­ware. And yes, the OLPC initia­ti­ve is also nice + my under­stan­ding is that it was also deve­lo­ped to crea­te some rever­se-engi­nee­ring spi­rit with the kids. But then — it's still an invest­ment wher­eby we — as end users — could just as well hand out nor­mal hard­ware with an alter­na­ti­ve OS. Think of your old lap­top from 1999 and a copy of Edu­bun­tu …
So…if YOU know of any free and open ope­ra­ting sys­tem that pro­vi­des this fle­xi­bi­li­ty and "Luser" ‑com­pa­ti­bi­li­ty, pls feel free to drop a com­ment here so that we can all bene­fit. Thank you! :-)