As men­tio­ned ear­lier, I am cur­r­ent­ly sear­ching for a new tem­pla­te for this blog. Don't get me wrong — the cur­rent Siri­us the­me is gre­at and offers lots of com­fort and white­space, but it's from 2006 (dev unfor­tu­n­a­te­ly stop­ped sin­ce then which is such a pity!) and so I thought about going for a new one. Simp­le as that.
Most tem­pla­tes aren't that 100% per­fect though and/or still requi­re lots of twea­king. So what IF i come up with my own lay­out? Ins­tead of ste­aling some­thing from here or the­re and mixing it all up, let me just do some try&error sket­ching and pre­sent it here as a raw draft: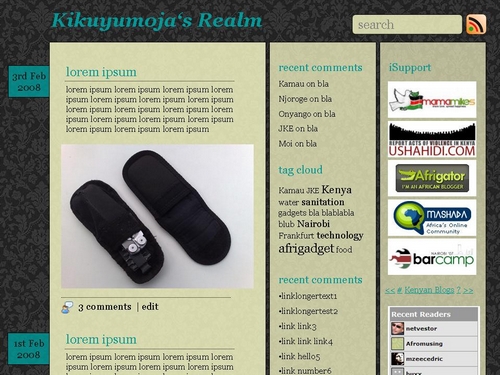 Actual­ly, I like this grey wall­pa­per, also have it on my desk­top. Wall­pa­pers are a bit too 1990s, but so what. Used to have no image on my desk­top to save RAM + keep it fast & clean, but nowa­days I just dont care. So, the basic idea was to crea­te some­thing around this wall­pa­per that doesnt look too ..ahh…stran­ge ? :-)
Next task was to see which colour may fit. I need lots of white­space due to my ina­bi­li­ty to inclu­de trans­pa­rent back­grounds to the smal­ler ban­ners. White­space loo­ks nice. Laki­ni here, the­re's no white­space. Only trans­pa­rent ebony(-white) sup­po­sed-to-be-slight­ly-roun­ded boxes that have a yel­low-ish touch to it. White on ebony/yellow — does that work?
Then the font colours. I somehow like that green/turquoise. Sijui why. May­be becau­se of my Kikoi ban­ner on the Siri­us theme.
As for fonts: GEORGIA! Lovely font.
Icons by Fam­Fam and 69mb (thx!).
1 con­tent bar, 2 side­bars. 1st side­bar for blog rela­ted links (recent comments, links, meta, etc.), 2nd side­bar for exter­nal pro­mo­ti­ons / goog­le adsen­se etc.
Thought about giving them some trans­pa­ren­cy — the most important one (= con­tent bar) with the lowest trans­pa­ren­cy and so on (as pictured).
Over­all width ~ 900 px, should dis­play @ 1024x768. Oh, and con­tent bar should be 505 — 530 px for all my 500px images + margins.
Ever­ything else is work in pro­gress. Befo­re I con­ti­nue, I would like to hear/read your HONEST opi­ni­on on this. Does this look OK or just hor­ri­ble? Remem­ber, I am the guy who does the­se things, so I may be a bit stran­ge sometimes…
Any feed­back is appreciated! :-)
Oh, and with white layers: