Just a short lon­ger note on some­thing I would actual­ly like to expand into a post for Afri­gad­get: mobi­le pho­ne repairs.
Back in 1998 when I first star­ted fixing my mobi­le pho­ne, things were a bit simp­ler. Fast for­ward in 2008, mobi­le pho­nes have beco­me a com­mo­di­ty and the­re are at least two or three guys in most rural towns (in Kenya and else­whe­re) that will know how to fix such a phone.
So why blog on it? — Becau­se it's the way ppl are loo­king for alter­na­ti­ve solu­ti­ons on how to fix an advan­ced mobi­le pho­ne based on SMD tech­no­lo­gy that makes the sto­ry interesting.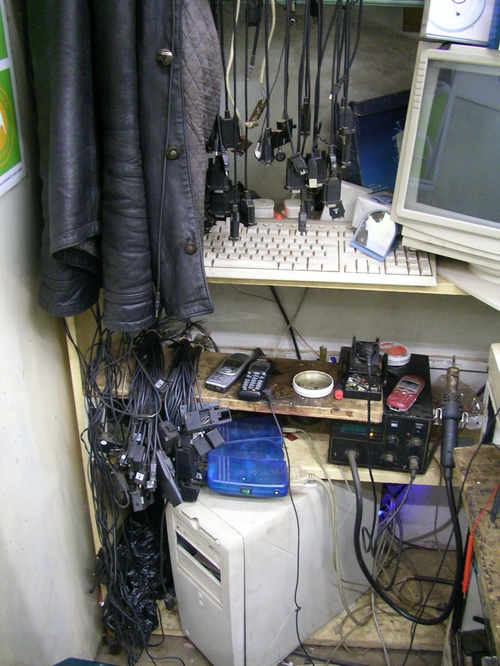 mobi­le pho­ne repair booth in down­town Nai­ro­bi, pic­tu­re taken in May 2006
In a world that has beco­me more and more modu­lar, whe­re spa­re parts are exch­ang­ab­le or pro­duct life cycles redu­ced to a life­time of about 2–3 years (best examp­le: prin­ters), not all is was­te or was­ted, and many things may often be repai­red with simp­le and some­ti­mes even very rough methods. Ask any mobi­le pho­ne repair shop @ Moi Ave­nue Nai­ro­bi and they will tell you how they mana­ged to save this or that pho­ne. This, to me, is espe­cial­ly inte­res­ting, as they are using simi­lar tools like other jua kali fun­dis in Euro­pe — in a dif­fe­rent envi­ron­ment. Whe­re­as pho­nes in Euro­pe are often owned and used by one per­son only, pho­nes in dev. coun­tries are often shared bet­ween fami­ly mem­bers or friends. No won­der Nokia came up with two new pho­ne models for emer­ging mar­kets the other day, offe­ring more than one phonebook / user pro­fi­le on a sin­gle pho­ne. Hence the need for a dif­fe­rent approach to ser­vice repairs…or not?
What you see abo­ve in the pic — and I desp. tried to get a decent pic of such a booth back in May 2006 when I last tried to cover this sub­ject — are nor­mal flas­her cables. Seri­al & par­al­lel cables, like data­ca­bles, ppl use to con­nect a pho­ne to a com­pu­ter to unlock a hand­set, flash the firm­ware or run some tests. Your hand­set is blo­cked by the net­work? Don't worry, just repro­gram­me it (ille­gal­ly) with a new seri­al num­ber (~ IMEI). The­se are things done ever­y­whe­re in the world — in the Midd­le East, in Asia, in Euro­pe, Afri­ca, etc. — only: they are all based on rever­se engineering.
Modern pho­nes come with some more sophisti­ca­ted algo­rith­ms and requi­re a slight­ly dif­fe­rent equip­ment — but tha­t's just a ques­ti­on of money and con­se­quent­ly the­re are, again, a few guys who will own a Twis­ter Flas­her or a BB5 unlock box in town (I real­ly dig this micro­scope, sigh :-)
Com­ing back to the initi­al ques­ti­on — why is it so inte­res­ting? Well, becau­se manu­fac­tu­rers like Nokia or SonyE­rics­son crea­te ser­vice manu­als for their pho­nes (which are then cir­cu­la­ted over the inter­net), giving the sche­ma­tics and para­me­ters of each and every part. But they usual­ly don't train tho­se jua kali fun­dis. And a licen­ced Nokia Ser­vice Cen­ter? Appar­ent­ly, they often do app­ly the same tech­ni­ques and may or may not be equip­ped with spe­cial and bet­ter ser­vice gad­gets. And they are expensive.
In other words: it's che­a­per and much more inte­res­ting for manu­fac­tu­rers to pro­du­ce new pho­nes than to train ser­vice staff on how to fix a mobi­le pho­ne. Simp­le, new or refur­bis­hed pho­nes are sold for some­thing like 20,- EUR. And yet the­re's this huge demand for quick & cheap repairs all over the world. This also app­lies to other elec­tro­nics, cars or even lighters.
Anyo­ne out the­re remem­bers how we used to refill one-way ligh­ters with Buta­ne gas (using a chop­ped nail and balan­cing the fire­stone on the fore­fin­ger while reas­semb­ling ever­ything)? Back then ligh­ters were sold for some­thing like 25/= Kshs. and a refill was avail­ab­le for 10/= Kshs…
Now, while rever­se engi­nee­red / alter­na­ti­ve / jua kali (pho­ne) repairs are inte­res­ting and will most def. make a good sto­ry on Afri­gad­get, I am con­stant­ly asking mys­elf how manu­fac­tu­rers like Nokia will pro­fit from this niche and use such know­ledge for fur­ther engi­nee­ring? Yeah, well, may­be Jan Chip­cha­se's rese­arch may be part of that, but then: who will fill this gap bet­ween new pro­ducts and bro­ken gad­gets (lea­ve this mar­ket to jua kali fun­dis and pri­va­te indi­vi­du­als only?) and will a break-even point be the only cri­ter­ion to defi­ne this approach on when it makes sen­se to invest in new equip­ment? What about envi­ron­men­tal dama­ge (during pro­duc­tion) and how is this accoun­ted for?
The fast gro­wing mobi­le pho­ne sec­tor is an inte­res­ting examp­le to see how the world has chan­ged, and I am cur­rious to see when the majo­ri­ty of cus­to­mers in pla­ces like Nai­ro­bi will pre­fer buy­ing ano­t­her pho­ne ins­tead of having the old one repaired.