Is there anything such as a European blogosphere? A Eurosphere? Maybe a EUROspehre.
"I don't read your blog", some of my German friends told me, "coz you're blogging in English". English isn't my mothertongue, but hey, we have to start somewhere, and there are a lot of people around the world who write in English although it isn't their mothertongue.
With the recent elections in France that saw a very conservative candidate becoming the next President, one thing remains certain: national interest are still more important than European ones.
There may be different historical and political reasons for this behaviour, however, the outside sees us – the Europeans – as a unit. More than we actually are.
Something similar may apply to the African continent: whereas someone from Egypt or Morocco wouldn't like to be called "an African", the rest of the continent is still regarded as one big dark continent – by those who are not well informed.
It's those messages such as the recent crashing of a Kenyan airplane where newspapers list all nationalities of the passengers and mention that "the remainder are Africans". As if there is anything such as "the African". Because those ppl hail from the same continent? Yeah, right…
The European blogosphere, if there is anything like that, the European media, all those fancy Web 2.0 websites are orientated towards the USA. This isn't bad. In fact, most Inet startups in Europe are 1:1 copies of succesful sites from the US. However, there's the Atlantic Ocean between the USA and Europe. And between Europe and the African continent? A rather small Mediterranean Sea.
Imperialists from European countries had conquered the African continent in the past and subdivided it into different countries, regardless of ethnical boundaries. Some of the main languages there are English and French, however, this European connection doesn't seem to matter when it comes to intellectual stuff from the continent.
So much about background information for those who still need to check the world map to see where Ghana or Tanzania are located on the continent.
Having said this, let me pls introduce you to some fine African websites that have come up in the past. African, yes, as in Pan-Africanism.
I don't know if there's anything like Pan-Africanism apart from political institutions, but if it takes the digital age to connect different ethnical groups into one big unit – hey, why not? Now let's see what this is all about:
1. Muti
"Muti is a social bookmarking site inspired by reddit and Digg but dedicated to content of interest to Africans or those interested in Africa".
Muti is a perfect resource for the African content – and the obvious advantage of social bookmarking and why you would want to use it (and there are still a lot of friends who haven't understood this): don't waste your time combing the internet for interesting content but instead rely on that what others have already filtered for you. It's like using Google with a human filter. That's quality!
2. Afrigator
"Afrigator is a social media aggregator and directory built especially for African digital citizens who publish and consume content on the Web. (…) You can use Afrigator to index your blog, podcast, videocast or news site (i.e. any site that publishes an RSS feed) and market it to the rest of Africa and the world. You can also use it to discover new sites in the Afrosphere."
The Afrosphere!
3. BlogAfrica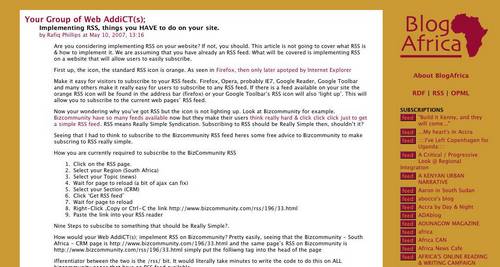 "BlogAfrica is intended as a collection of weblogs by Africans, both living on the continent and in the diaspora, and of non-Africans writing about Africa."
BlogAfrica also is part of Globalvoices, "a non-profit global citizens' media project".
AfricanSignals is a new, blog-styled website that aims to "broadcast technology news from Africa". AfricanSignals was created by fellow blogger Hash, who also blessed us with:
5. AfriGadget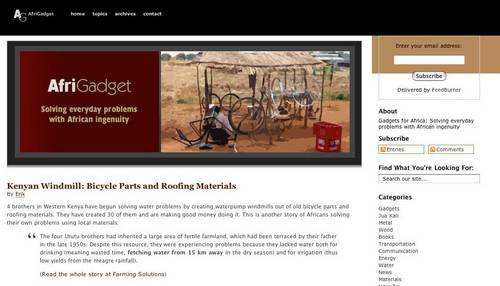 "Gadgets for Africa: Solving everyday problems with African ingenuity"
AfriGadget is another blog-styled website that tries to portray some neat technical solutions. Or as I would call it: the MacGyver solutions that come up in situations when your tools and materials are limited. If you think of solutions, and not problems – this is your site.
(disclaimer: I am part of the team that contributes articles – want to join us?).
6. African Path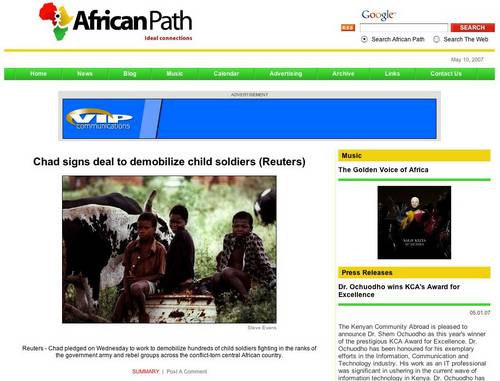 "African Path is the premier online destination for Africans online providing daily breaking news and discussions on issues affecting Africans and Africa."
7. AllAfrica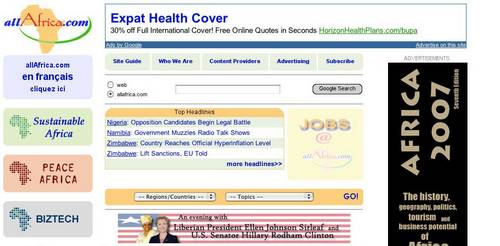 "AllAfrica Global Media is a multi-media content service provider, systems technology developer and the largest electronic distributor of African news and information worldwide." (…) it…"is among the Internet's largest content sites, posting over 1000 stories daily in English and French and offering a diversity of multi-lingual streaming programming as well as over 900,000 articles..".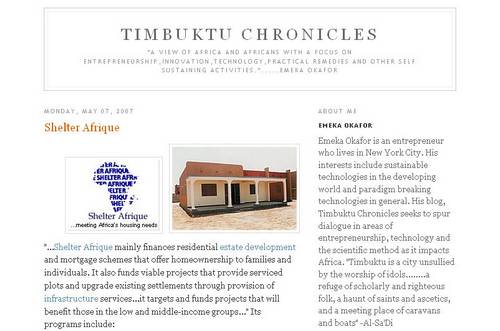 TimbuktuChronicles, a blog by Emeka Okafor on "sustainable technologies in the developing world and paradigm breaking technologies in general".
This blog is particularly interesting as it tries to highlight some sustainable technologies and business ideas which, I believe, have in the past and will also remain the driving forces for development in Africa.
This isnt't about some well-meant development aid by industrial countries, but about working solutions that put food on the table at the end of the day.
—
There are of course many other interesting websites (this listing will never be complete), and while most of them are focused on a national level, we must not forget that I only mentioned those in English. How about the Francoblogosphere?
As for Kenya – my 50% home – there are interesting sites like Mzalendo (a pretty interesting database on the Parliament of Kenya and its members and their outputs), Mashada (a community platform with a blog aggregator, forum, market place, etc.), KenyaUnlimited (KBW, the Kenyan Blogs Webring with an interesting 400+ blog feed) as well as new start-ups such as Jahazi (an online application based on XML that enables its users to configure their applications, something like portableapps.com for the many users who are bound to internet cafés) and I just received an email from the brand-new Kenyan startup Nivipi, which claims to be a "Full Community Website" like MySpace for Kenyans.
ALL of these aforementioned websites are a perfect example that WE EUROPEANS shouldn't forget about that huge continent in the south of the globe, so close to Europe, which already provides many interesting and smart projects as well as intellecual property that shouldn't be left out.