Is the­re anything such as a Euro­pean blo­gos­phe­re? A Euro­sphe­re? May­be a EUROspehre.
"I don't read your blog", some of my Ger­man friends told me, "coz you'­re blog­ging in Eng­lish". Eng­lish isn't my mother­tongue, but hey, we have to start some­whe­re, and the­re are a lot of peop­le around the world who wri­te in Eng­lish alt­hough it isn't their mothertongue.
With the recent elec­tions in Fran­ce that saw a very con­ser­va­ti­ve can­di­da­te beco­m­ing the next Pre­si­dent, one thing remains cer­tain: natio­nal inte­rest are still more important than Euro­pean ones.
The­re may be dif­fe­rent his­to­ri­cal and poli­ti­cal rea­sons for this beha­viour, howe­ver, the out­side sees us — the Euro­peans — as a unit. More than we actual­ly are.
Some­thing simi­lar may app­ly to the Afri­can con­ti­nent: whe­re­as someo­ne from Egypt or Moroc­co would­n't like to be cal­led "an Afri­can", the rest of the con­ti­nent is still regar­ded as one big dark con­ti­nent — by tho­se who are not well informed.
It's tho­se messages such as the recent cra­shing of a Ken­y­an air­pla­ne whe­re news­pa­pers list all natio­na­li­ties of the pas­sen­gers and men­ti­on that "the rema­in­der are Afri­cans". As if the­re is anything such as "the Afri­can". Becau­se tho­se ppl hail from the same con­ti­nent? Yeah, right…
The Euro­pean blo­gos­phe­re, if the­re is anything like that, the Euro­pean media, all tho­se fan­cy Web 2.0 web­sites are ori­en­ta­ted towards the USA. This isn't bad. In fact, most Inet star­tups in Euro­pe are 1:1 copies of suc­ces­ful sites from the US. Howe­ver, the­re's the Atlan­tic Oce­an bet­ween the USA and Euro­pe. And bet­ween Euro­pe and the Afri­can con­ti­nent? A rather small Medi­ter­ra­ne­an Sea.
Impe­ria­lists from Euro­pean coun­tries had con­que­red the Afri­can con­ti­nent in the past and sub­di­vi­ded it into dif­fe­rent coun­tries, regard­less of eth­ni­cal bounda­ries. Some of the main lan­guages the­re are Eng­lish and French, howe­ver, this Euro­pean con­nec­tion does­n't seem to mat­ter when it comes to intel­lec­tu­al stuff from the continent.
So much about back­ground infor­ma­ti­on for tho­se who still need to check the world map to see whe­re Gha­na or Tan­za­nia are loca­ted on the continent.
Having said this, let me pls intro­du­ce you to some fine Afri­can web­sites that have come up in the past. Afri­can, yes, as in Pan-Africanism.
I don't know if the­re's anything like Pan-Afri­ca­nism apart from poli­ti­cal insti­tu­ti­ons, but if it takes the digi­tal age to con­nect dif­fe­rent eth­ni­cal groups into one big unit — hey, why not? Now let's see what this is all about:
1. Muti
"Muti is a social book­mar­king site inspi­red by red­dit and Digg but dedi­ca­ted to con­tent of inte­rest to Afri­cans or tho­se inte­res­ted in Africa".
Muti is a per­fect resour­ce for the Afri­can con­tent — and the obvious advan­ta­ge of social book­mar­king and why you would want to use it (and the­re are still a lot of friends who haven't unders­tood this): don't was­te your time com­bing the inter­net for inte­res­ting con­tent but ins­tead rely on that what others have alrea­dy fil­te­red for you. It's like using Goog­le with a human fil­ter. Tha­t's quality!
2. Afri­ga­tor
"Afri­ga­tor is a social media aggre­ga­tor and direc­to­ry built espe­cial­ly for Afri­can digi­tal citi­zens who publish and con­su­me con­tent on the Web. (…) You can use Afri­ga­tor to index your blog, pod­cast, video­cast or news site (i.e. any site that publis­hes an RSS feed) and mar­ket it to the rest of Afri­ca and the world. You can also use it to dis­co­ver new sites in the Afrosphe­re."
The Afrosphe­re!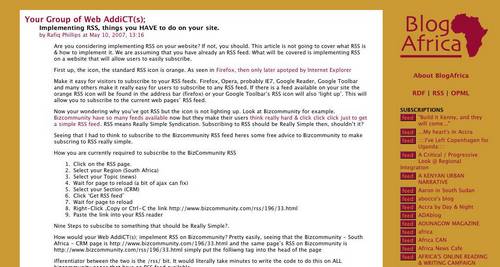 "Blo­gAf­ri­ca is inten­ded as a collec­tion of web­logs by Afri­cans, both living on the con­ti­nent and in the dia­spo­ra, and of non-Afri­cans wri­ting about Africa."
Blo­gAf­ri­ca also is part of Glo­bal­voices, "a non-pro­fit glo­bal citi­zens' media pro­ject".
Afri­can­Si­gnals is a new, blog-sty­led web­site that aims to "broad­cast tech­no­lo­gy news from Afri­ca". Afri­can­Si­gnals was crea­ted by fel­low blog­ger Hash, who also bles­sed us with:
5. Afri­Gad­get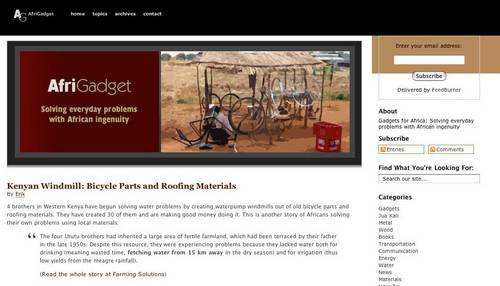 "Gad­gets for Afri­ca: Sol­ving ever­y­day pro­blems with Afri­can ingenuity"
Afri­Gad­get is ano­t­her blog-sty­led web­site that tri­es to por­tray some neat tech­ni­cal solu­ti­ons. Or as I would call it: the Mac­Gy­ver solu­ti­ons that come up in situa­tions when your tools and mate­ri­als are limi­ted. If you think of solu­ti­ons, and not pro­blems — this is your site.
(dis­c­lai­mer: I am part of the team that con­tri­bu­tes arti­cles — want to join us?).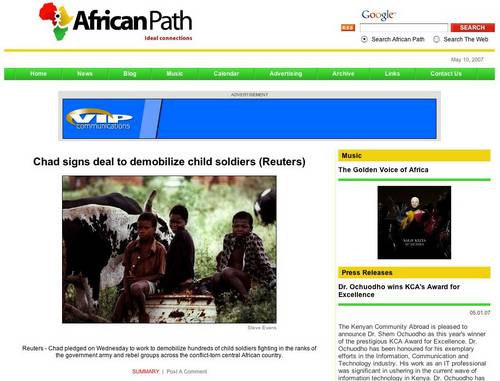 "Afri­can Path is the pre­mier online desti­na­ti­on for Afri­cans online pro­vi­ding dai­ly brea­king news and dis­cus­sions on issu­es affec­ting Afri­cans and Africa."
7. AllAf­ri­ca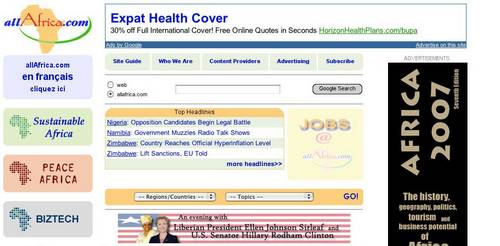 "AllAf­ri­ca Glo­bal Media is a mul­ti-media con­tent ser­vice pro­vi­der, sys­tems tech­no­lo­gy deve­lo­per and the lar­gest elec­tro­nic dis­tri­bu­tor of Afri­can news and infor­ma­ti­on world­wi­de." (…) it…"is among the Inter­net's lar­gest con­tent sites, pos­ting over 1000 sto­ries dai­ly in Eng­lish and French and offe­ring a diver­si­ty of mul­ti-lin­gu­al strea­ming pro­gramming as well as over 900,000 articles..".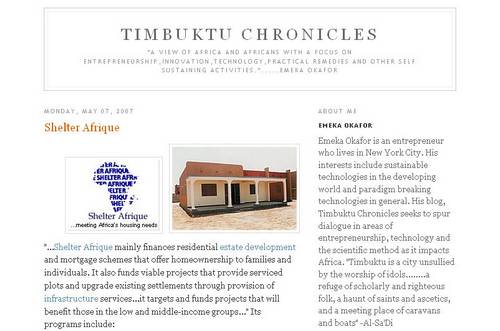 Tim­buk­tu­Chro­ni­cles, a blog by Eme­ka Oka­for on "sus­tainab­le tech­no­lo­gies in the deve­lo­ping world and para­digm brea­king tech­no­lo­gies in gene­ral".
This blog is par­ti­cu­lar­ly inte­res­ting as it tri­es to high­light some sus­tainab­le tech­no­lo­gies and busi­ness ide­as which, I belie­ve, have in the past and will also remain the dri­ving for­ces for deve­lo­p­ment in Africa.
This isnt't about some well-meant deve­lo­p­ment aid by indus­tri­al coun­tries, but about working solu­ti­ons that put food on the table at the end of the day.
—
The­re are of cour­se many other inte­res­ting web­sites (this lis­ting will never be com­ple­te), and while most of them are focu­sed on a natio­nal level, we must not for­get that I only men­tio­ned tho­se in Eng­lish. How about the Francoblogosphere?
As for Kenya — my 50% home — the­re are inte­res­ting sites like Mza­len­do (a pret­ty inte­res­ting data­ba­se on the Par­lia­ment of Kenya and its mem­bers and their out­puts), Masha­da (a com­mu­ni­ty plat­form with a blog aggre­ga­tor, forum, mar­ket place, etc.), Ken­yaUn­li­mi­ted (KBW, the Ken­y­an Blogs Web­ring with an inte­res­ting 400+ blog feed) as well as new start-ups such as Jaha­zi (an online app­li­ca­ti­on based on XML that enab­les its users to con­fi­gu­re their app­li­ca­ti­ons, some­thing like portableapps.com for the many users who are bound to inter­net cafés) and I just recei­ved an email from the brand-new Ken­y­an start­up Nivi­pi, which claims to be a "Full Com­mu­ni­ty Web­site" like MyS­pace for Kenyans.
ALL of the­se afo­re­men­tio­ned web­sites are a per­fect examp­le that WE EUROPEANS should­n't for­get about that huge con­ti­nent in the south of the glo­be, so clo­se to Euro­pe, which alrea­dy pro­vi­des many inte­res­ting and smart pro­jects as well as intel­lecu­al pro­per­ty that should­n't be left out.