Actual­ly, I wan­ted to blog this in Ger­man, but then I remem­be­red a request some time ago from fel­low blog­ger DQ, who asked about "a post on what Ger­ma­ny is like".
Well, Ger­ma­ny is just as diver­se as any other coun­try, and the­re's a lot to blog from here, just as the­re's a lot to blog from remo­te vil­la­ges in Kenya. I am often temp­ted to wri­te in Ger­man, but then I read a quo­te from a page yes­ter­day, whe­re they lis­ted a few popu­lar Ger­man blog­gers — and guess what? Loo­ks like the­re are only a few Ger­mans out the­re who blog in English.
Woooo­ha, baby, I knew it! I knew it! I am sooooo Euro­ke­n­y­an 2.0.… :-)
Wha­te­ver. No mat­ter what lan­guage, things like "elec­tion cam­pai­gns" are just as dumb in Ger­ma­ny as they are in Kenya.
Whe­re­as poli­ti­ci­ans in Kenya are mean­while busy tal­king about pro­per lea­ders­hip (as if pro­blems could be sol­ved by bet­ter lea­ders only), a simi­lar stu­pi­di­ty app­lies to Ger­ma­ny, whe­re — on a very local level — we'll have elec­tions on May 13th 2007 in the City and Federal Sta­te of Bre­men.
The­re are about 13 par­ties who are try­ing to obtain some votes, and among the big­ger play­ers that regu­lar­ly make it to the Bun­des­tag — the Ger­man par­lia­ment in Ber­lin — the­re are smal­ler par­ties as well. One of them is the DVU, the Deut­sche Volks­uni­on, who today sent me a very stran­ge letter: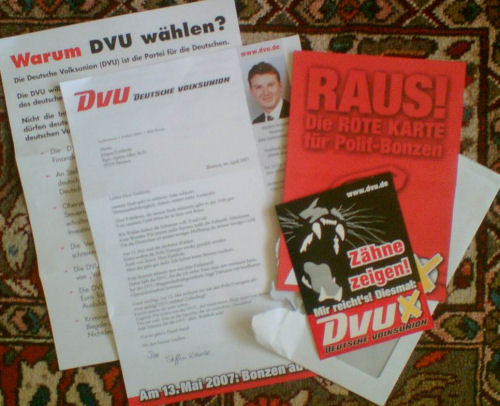 This young DVU can­di­da­te, who is about my age, sent out let­ters whe­re he asked for votes. Well, tha­t's nor­mal prac­ti­se. EVEN the mis­si­on state­ments on the atta­ched fly­er aren't as bad as one could assu­me — with the DVU being a very natio­na­listic, far right par­ty — I never expec­ted anything else but natio­na­listic issu­es such as that Ger­ma­ny has in the past con­tri­bu­t­ed "too much" to the Euro­pean Uni­on or that the impo­ve­rish­ment of Ger­mans should be redu­ced and so on. They inde­ed claim to be the Ger­man Peo­p­le's Uni­on, which is why they came up with natio­na­listic sub­jects which may be unders­tood by the com­mon peop­le. Or in other words: just as smart Ken­yans don't give a damn if Rai­la Odin­ga keeps on dri­ving around in a Hum­mer or a Jagu­ar, smart Ger­mans don't give a damn about such issu­es the DVU made a sub­ject of their dis­cus­sions. Why?
Becau­se all the­se issu­es may inde­ed have an inte­res­ting core, but are com­ple­te­ly out of this world. Becau­se the atta­ched let­ter is so bla­tant­ly stu­pid that you instant­ly ques­ti­on the social matu­ri­ty of the DVU can­di­da­tes. And Sig­gi, the DVU can­di­da­te who made it to the par­lia­ment in Bre­men during the last elec­tions, is just a living pro­of for.….well, let's say: God's humour. THESE GUYS, howe­ver, aren't just fun­ny, but also inte­res­ted in mani­pu­la­ting tho­se one that still can't sepe­ra­te good and evil. They actual­ly went to some schools in the City and dis­tri­bu­t­ed DVDs with Ger­man music. Not­hing wrong about that — but what would you think if a poli­ti­ci­an comes to the school of your child­ren and tri­es to influ­ence them? See?
The­re are inde­ed a lot of things that need to chan­ge in Bre­men, Ger­ma­ny and Euro­pe. Howe­ver, I real­ly doubt that the DVU will be part of the solu­ti­on process.
And for tho­se who are still unde­ci­ded and who are allo­wed to vote — the­re's this Wahl-O-Mat thing on the inter­net — a small app­let that lists about 30 the­ses from poli­ti­cal par­ties. Now even if you don't speak Ger­man, pls have a look at it. This thing could be a per­fect gad­get for the elec­tion cam­pai­gn in Kenya — may­be via SMS? All it does is lis­ting all the­se the­ses, and then you can click or vote for what you think is best. In the end it shows you what you voted for — and what the poli­ti­cal par­ties are cam­pai­gning for.
Makes sen­se whenever the elec­to­ra­te is inte­res­ted in real issu­es, and when things are not only about iden­ti­fy­ing "good leaders".