Upon arrival in Nairobi this morning, I took some time off to enjoy the hectic chaos downtown and just walk around without any proper destination.
Just these precious moments when you don't have to work and actually have the time to open your eyes and see a bit of this Nairobi world which constantly hides between modern buildings and still shows the very beginnings of this not-so-old City in the Sun.
What I especially like are these old builindgs – some of them dating back to 1920 – that still exist within the old parts of this city and give it the extra charm.
Nairobi, I think, wouldn't be what it is if it wasn't for these old structures that really "add value" – not only from a touristic perspective.
So I came across Jeevanjee Gardens…
The last time I've been to Jeevanjee Gardens in downtown Nairobi was……1996?
I remembered this place being a dusty, dirty and very dry hide-out for glue-sniffing street children. A forgotten place which had been ignored by most Nairobians just like many other city parks.
And today?
Green grass after the rains, beautiful trees, a cleanded up and apparently maintained environment and – best of all – lots of Nairobians relaxing on the grass.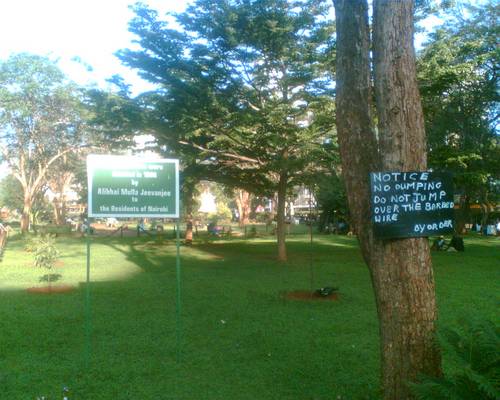 …."donated in 1906 to the Residents of Nairobi".
And upon seeing this statue in honour of Queen Victoria, I suddenly realized that this place has been a public park since 100 years now. 100 YEARS!
Thank you, Bwana Alibhai Mulla Jeevanjee!
—
AOB:
Ok, this is for Acolyte and my jamaas from home – "Topaz" (behind the park). We used to get our oily chips from here when all other shops were already closed and something like "Steers" & Co. didn't exist.
Na Steve…I needed to pop in(to) pop-in on Moi Avenue again and enjoy this vintage arrangement of old computer games. You know how many collectors there would be on Ebay who'd bid for any of these old video game machines?
Pop-In always is a journey back into childhood.
Look! Another "iMatatu", but this time a SONY MP4 player. Rocks just as well.
The Matatu driver smiled all over his face and praised the little player for its size and convenience. Is this the future of mobile entertainment in Kenya?
(the switch mutes the output signal of the player)