"Die beste Bildung findet ein gescheiter Mensch auf Reisen" (J.W.v.Goethe)
I was standing on the bridge to Garissa downtown when I received a very disturbing message that really pissed me off.
It was just like in a movie – standing on that bridge that connects the green countryside south of Tana River with the semi-arid north-eastern part of the country – the bridge that connects these two worlds, Coast and North Eastern Province – and the content of the message meant to be a final cut in some very personal things that had kept me busy for the last two years. Something where I instantly realized the ironic relationship between the message and this transition between both worlds. You cross the bridge and you're in another world.
The beautiful part of it, though: the bridge opens to both worlds. And it's up to you which way you go.
"Mapenzi ni kikohozi, hayawezi kufichika."
—
Two days later I find myself on a funeral in the middle of nowhere. Nowhere being somewhere in Mwingi District – the sister-in-law of a colleague had died the other day after a long illness and we stopped by on our way back from Garissa.
Despite of the 3h sermon in Kikamba, of which I didn't understand a single word (except for the greetings of course), this was a very touching experience.
Don't ask me why, but funerals in Kenya aren't as sad as they are in Germany. The circumstances that led to the death may often be irritating, but the whole procedure has a warmth one can only understand by witnessing it live.
Listen to the choir singing beautiful songs with warm voices, hear the village elders speak up and show their respect for the individual, catch the atmosphere and feel the community spirit. This is not a time to say good bye, but a reunifaction process that helps to give the body back to where it came from. A beautiful closing for the circle of life.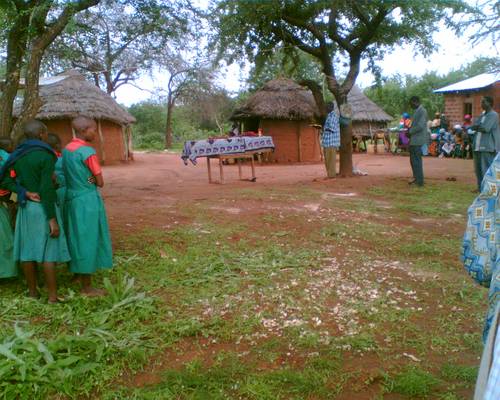 While standing at the grave and strewing soil on the coffin, I managed to burry some of my aggregated hatred. The message that had pissed me off earlier is partly buried somewhere out there in Mwingi district, six feet under.
—
Travelling in Kenya also includes that you'll be given a cackling hen from another colleague, who wants to share his wealth with you. So you eventually arrive back in Embu with that hen in the luggage (someone else took it) and think: travelling indeed broadens the mind.
p.s.: another irony – these rural places lack any electricity or tapped water, but I was aboool to check my emails via GPRS.