Somewhere downtown Nairobi there is a place called " Kaburi" on Quarry Road. Muslim cemeteries have given the place it's name – and just like dead bodies, the area also accomodates jua kali workshops – auto/car garages that turn dead car chassis into saleable items of desire. In other words: if you have a broken car and need it to be fixed fast, cheap and efficiently: THIS is the place. I think it's also the CHEAPEST place in Kenya.
I was told they have a turnover of about a million Kshs. every day – remember: everyone of the guys working there needs to pocket about 500/= Kshs. per day (on average) in order "to buy lunch". The basic principles of this business are that a) work is done fast and b) the place regulates itself (hakuna City Council supervision). Anyone who dares to mess with customers will be thrown out the compound. Strict rules for a self-regulating business. Hard, but fair.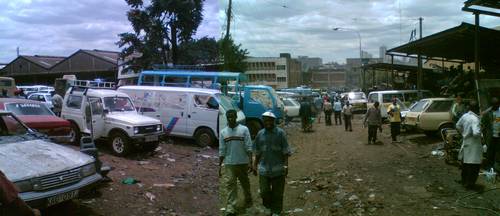 The "operating room" (note NBO's skyline in the background)
Our 1986 Suzuki SierraJX ("Hey, my friend, how much for you car? Me I want to buy…" – ppl love these small 4WD cars) needed a refurbishment and when we got it some time ago, I had removed the old carpets inside which were just too dirty. Our dear friend Peter showed us the way to the place and also helped to negotiate the prices. Since I had already removed the old carpets, making news ones by using the patterns was a relatively simple job for the experienced fundis. After choosing the desired material (really thick but stilll flexible carpet for 800 Kshs./m), they rushed away to buy everything needed and after that immediately started working. Anyone who says things in Kenya are slow should pay these guys a visit.

taking measurements…

A matatu had ordered a new interior…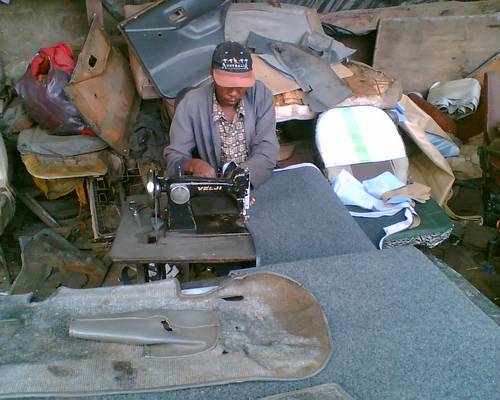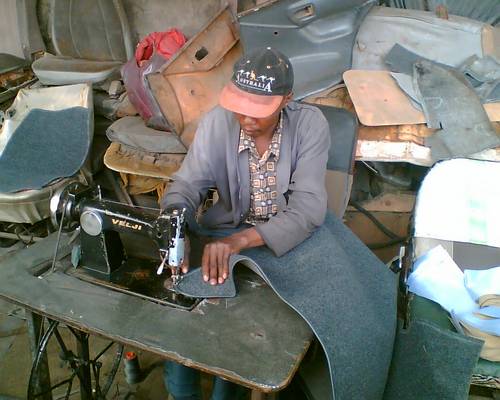 1,2,3….done!
While waiting for the carpets to be finished, other guys (of course) approached us and offered their services. "My friend" (the typical mzungu approach), "you need licence plates duplicating? For front and back licence plate me I just charge you…..uhmm….500 Kshs. ..and I will make them straight and recolour them, even with reflecting colour, and put something around them and make them look nice. Look, yours are worn out…" – "Yeah, well, but you see: mine can still work – isn't it? Even I could only give you 50 bob per plate…" – "Oh, but please, my friend, help me to buy lunch…." – "Oh, I think maybe next time but thx anyways…"
One of these guys actually managed to persuade us to have the car repainted from the inside. We urgently wanted to have this done, actually also from the outside – the car needs a major "beautification programme" – but time was running out and money is always limited so we just went for the inside repaint job. Pull out a 1.000 Kshs. and these guys will actually dismantle the interior of your car, clean it (more or less), respray it (= > hire a painter for that particular job!) and put everything back into place. Unfortunately, these guys weren't as fast as the carpet dudes – whereas the carpets were done within 2 hours (!), the guy responsible for the repainting job just talked in Agwambo-style and gave commands to his colleague who was supposed to do the job. Since we also had other appointments on this very special saturday :-), I put on my own overall and pulled out the screwdrivers and spanners. Imagine a foreigner somewhere in Nairobi's River Road area jua kali workshops in an overall who actually works on a car whereas the Kenyan customers just stand next to their cars and give commands to the fundis. There's always a way to make fun of yourself. But so what…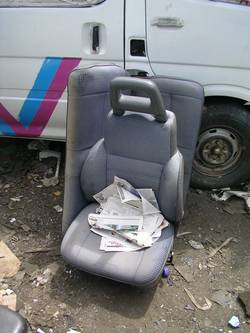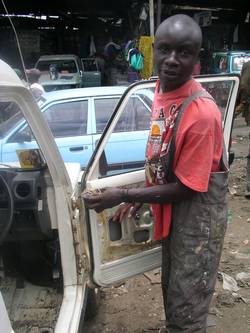 Yess….sloooooooow work :-)

Look! Even (Germany's Ex-Chancellor) G.Schröder witnessed the beautification process! :-)

Harambee! Some cars are just moved from A to B to C and back to A….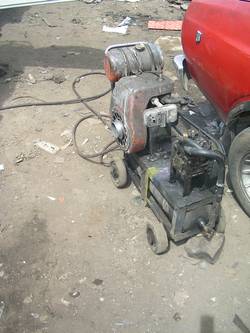 Compressors such as this one (left) are used for repainting jobs – these guys are specialised.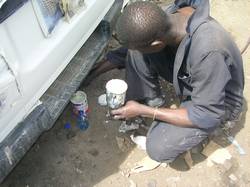 mixing the colour…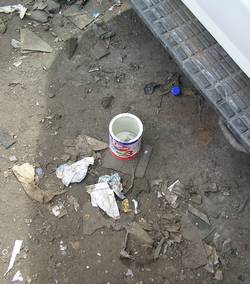 After finishing his job, he carefully made sure that not a single drop of petrol was left inside the (rented) compressor motor's tank – but forgot the empty (metal) paint container. He just left it there – I SO much hate this attitude of disposing waste just like that. There's no concept. Our industrialized world is nothing but a huge landfill….aaaaargh!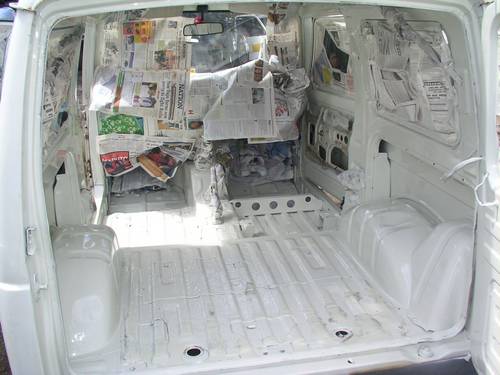 Sawasawa, ama? After 20 minutes of drying, the carpets came…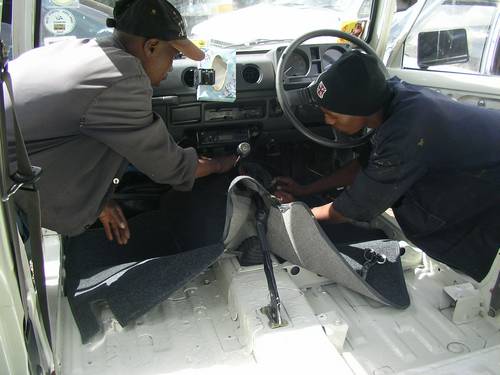 Fixing the carpet….
We arrived at 10:30 am and left the place at ~ 03:30 pm. Not bad for a start. And I know we'll be back for more…
These are lockers as used by the (older) fundis. The've put their mobile phone numbers on them so that they can be reached in any case. The mobile phone industry has opened up so many different opportunities in Kenya…an interesting development, I think.
AOB:

Who's this DJ @ Club Soundd? Horriboool mixture sato nite… the place is nice though. Also home to Kwani? open mic sessions…and no nasty cigarette smoke!! :-)