When I woke up this morning, it was still dark out­side. The bed is just next to the win­dow and when I ope­ned my eyes, I first of all mis­took the darkness for a mis­sing view only to rea­li­ze a few moments later on that some things are actual­ly bet­ter than what they look like at first moment.
Last night saw us going to an event cal­led "Spot­light on Ken­y­an Music 2006" — a "fina­lis­t's con­cert and cd launch" orga­ni­zed by the Alli­an­ce Fran­çai­se (spon­so­red by Total & the embas­sy) which pre­sen­ted the "best of the 2006 Spot­light on Ken­y­an music har­vest repre­sen­ting Nyan­za, Wes­tern, Rift Val­ley, Eas­tern and Nai­ro­bi Pro­vin­ces".
I once worked for Total (in Ger­ma­ny) and my par­ents had been working for the Ger­man Cul­tu­ral Cent­re befo­re, so it's this mix­tu­re of inte­rests that always hunts me down and reminds me what kind of "Kul­tur­po­li­tik" the French have (com­pa­red to the Ger­mans). Now tha­t's a com­ple­te­ly dif­fe­rent approach, and spea­king from the Euro­pean per­spec­ti­ve, I am deligh­ted that at least the French(men) have found some spon­so­ring that hel­ps to orga­ni­ze such won­der­ful events: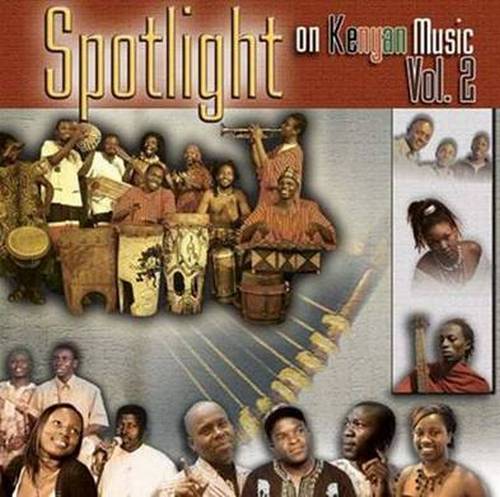 Spot­light on Ken­y­an Music Vol. 1 has alrea­dy been a suc­cess — my friend Mbu­zi­mo­ja had sent me a com­pi­la­ti­on last year, so this time I did­n't want to miss it and catch the spi­rit for mys­elf. The spi­rit of "new" music that is being per­for­med by local artists, some­thing that makes you feel proud of the coun­try and lets you for­get about impor­ted styles. No Hip­Hop (pole Msanii_XL), but ins­tead a focus on local tunes being rein­ter­pre­ted by local artists. Some­thing that was­n't pos­si­ble 10 years ago — all the­se fine net­works and deve­lo­p­ments weren't pos­si­ble back then as we did­n't have a wide choice of tv chan­nels, radio chan­nels (that would air new tunes to far away pla­ces), a strong midd­le-class with lots of trans­port (= acti­vi­ty down­town even after 8 pm), effi­ci­ent telecom­mu­ni­ca­ti­on net­works and this over­all Uhu­ru spi­rit (as I like to call it) peop­le felt right after inde­pen­dance. In other words: the frame­work is the­re and it's about time that we wake up to local music being play­ed on the radio — not only Dol­ly Par­ton, Jay­Lo and other impor­ted tunes & styles. And bewa­re — as my gui­tar tea­cher Mau­rice always lik­ed to stress out: the tunes found in many Sou­k­ous songs actual­ly come from Wes­tern Kenya and have only been inter­pre­ted by Con­go­le­se artists. So even when you hear Sou­k­ous tunes on the new Spot­light Sam­pler — tha­t's the Ken­y­an heritage!
The event took place at Alli­an­ce Fran­çai­se Gar­dens in Nai­ro­bi, ent­ran­ce was free and it sure attra­cked lots of young peop­le. Good!
This years artists inclu­ded Ronald Onti­ri, Nai­ti­ri Sounds, Antho­ny Mutu­ku, Bosco Mul­wa, Imba­ko Inter­na­tio­nal, Shan­ta, Zin­ga­mo­to Afri­ka, Sau­ti, Zip­py Okoth, Teto Tutu­ma and Valen­ti­ne Kha­ka­sa. The lin­eup was simi­lar to the one on CD, every artist per­fo­med his/her song and the crowd star­ted dan­cing des­pi­te of the inter­mit­tent rains. Good music needs to be enjoy­ed and shared — and I won­der whe­re this event will be hos­ted next year. May­be Uhu­ru Park? Would be great!
As a bonus, ZANNAZIKI came as "guest appearan­ce" but they sound­ed way too pro­fes­sio­nal com­pa­red to the other artists and somehow disap­poin­ted but tha­t's just my impres­si­on. The Spot­light sam­pler sold for 600/= Kshs. and was avail­ab­le as CD and on tape. The guy from the record com­pa­ny poin­ted out that it had been licen­ced to over­see mar­kets as well — so may­be we'll soon find it in the US and Europe?
For tho­se who like good and new local music, and who real­ly appre­cia­te this much awai­ted approach on the local music sce­ne (while igno­ring all recent deve­lo­p­ments in the Hip­Hop world), the purcha­se of the Spot­light Sam­plers is a must just like all three Kwa­ni? books :-)
Some snapshots from the event: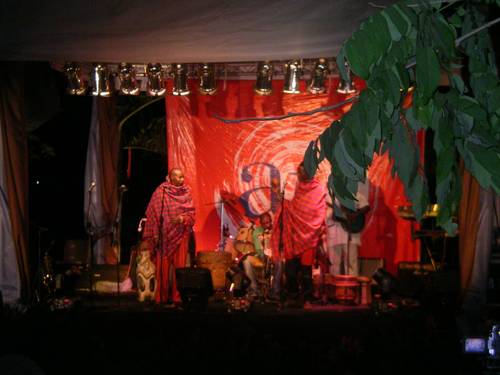 Teto Tutu­ma with "Iyie Ake" ("Only You"), deli­vering a very authen­tic performance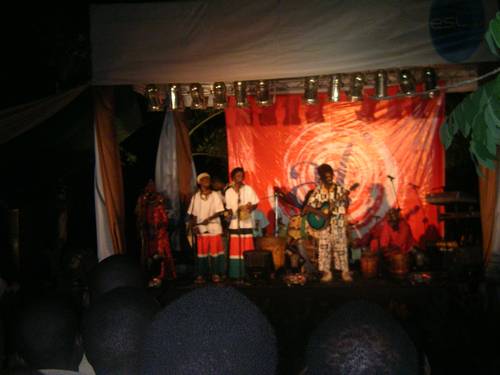 Zin­ga­mo­to Afri­ka "Nin­di­ro­na Nji­ra". I am 100% sure this song will be a) play­ed on the radio soon and b) used for a com­mer­cial. Gre­at poten­ti­al & remake of clas­sic Kiuk tunes with Swa lyrics. The­se guys are from Mat­ha­re (Nbo), btw. (their song reminds me a bit of the­se Afro Rock tunes from the 1970s…nice one!).
Shan­ta "Ndo­lo". Does she have a record out yet? This could real­ly sell big times on the Euro­pean mar­ket. Hot!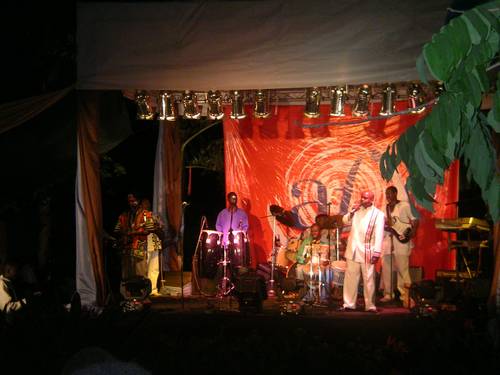 Bosco Mul­wa "Kwi­tu Maku­e­ni". I call him the "Papa Wem­ba sty­ler", Sou­k­ous ele­ments in his song and a con­fi­dent per­for­mance. This guy has the poten­ti­al to enter­tain masses.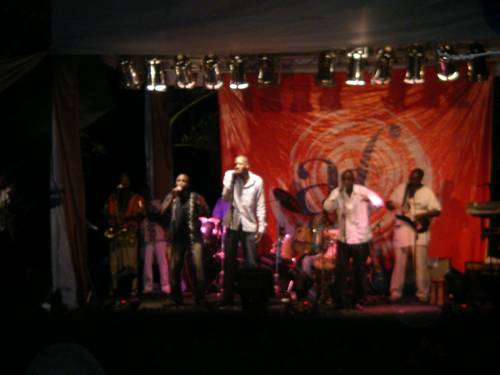 Sau­ti "Naku­ja" Ken­ya's new boy­group? Their song sound­ed a bit stran­ge due to com­pli­ca­ted har­mo­nics but they seem to bear a gre­at poten­ti­al for much more and had a very plea­sant appearan­ce. Good voices!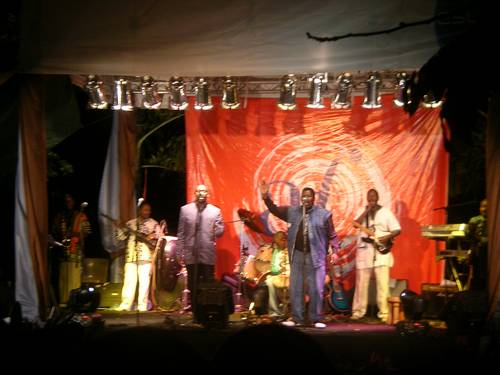 Imba­ko Inter­na­tio­nal "Hala­la". Look at this man in blue jeans :-)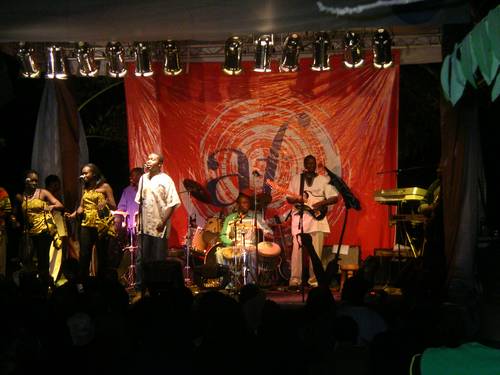 Antho­ny Mutu­ku "Chowa" — Joe Cocker has a brother?
"Speed Gover­nor" [Spee­diii Gaa­ve­eehhnaaa] by Ronald Onti­ri. Ok, this was my first choice. I have never been more impres­sed by someo­ne per­forming with such elo­quence and self-assuran­ce. This song ROCKS!
Zan­na­z­i­ki's performance…
Due to restric­ted inter­net access here, I could­n't mana­ge to upload the vide­os I shot to give you an impres­si­on or at least some tunes to actual­ly hear it (may­be later). Lots of ppl caught this on video — so it might be inte­res­ting to see if it will be avail­ab­le online some­whe­re (ken­yamo­to?).
Sooooo.…..the bot­tom line for me is that I shall check out more Kisii tunes in future. Anyo­ne remem­ber oton­go­lo times by Poxy Pre­sha? What a potential.…and remem­ber: this com­pi­la­ti­on has just been a selec­tion of bands. The­re's much more out the­re. Ngo­ma ni maisha! :-)
(@Mental: did you come?)