As pro­mi­sed 3 mon­ths ago, I would like to con­ti­nue my seri­es on con­tem­pora­ry Ken­y­an art and let me plea­se men­ti­on that it will never be com­ple­te or even in-depth — just a small scratch on the sur­face of the ever gro­wing art sce­ne. Also, I nee­ded to blog this now as long as I am on band­width here :-)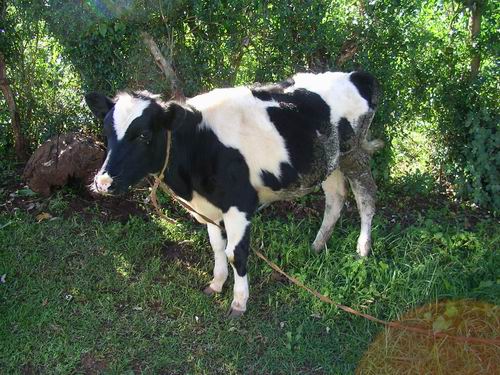 Ear­lier this year in May 2006, I visi­ted the Ken­y­an pain­ter Evan­son Kan­ge­the Nju­gu­na at his sham­ba north of Nai­ro­bi (off Tigo­ni Road, some­whe­re in Limu­ru) and the first thing that gree­ted us at home was his cow. For a city kid like me, this of cour­se was the per­fect remin­der of the over­all rural life­style in Kenya. Whe­re­as a lot of fel­low Nai­ro­bi­ans would con­si­der this shaggz-style some­what awk­ward, me must not for­get that the majo­ri­ty of Ken­yans live in rural are­as and that this does not necessa­ri­ly repre­sent a nega­ti­ve, under­de­ve­lo­ped life­style. After all, Evan­son has it all: a beau­ti­ful wife, healt­hy child­ren, water, a shamba.…and lots of space to fol­low his ide­as. But the best thing about him is that he has a good heart and colour­ful dreams. And like many other artists, he knows how to mold them into art. Art that even­tual­ly and hope­ful­ly sells and mana­ges to feed a family.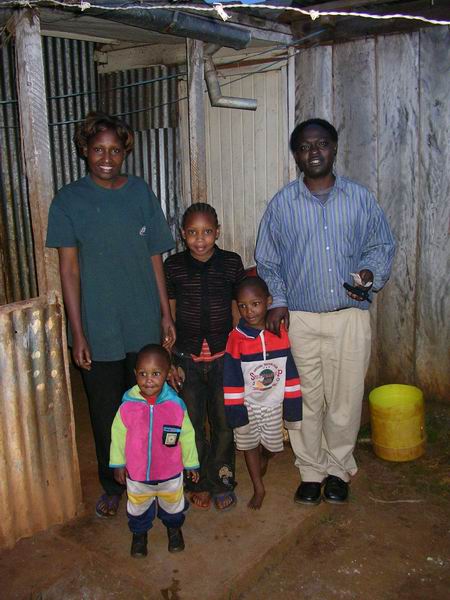 I met Evan­son at the libra­ry of the Goe­the-Insti­tut in Nbo whe­re he show­ed me a pic he had been working on and invi­ted me for a date at his place. Showing ppl around and invi­t­ing them to have a look at the art work is one of the main jobs of Ken­y­an artists — as exhi­bi­ti­ons often only gene­ra­te a tem­pora­ry publi­ci­ty and gal­le­ries (like the one of Mr. Shah I men­tio­ned ear­lier) only pro­vi­de very low reve­nues. Appar­ent­ly, being a pro­fes­sio­nal pain­ter comes with a lot of bur­dens and equals an incon­sis­tent inco­me. I told him that I am just a stu­dent the­se days without any inco­me at all, but that I could at least try to pro­mo­te him in one way or the other, and also try to com­pi­le a blog ent­ry on him whe­re I would show some of his works.
Evan­son had been in Ger­ma­ny during the 1990s and even mana­ged to exhi­bit some of his works in Euro­pe. After a lon­ger talk about the art sce­ne, poli­tics and other socio­lo­gi­cal­ly inte­res­ting sub­jects, I took pic­tures of his work and he mean­while sear­ched for some older pho­tos. Well…until then I had­n't told him about my Mzee who was working with him befo­re, but when I told him, Evan­son jum­ped up and picked out of this image of my Mzee and him — shot some­time in 1993 or so. THAT situa­ti­on made me cry for a moment — insi­de. My Mzee is old and sick, and can't remem­ber much the­se days. Being in Kenya and mee­ting the­se peop­le who had been working with my Mzee for some time and are full of prai­ses for him makes me feel at home. It's like redis­co­vering parts of your own fami­ly from an out­side per­spec­ti­ve — a good feeling.
Any­ways. I told him about the­se two pain­tings I have at home — and Evan­son quick­ly picked out this pola­roid of his archi­ve, showing the actu­al pain­ting at home.
His archi­ve? Yes. Like many other artists, Evan­son keeps record of his works and stores important papers in his shelve:
Now, let's focus on his work. The fol­lowing pho­tos are just snap shots of his work in his stu­dio — I am still a lou­sy pho­to­gra­pher so pls try to bear with me while I tried to focus on con­tent. Also, the­re's no chro­no­lo­gi­cal order — I only know that the fol­lowing pic­tu­re is one of his ear­liest works: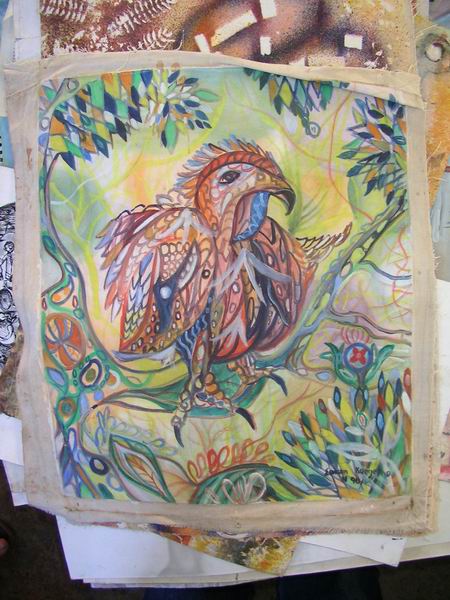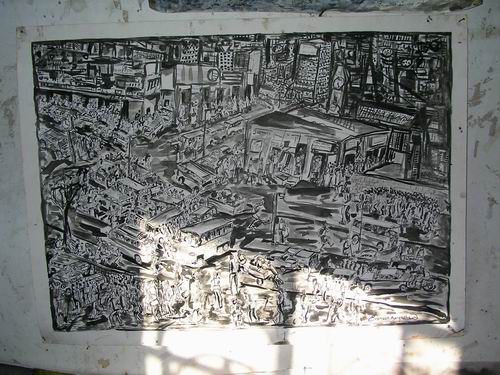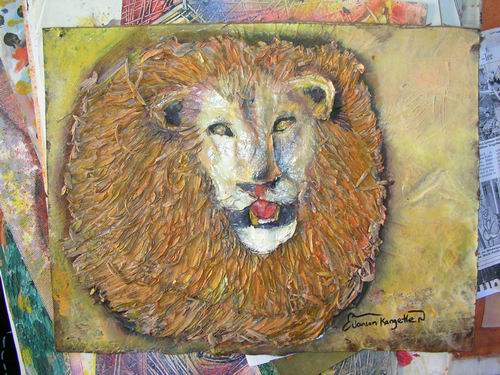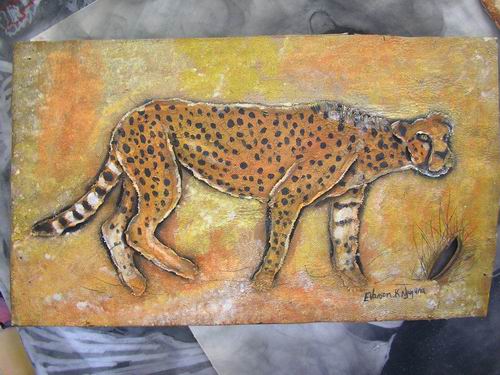 lea­ther works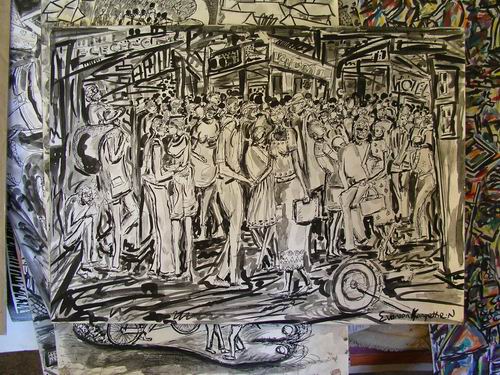 sculp­tures and paintings


smo­ke art
"Kan­ge­the is a social chro­ni­cler who por­trays ever­y­day Ken­y­an life expe­ri­en­ces in a char­ming, whim­si­cal style. He cap­tures both rural and urban life. Kan­ge­the's works say much about the chan­ging times in Afri­ca and how to make the best out of chal­len­ging situations.

Social rea­lism is only one aspect of his deve­lo­ping style. Kan­ge­the is well ver­sed in various artis­tic trends and schools. He seems to have been fasci­na­ted by the Impres­sio­nists, who, like hims­elf, were intrigued with the play­ful effects of light and color. Kan­ge­the grew up the son of a flo­rist, so intui­tively has a glo­rious sen­se of color." (source)
I real­ly like the head+tongue pain­ting. Good art — to me — is the com­bi­na­ti­on of inte­res­ting ele­ments with lots of pas­si­on. While the pho­to­graphs here just por­tray a small por­ti­on of his work, and also not his best (at least not all of them), it does show that Evan­son has a crea­ti­ve mind and is always sear­ching for new ways to express the­se emo­ti­ons insi­de. Dif­fe­rent tech­ni­ques! Or would you rather pre­fer to invest your money into well known trade­marks — like Jak Kata­ri­ka­we's cow pic­tures? Cus­to­mers deci­de. But tha­t's ano­t­her story…
For more pic­tures, plea­se feel free to have a look at the com­ple­te flickr collec­tion of snap shots I took in May 2006 at Evan­son's place. Karibu(ni)!