As promised 3 months ago, I would like to continue my series on contemporary Kenyan art and let me please mention that it will never be complete or even in-depth – just a small scratch on the surface of the ever growing art scene. Also, I needed to blog this now as long as I am on bandwidth here :-)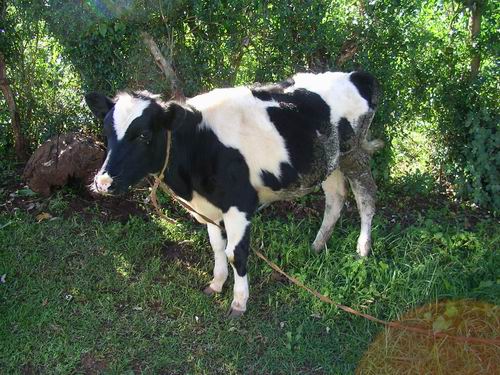 Earlier this year in May 2006, I visited the Kenyan painter Evanson Kangethe Njuguna at his shamba north of Nairobi (off Tigoni Road, somewhere in Limuru) and the first thing that greeted us at home was his cow. For a city kid like me, this of course was the perfect reminder of the overall rural lifestyle in Kenya. Whereas a lot of fellow Nairobians would consider this shaggz-style somewhat awkward, me must not forget that the majority of Kenyans live in rural areas and that this does not necessarily represent a negative, underdeveloped lifestyle. After all, Evanson has it all: a beautiful wife, healthy children, water, a shamba….and lots of space to follow his ideas. But the best thing about him is that he has a good heart and colourful dreams. And like many other artists, he knows how to mold them into art. Art that eventually and hopefully sells and manages to feed a family.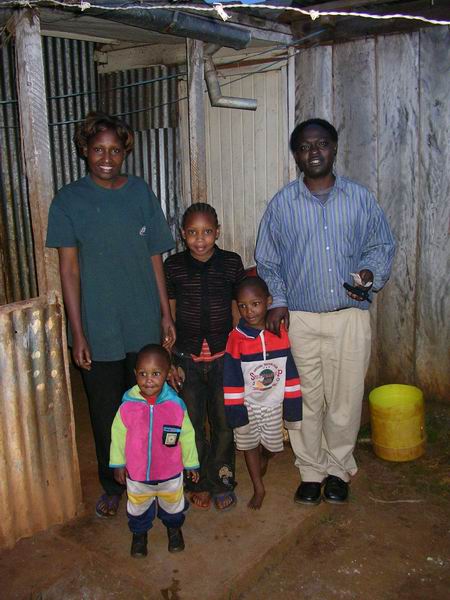 I met Evanson at the library of the Goethe-Institut in Nbo where he showed me a pic he had been working on and invited me for a date at his place. Showing ppl around and inviting them to have a look at the art work is one of the main jobs of Kenyan artists – as exhibitions often only generate a temporary publicity and galleries (like the one of Mr. Shah I mentioned earlier) only provide very low revenues. Apparently, being a professional painter comes with a lot of burdens and equals an inconsistent income. I told him that I am just a student these days without any income at all, but that I could at least try to promote him in one way or the other, and also try to compile a blog entry on him where I would show some of his works.
Evanson had been in Germany during the 1990s and even managed to exhibit some of his works in Europe. After a longer talk about the art scene, politics and other sociologically interesting subjects, I took pictures of his work and he meanwhile searched for some older photos. Well…until then I hadn't told him about my Mzee who was working with him before, but when I told him, Evanson jumped up and picked out of this image of my Mzee and him – shot sometime in 1993 or so. THAT situation made me cry for a moment – inside. My Mzee is old and sick, and can't remember much these days. Being in Kenya and meeting these people who had been working with my Mzee for some time and are full of praises for him makes me feel at home. It's like rediscovering parts of your own family from an outside perspective – a good feeling.
Anyways. I told him about these two paintings I have at home – and Evanson quickly picked out this polaroid of his archive, showing the actual painting at home.
His archive? Yes. Like many other artists, Evanson keeps record of his works and stores important papers in his shelve:
Now, let's focus on his work. The following photos are just snap shots of his work in his studio – I am still a lousy photographer so pls try to bear with me while I tried to focus on content. Also, there's no chronological order – I only know that the following picture is one of his earliest works: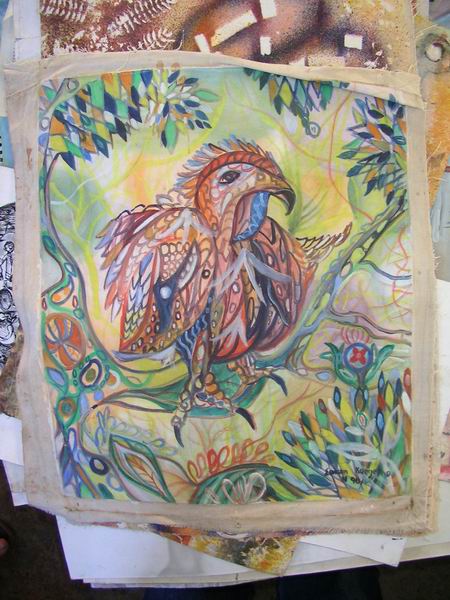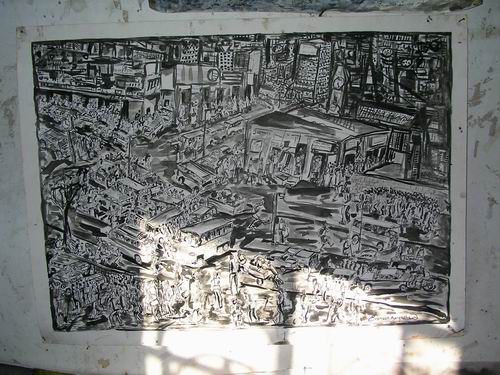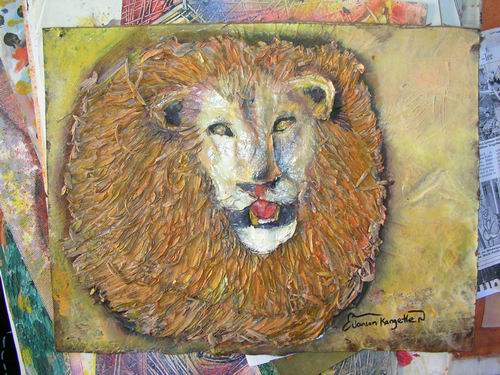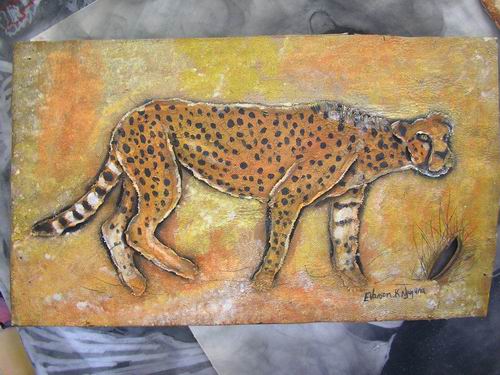 leather works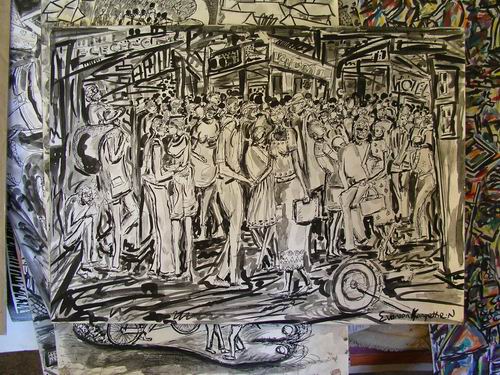 sculptures and paintings


smoke art
"Kangethe is a social chronicler who portrays everyday Kenyan life experiences in a charming, whimsical style. He captures both rural and urban life. Kangethe's works say much about the changing times in Africa and how to make the best out of challenging situations.

Social realism is only one aspect of his developing style. Kangethe is well versed in various artistic trends and schools. He seems to have been fascinated by the Impressionists, who, like himself, were intrigued with the playful effects of light and color. Kangethe grew up the son of a florist, so intuitively has a glorious sense of color." (source)
I really like the head+tongue painting. Good art – to me – is the combination of interesting elements with lots of passion. While the photographs here just portray a small portion of his work, and also not his best (at least not all of them), it does show that Evanson has a creative mind and is always searching for new ways to express these emotions inside. Different techniques! Or would you rather prefer to invest your money into well known trademarks – like Jak Katarikawe's cow pictures? Customers decide. But that's another story…
For more pictures, please feel free to have a look at the complete flickr collection of snap shots I took in May 2006 at Evanson's place. Karibu(ni)!