Now this is some­thing I wan­ted to do for a long time:
Some years ago, I thought about ren­ting the domain msanifu.net (someo­ne alrea­dy sto­le sanaa.net) to build an online resour­ce for East Afri­can artists and help them pro­mo­te their work. A pro­ject like this one of cour­se requi­res some funding/sponsorship as well as enough time to come up with some­thing decent in terms of web­de­sign, usa­bi­li­ty and acces­si­bi­li­ty — all fac­tors that I was short of as I am still a stu­dent @ var­si­ty + des­pi­te of the publi­ci­ty fac­tor, the­re would be no other ways to pro­mo­te the artists (~ orga­ni­zing a spon­so­red tour through Euro­pe, bro­ker them to poten­ti­al cus­to­mers, etc.).
Howe­ver, what I can still do is wri­te about them in my blog (and keep on pos­ting their images on flickr) and hope that the world, espe­cial­ly Ken­yans in Kenya, pay a bit of atten­ti­on to their artists — a pro­fes­si­on that is often only con­si­de­red valu­able when artists sell pain­tings for a lot of money. After all, we are tal­king about art — and not an investment/commodity.
Fel­low blog­ger Ste­ve Ntwi­ga Mugi­ri recent­ly blog­ged about the art sce­ne and it made me rea­li­ze that my art-web­site-idea from 2000 was­n't such a bad idea. The demand is the­re — only, many artists appar­ent­ly aren't in a posi­ti­on to pro­du­ce and also sell their pain­tings for a pri­ce they deserve.
This is whe­re the Gal­le­rys come into place. The­re are of cour­se some inte­res­ting artists asso­cia­ti­ons in Kenya — and I guess all the­se groups owe BIG TIMES to Mzee Eli­mu Njau of Paa Ya Paa gal­le­ry who assi­duous­ly tried to pro­mo­te the sce­ne and clear­ly iden­ti­fies hims­elf (with lots of emo­tio­nal enthu­si­asm) with his work. I per­so­nal­ly think that Eli­mu and the late Ruth Schaff­ner of Wata­tu Gal­le­ry con­tri­bu­t­ed a lot during their heydays to the cul­tu­ral sce­ne in Kenya.
Any­ways, back to the main issue (I know the­re's still lots of inte­res­ting histo­ry that needs to be blog­ged one day :-).…So I drop­ped into Wata­tu Gal­le­ry for a few snapshots and also payed Mr. Shah of Sarang Art Gal­le­ry a quick visit.
While I was a bit dis­s­ap­poin­ted at Gal­le­ry Wata­tu and their down­fall sin­ce Mr. Schaff­ner's death in 1996 (well tha­t's my impres­si­on!), Mr. Shah pro­ved to be vivid as ever.
You know I met a few poten­ti­al cus­to­mers in Nai­ro­bi (read: wealt­hy Wazun­gu with red UN-num­ber pla­tes on their cars) who are actual­ly inte­res­ted in and wil­ling to spend some mbe­ca on pain­tings. The only pro­blem is that often they don't know whe­re to get tho­se real­ly GOOD pain­tings. And of cour­se Mr. Shah knows his busi­ness too well — some­thing, a lot of artists in Kenya dis­li­ke him for as he buys their pain­tings for a few Shil­lings and sells them for much more. Busi­ness, simp­le as that. Who would­n't do the same?
I think the most inte­res­ting deve­lo­p­ment so far has been with the Kuo­na Trust — "a not-for-pro­fit orga­ni­sa­ti­on set up to rese­arch, sup­port, inno­va­te and pro­mo­te con­tem­pora­ry visu­al art in Kenya and East Afri­ca" — and the best way to find out more is to visit their web­site (i like, i like! :-)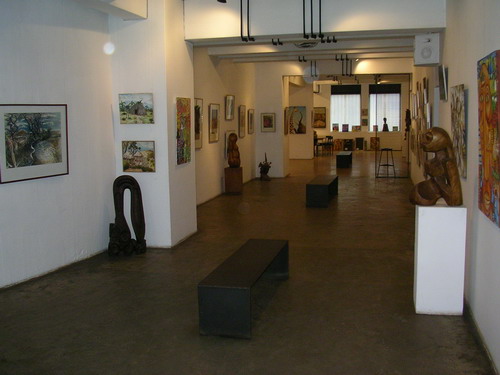 Gal­le­ry Wata­tu in Nai­ro­bi. Among the many artists they repre­sent are Chain Muhan­di, Charles Seka­no, Fran­cis Kahu­ri, Tin­ga Tin­ga, Euni­ce Wadu, Hans Seu­ren (R.I.P.), J.M. Mbu­g­ua, Jak Kata­ri­ka­we, Sane Wadu, Wanyu Brush (LOL) and Zacha­riah Mbutha.
Oppo­si­te Gal­le­ry Wata­tu on Stan­dard Street (Nai­ro­bi), we find the Sarang Art Gal­le­ry run by Mr. Shah — who has a huge varie­ty of real­ly good, but also expen­si­ve pain­tings. In case you are wil­ling to invest some money into good artists, this is the place I'd recom­mend as he real­ly knows which artists con­sist­ent­ly pro­du­ce (pro­fes­sio­nal!) good work and he won't try to sell u low qua­li­ty. That is, this might help in case you can't deci­de or have no idea wha­t's good and bad…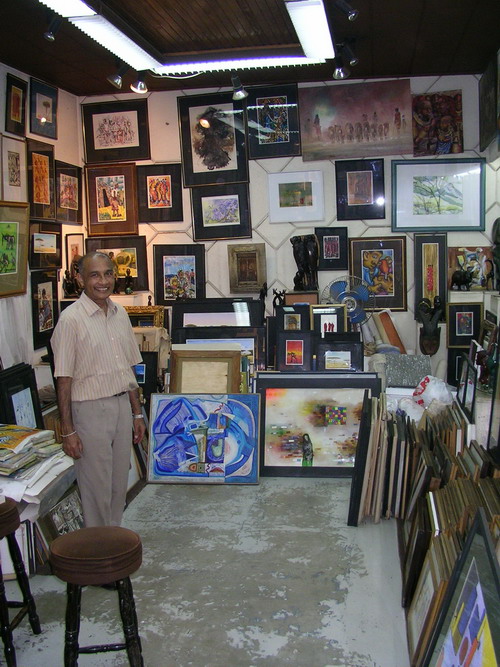 (Sasa Mahen­dra, now you'­ve been blog­ged — hope u don't mind! :-)
And then I rea­li­zed that he has some real­ly good pain­tings by our (old) friend Abus­ha­riaa Ahmed (Moham­med) from Kartho­um (Sudan) which sell for a lot of money. Hey Abu & Afrah, in case you are rea­ding this, plea­se drop me a line, ok?

Sanaa, part 2 will be on Ken­y­an pain­ter Evan­son Kan­ge­the whom I visi­ted at his sham­ba and took some pics of his work. In case you like this, plea­se stay tuned.…THX!