Now this is something I wanted to do for a long time:
Some years ago, I thought about renting the domain msanifu.net (someone already stole sanaa.net) to build an online resource for East African artists and help them promote their work. A project like this one of course requires some funding/sponsorship as well as enough time to come up with something decent in terms of webdesign, usability and accessibility – all factors that I was short of as I am still a student @ varsity + despite of the publicity factor, there would be no other ways to promote the artists (~ organizing a sponsored tour through Europe, broker them to potential customers, etc.).
However, what I can still do is write about them in my blog (and keep on posting their images on flickr) and hope that the world, especially Kenyans in Kenya, pay a bit of attention to their artists – a profession that is often only considered valuable when artists sell paintings for a lot of money. After all, we are talking about art – and not an investment/commodity.
Fellow blogger Steve Ntwiga Mugiri recently blogged about the art scene and it made me realize that my art-website-idea from 2000 wasn't such a bad idea. The demand is there – only, many artists apparently aren't in a position to produce and also sell their paintings for a price they deserve.
This is where the Gallerys come into place. There are of course some interesting artists associations in Kenya – and I guess all these groups owe BIG TIMES to Mzee Elimu Njau of Paa Ya Paa gallery who assiduously tried to promote the scene and clearly identifies himself (with lots of emotional enthusiasm) with his work. I personally think that Elimu and the late Ruth Schaffner of Watatu Gallery contributed a lot during their heydays to the cultural scene in Kenya.
Anyways, back to the main issue (I know there's still lots of interesting history that needs to be blogged one day :-)….So I dropped into Watatu Gallery for a few snapshots and also payed Mr. Shah of Sarang Art Gallery a quick visit.
While I was a bit dissappointed at Gallery Watatu and their downfall since Mr. Schaffner's death in 1996 (well that's my impression!), Mr. Shah proved to be vivid as ever.
You know I met a few potential customers in Nairobi (read: wealthy Wazungu with red UN-number plates on their cars) who are actually interested in and willing to spend some mbeca on paintings. The only problem is that often they don't know where to get those really GOOD paintings. And of course Mr. Shah knows his business too well – something, a lot of artists in Kenya dislike him for as he buys their paintings for a few Shillings and sells them for much more. Business, simple as that. Who wouldn't do the same?
I think the most interesting development so far has been with the Kuona Trust – "a not-for-profit organisation set up to research, support, innovate and promote contemporary visual art in Kenya and East Africa" – and the best way to find out more is to visit their website (i like, i like! :-)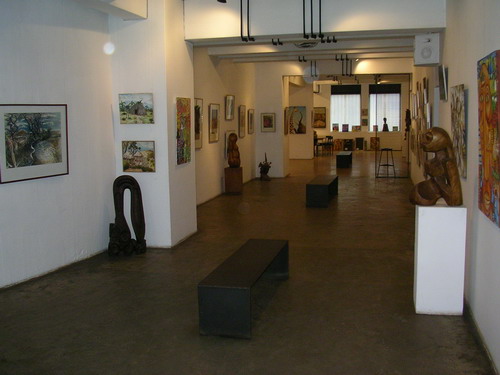 Gallery Watatu in Nairobi. Among the many artists they represent are Chain Muhandi, Charles Sekano, Francis Kahuri, Tinga Tinga, Eunice Wadu, Hans Seuren (R.I.P.), J.M. Mbugua, Jak Katarikawe, Sane Wadu, Wanyu Brush (LOL) and Zachariah Mbutha.
Opposite Gallery Watatu on Standard Street (Nairobi), we find the Sarang Art Gallery run by Mr. Shah – who has a huge variety of really good, but also expensive paintings. In case you are willing to invest some money into good artists, this is the place I'd recommend as he really knows which artists consistently produce (professional!) good work and he won't try to sell u low quality. That is, this might help in case you can't decide or have no idea what's good and bad…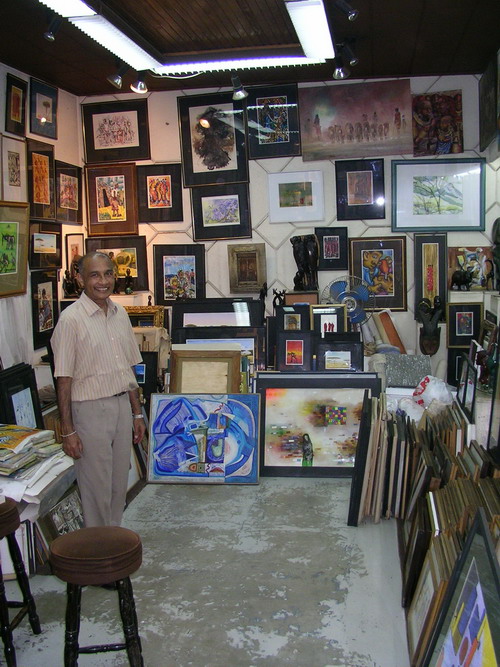 (Sasa Mahendra, now you've been blogged – hope u don't mind! :-)
And then I realized that he has some really good paintings by our (old) friend Abushariaa Ahmed (Mohammed) from Karthoum (Sudan) which sell for a lot of money. Hey Abu & Afrah, in case you are reading this, please drop me a line, ok?

Sanaa, part 2 will be on Kenyan painter Evanson Kangethe whom I visited at his shamba and took some pics of his work. In case you like this, please stay tuned….THX!