My local correspondent Mbuzimoja today forwarded this hilarious story from the Daily Nation (page 17, April 6, 2006) to me, a story about a group of Wazungu (…) from Germany who opened up a food kiosk in BUSIA TOWN (!) "that boasts tea, chapati, potatoes and porridge on its menu". They call it "House of Porridge":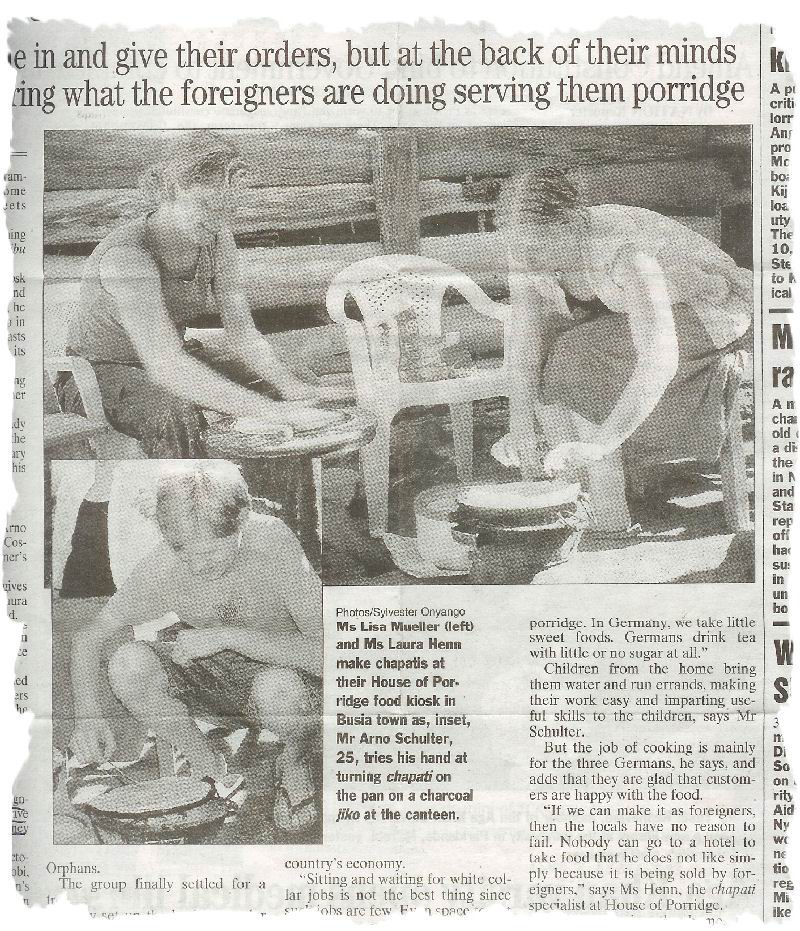 Customers "can only conclude that the foreigners are stranded in Kenya and have opted for the business to raise money for their tickets back home" …. "most people thought the food kiosk was not a business fit for the foreigners, after all they had enough money to start a big venture". Ability is wealth?
Ms Lisa Mueller, Ms Laura Henn and Mr Arno Schulter – all in her mid-twenties – came to Kenya in October 2005 to work as volunteers. The food kiosk, the article says, serves as an income generating project. A neat idea, I think. Why not?
The story reminds me of a Kenyan Lady by the name of Rachel Kamau who runs a nice & comfy Kenyan restaurant in Freiburg, Germany (I've mentioned earlier last year).
"If we can make it as foreigners, then the locals have no reason to fail. Nobody can go to a hotel to take food that he does not like simply because it is being sold by foreigners", Ms Henn is quoted in the article.
Well well well….some ppl have the freedom to choose while others just need to survive the next day. On the other hand, though, my reason for blogging this amusing story is that it highlights the difference in thinking. Whereas these Gaamaaaans just came to Kenya to help and work (and I think I'm not much different from that, at least they are showing this business approach), the typical Kenyan reaction in the first place is "ati, can't they afford to go home?".
Sometimes I am so sick of this stereotyped thinking. As much as I never questioned the opening of that Kenyan restaurant in Germany, I sometimes wonder when these "mzungu, mzungu…give me shillingi…" cries will stop whenever a white person enters a black village. Harassment, from the other perspective. Similar to that, it's like me joining the Kenyan Blogosphere and then ppl approach me and comment like "oh, I didn't know you are white". Well, SORRY that God has given me this skin colour?!
I mean, what I am supposed to answer on such comments? Dito Kenyans of Indian Origin – when will we start accepting each other without looking at ancestry or tribal origin? Me, me I am just JKE :-)