Talking about my cordless phone the other day – a friend of mine called me this morning from his almost broken cordless phone and, since I 've been longing for a new phone for some months now, I came up with this idea to sell him my old cordless phone and buy a better one.
One with Calling Line Identification Presentation (CLIP) and a hands-free/speakerphone function. Everything else isn't really required but nice to have…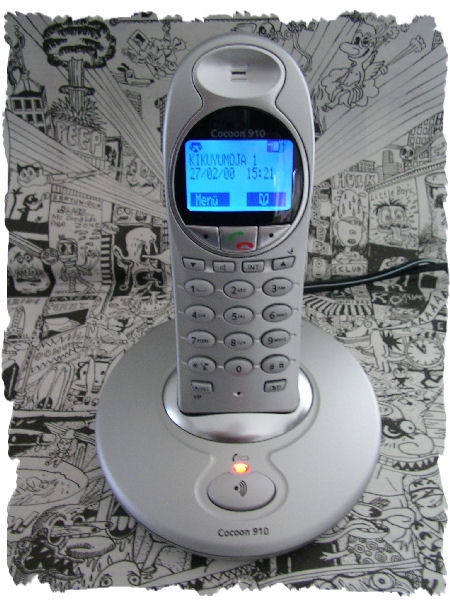 So why would I blog on a normal cordless phone? Becooooos I am showing off there's this special story that I'd almost forgotten until last Saturday when Mbuzimoja, her bro and me were strolling through Munich and came across one of those old Panasonic phones. You know, those huge white analogue ones with telescopic antennas that used to sell for ~9.000/= Kshs. back in those days (in the mid-90s).
Back in those days (~1988) when cordless phones came up in Europe, I always wanted to have one which, of course, I just couldn't afford. Then, in 1992 or 1993, some local dealers in Nairobi had the first mobile phones for sale – most of them being those Panasonic ones with that huge telescopic antenna. One dealer, though, had this brand new Sanyo phone, operating at 46/49 MHz and the moment I saw it, I wanted to have it. Dearly. It took me half a year and selling some beloved items to eventually get my hands on this cordless phone.
Ndugu Mathias, remember how you used to laugh about this? Nairobi with its faulty telephone network – who really needed a cordless phone when most of the time, damage due to damp killed the line? Mimi! :-)
And nowadays, the market is overcrowded with digtial cordless phones with prices starting as low as 30,- EUR and Nairobians are meanwhile getting used to mobile phones (GSM). What's next? A blackberry-styled network that will bring the internet to remote places such as Wajir? Stay tuned!
p.s.: the downside on this simu? Hakuna answering machine – but hey, why do I keep have this roommate who picks up the phone for me? ^^