Sunday after­noon, time to note down some thoughts of the week. News that left a smi­le on my face, and the usu­al, ine­vi­ta­ble ran­tings that keep on com­ing up.
Bad news first? — O.k.:
1. The Kamu­si Pro­ject — Inter­net Living Swa­hi­li Dic­tion­a­ry needs our help: "Dear Visi­tors: The Kamu­si Pro­ject will be sus­pen­ded on Janu­a­ry 31, 2006, unless we can rai­se funds immedia­te­ly. Plea­se do your part — even small dona­ti­ons will make a big dif­fe­rence. Click here to help."
Sin­ce I often use this won­der­ful resour­ce online, I would like to con­tri­bu­te with a small dona­ti­on ( kich­an­go, kuch­an­gizana!) and like to encou­ra­ge you to do the same if you use that web­site on a regu­lar basis. Asan­te sana!
2. So I've been shop­ping in LG yes­ter­day — went to H&M and bought some pants…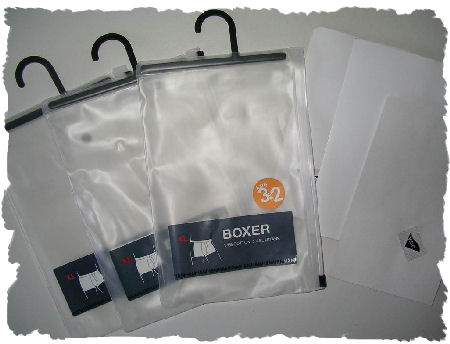 Which came packa­ged in paper and some sort of soft plastic bag. I don't know what kind of mate­ri­al that foil is made out of of sin­ce it only comes with the Resin iden­ti­fi­ca­ti­on code (num­ber) 07 — which inclu­des acry­lic, poly­car­bo­na­te, nylon or fiber­glass as the pos­si­ble poly­mers used on this packaging.
Sure, this bag also has the Green Dot® sym­bol on it (some dumb mar­ke­ting trick by ger­man pack­a­ging com­pa­nies to avoid the cos­ts of taking back pack­a­ging mate­ri­al from cus­to­mers) so I know whe­re to dis­po­se off this bag after purcha­sing the clothes sea­led wit­hin. Howe­ver, it still makes me feel bad. So much mate­ri­al / resour­ces used for pre­ven­ting under­we­ar from beco­m­ing dir­ty on their way from the manu­fac­tu­rer to the cus­to­mer. No won­der H&M buy their clothes in Chi­na — the coun­try whe­re they tre­at envi­ron­men­tal issu­es like we did in the 1950's…the only dif­fe­rence being that we don't seal ever­ything a thousand times. Don't belie­ve me? Then go to a shop whe­re they sell Asi­an Food­s­tuff, buy a pack of tea (=> Lo Han Kuo tea!) and take your time to ana­ly­se the dif­fe­rent mate­ri­als they use for sealing a half inch cube of pow­de­red tea.
Back to my pants boxer shorts: H&M — plea­se tell your manu­fac­tu­rers to chan­ge this sort of pack­a­ging. Thx!
3. The living cos­ts in Nai­ro­bi are outrageous: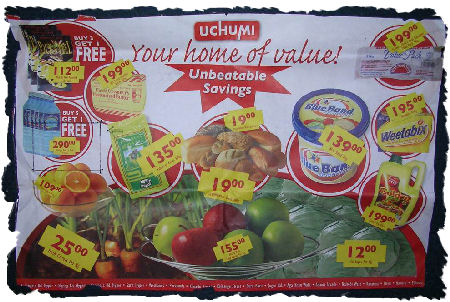 check out this recent adver­tis­ment from UCHUMI super­mar­kets in Nai­ro­bi, Kenya. 199/= Kshs (~ EUR 2,26) for a 500gr pie­ce of sal­ted but­ter. I think a lot of Exil­ke­n­ya­ner are suf­fe­ring from this. Next time you'­re in Kenya, your aun­tie at home will have to buy you a meal, ama?
4. And here's the good news: the­re's DSL (BROADBAND INTERNET!!) avail­ab­le in Kisumu, Wes­tern Kenya for some­thing like 5.000/= Kshs. (~ EUR 56,-). So now the­re's NO excu­se any­mo­re for hiding in Uje­r­uma­ni. (Oh Lord, plea­se buy find me a nice sham­ba, an inte­res­ting job and lots of health for a bright future in EAK :-)
6. Anja of mwende.de has blog­ged a small dic­tion­a­ry of Kikam­ba-Ger­man. Gre­at job, Kambamoja!
7. Still thin­king about this 1000tags.com nini Hash has been tal­king on ear­lier this week…