Today I read an inte­res­ting sto­ry on the effi­ci­en­cy of the so-cal­led Dabba­wal­las in Mum­bai (Bom­bay), India: » The "Dabba­wal­la" sys­tem that ope­ra­tes in Mum­bai is uni­que and incredi­ble in the com­ple­xi­ty of its task, sim­pli­ci­ty of its ope­ra­ti­on, and sur­pri­sin­gly low error rates for a sys­tem of its size. It is a dai­ly ser­vice in which thousands of men car­ry and deli­ver over 200,000 lun­ches every day, wit­hin a three hour block of time, across the city's 70-kilo­met­re stretch, with each lunch box (dabba) chan­ging hands at least four times. «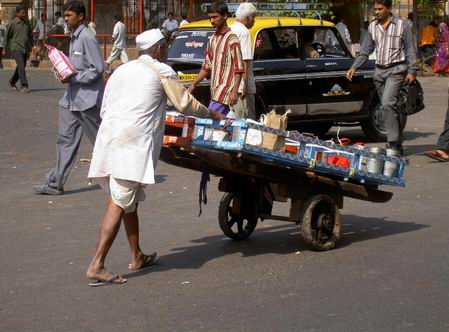 an indian mko­ko­te­ni (hand­cart)
»In fact, the Ame­ri­can busi­ness maga­zi­ne For­bes gave a Six Sig­ma per­for­mance rating for the pre­cisi­on of dabba­wa­las. This rating indi­ca­tes a 99.999999 accu­ra­cy per­cen­ta­ge of cor­rect­ness, mea­ning one error in every six mil­li­on tran­sac­tions — an asto­nis­hing (and perhaps unbe­liev­a­ble) degree of exact­ness.« Some Dabba­wal­las have alrea­dy been invi­ted to lec­tu­re on their dai­ly tra­de. And, to round it up, celebs like Prince Charles or even Sir Richard Bran­son went to Mum­bai and spent some time with the­se dili­gent workers.
And the­re's the Hawa­la sys­tem we all heard about — most nota­b­ly sin­ce 9/11. This infor­mal value trans­fer sys­tem that goes by the name of Al-Bara­kat in Soma­lia and which has been decla­red ille­gal by the Bush admi­nis­tra­ti­on and other coun­tries. Even Inter­pol has been lured into the deba­te and offi­cial­ly belie­ves the Hawa­la sys­tem to play a role in money laun­de­ring (well, obvious­ly the­re's a point in that one).
Basi, what I do LIKE about both sys­tems is the basis of their func­tio­n­a­li­ty: SIMPLICITY & TRUST.
As for the sim­plic­ty, I stron­gly belie­ve that we should always stri­ve to keep things as simp­le as pos­si­ble. And what about the TRUST?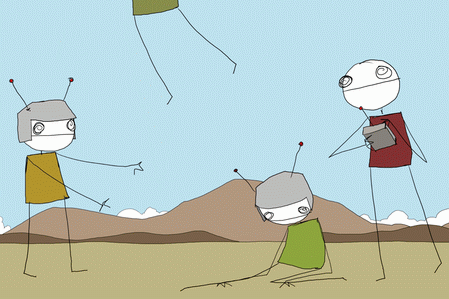 Why do we need a rating sys­tem on Ebay? Why do I need to pay for ban­king fees if I want to send money from here to XYZ — do I pay for the ser­vice or for the trust? Why do most reli­gi­ons in this world tell us some­thing about loving each other, we'­re fans of fic­tio­n­al worlds like Star Trek with its one-world idea, we go out eating and ther­eby trust some unknown wapi­shi (cooks) etc. etc… and yet we'­re told that you can not trust the who­le world. Why? Becau­se the world, we'­re told, is evil. Woiii?!
I think it's about time for this world to sit back, relax for a moment and reflect wha­t's real­ly important. I don't want to think about things like trust when I do busi­ness or talk to a stran­ger. Tho­se values should be taken for gran­ted. I would like to see this basic idea of trus­ting someo­ne imple­men­ted in our wes­tern world with such a nor­ma­li­ty we find on tho­se descri­bed sys­tems like the Dabba­wal­la or Hawa­la. Yeah, that would be nice.
p.s.: I tit­led this ent­ry Ghar Ka Kha­na (~ good food, home-coo­ked Indian cui­sine) becau­se, ins­tead of sim­ply going to a restau­rant for lunch, tho­se down­town employees pre­fer (trust?) the food their fami­lies cook for them. The Ger­man part in me of cour­se sug­gest that they should take their food with them once they lea­ve home in the morning, but uhhm, well, if the­re's a mar­ket for such services…