A few days ago, A.-M. had met an old mate from school (~1985) at her night-shift job. Haia! Can you ima­gi­ne mee­ting someo­ne after 20 years who had been schoo­ling with you when you were like 7 years old? She'd been in the same class with this guy 20 years ago and they only met by chan­ce while being assi­gned for the same night shift. Tal­king about their CVs or so, they instant­ly figu­red they'd been schoo­ling together.
So, last evening, the bathroom nee­ded a break and A.-M. per­sua­ded me to join her and Marc (our school mate from tho­se old days back in NBO) for a beer at an "Afri­can restaurant".
We did­n't anti­ci­pa­te anything, sin­ce most "afri­can shops/restaurants" here in Ger­ma­ny are run by folks from West Africa.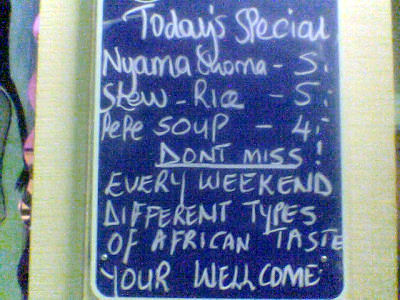 On arri­ving at this lovely spot cal­led "Enjoy Afri­ca" in the heart of Frei­burg, Ger­ma­ny, we soon heard some fami­li­ar voices and lan­guage frag­ments that see­med to be Kikuyu..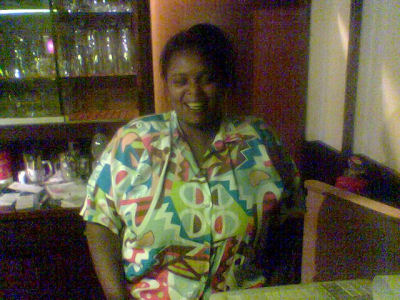 It tur­ned out that the restau­rant is run by our new friend Rachel Kamau (from Kenya!), who's real­ly doing a very nice and assi­duous­ly job. She'd come to Ger­ma­ny a few years ago and upon asking her for her moti­va­ti­on, she told us that she had always wan­ted to open up her own litt­le restau­rant and, my dear wanain­chi­is, in case you ever hap­pen to come to Frei­burg (clo­se to the french & swiss bor­der, btw..), plea­se make sure to check out this won­der­ful spot.
Rachel ser­ved us with some real­ly good, fresh and cold beers and sin­ce we were damn hungry, we orde­red NYAMA CHOMA (of course!).
Nya­ma Cho­ma, my dear friends, in Ger­ma­ny. YESSSS!
Also, Rachel's home made stew with rice (Roy­co Mchu­zi Mix tas­te!) was superb, and no mat­ter what, I'll sure be back for more!
We stay­ed 5 hours at this place and for the first time sin­ce lea­ving Kenya some years ago, I felt like being back in my fav. pubs in Kan­ge­mi. In fact, I haven't stay­ed this long in a ger­man restau­rant so far.
So com­for­ta­ble, good food, nice drinks, cool music + vide­os (ken­y­an hip hop, soukous/lingala, gikuyu+luo music), nice peop­le around – could I ask for more?
Rachel, thank you very much for this gre­at evening! I real­ly enjoy­ed it!!!
Rachel's fine restau­rant "Enjoy Afri­ca" ("Restau­rant afri­ka­ni­scher Spe­zia­li­tä­ten") can be found at Hug­stet­ter Str. 1 in D‑79117 Frei­burg, Ger­ma­ny. Tel +49-(0)761–7677444 // open from 3 p.m. — 3 a.m. (mon­days closed).
p.s.: Kilon­zo, a friend of mine who did his mas­ter on tro­pi­cal water engi­nee­ring in Suder­burg, recent­ly told me about this nice spot in Bre­men by the name of "Haku­na Mata­ta" – ano­t­her restau­rant run by a ken­y­an lady. The other day while visi­t­ing my par­ents in Bre­men, I tried to track it down, but I couldn't find it though. Guess I'll soon have ano­t­her approach. In fact, this said restau­rant was once men­tio­ned in a wee­kend maga­zi­ne wit­hin the Dai­ly Nati­on (~some­time in ear­ly 2005).