A few days ago, A.-M. had met an old mate from school (~1985) at her night-shift job. Haia! Can you imagine meeting someone after 20 years who had been schooling with you when you were like 7 years old? She'd been in the same class with this guy 20 years ago and they only met by chance while being assigned for the same night shift. Talking about their CVs or so, they instantly figured they'd been schooling together.
So, last evening, the bathroom needed a break and A.-M. persuaded me to join her and Marc (our school mate from those old days back in NBO) for a beer at an "African restaurant".
We didn't anticipate anything, since most "african shops/restaurants" here in Germany are run by folks from West Africa.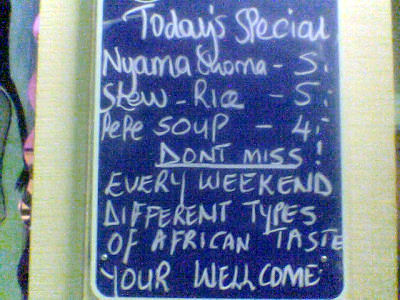 On arriving at this lovely spot called "Enjoy Africa" in the heart of Freiburg, Germany, we soon heard some familiar voices and language fragments that seemed to be Kikuyu..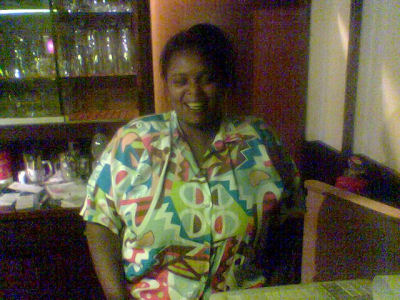 It turned out that the restaurant is run by our new friend Rachel Kamau (from Kenya!), who's really doing a very nice and assiduously job. She'd come to Germany a few years ago and upon asking her for her motivation, she told us that she had always wanted to open up her own little restaurant and, my dear wanainchiis, in case you ever happen to come to Freiburg (close to the french & swiss border, btw..), please make sure to check out this wonderful spot.
Rachel served us with some really good, fresh and cold beers and since we were damn hungry, we ordered NYAMA CHOMA (of course!).
Nyama Choma, my dear friends, in Germany. YESSSS!
Also, Rachel's home made stew with rice (Royco Mchuzi Mix taste!) was superb, and no matter what, I'll sure be back for more!
We stayed 5 hours at this place and for the first time since leaving Kenya some years ago, I felt like being back in my fav. pubs in Kangemi. In fact, I haven't stayed this long in a german restaurant so far.
So comfortable, good food, nice drinks, cool music + videos (kenyan hip hop, soukous/lingala, gikuyu+luo music),  nice people around – could I ask for more?
Rachel, thank you very much for this great evening! I really enjoyed it!!!
Rachel's fine restaurant "Enjoy Africa" ("Restaurant afrikanischer Spezialitäten") can be found at Hugstetter Str. 1 in D-79117 Freiburg, Germany. Tel +49-(0)761-7677444 // open from 3 p.m. – 3 a.m. (mondays closed).
p.s.: Kilonzo, a friend of mine who did his master on tropical water engineering in Suderburg, recently told me about this nice spot in Bremen by the name of "Hakuna Matata" – another restaurant run by a kenyan lady. The other day while visiting my parents in Bremen, I tried to track it down, but I couldn't find it though. Guess I'll soon have another approach. In fact, this said restaurant was once mentioned in a weekend magazine within the Daily Nation (~sometime in early 2005).