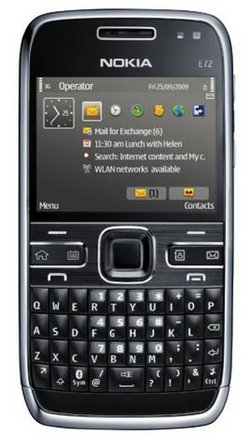 I am wai­t­ing for the Nokia E72 (pho­ne) sin­ce it was first men­tio­ned about a year ago (!) and then offi­cial­ly announ­ced in June (July?) this year. It's a suc­ces­sor to the very popu­lar Nokia E71 which I had review­ed back then and fea­tures a nif­ty 5mpx cmos came­ra and a key­board simi­lar to the one cur­r­ent­ly found on the Nokia E63.
One of the best ways for stay­ing up-to-date on pro­duct laun­ches is Twit­ter Search. I'm scan­ning Twit­ter for E72 rela­ted news for qui­te some time now and I can tell you that many ppl are desper­ate­ly wai­t­ing for the E72 to hit the mar­ket. I heard it will be Octo­ber 6th or 12th…
The Nokia E63 its­elf is a very nice pho­ne — I actual­ly pre­fer its key­board over to the initi­al E71 and so I am real­ly glad that the E72 will not only have such a simi­lar key­board, but also come with a came­ra that will be able to com­pe­te with the real­ly decent 5mpx cam on my Nokia N95.
My N95 is 27 mon­ths old now and — com­pa­red to other pho­nes I've owned in the past — a bit worn out. The other day I also drop­ped it on the floor and it for­tu­n­a­te­ly still does the job, only a few scrat­ches on the (exch­ang­ab­le) cover. Back then I urgent­ly wan­ted to get my hands on the N95, only to quick­ly rea­li­ze that it has a "pro­to­ty­pe" design and comes with other flaws I've men­tio­ned on this blog in the past. Ano­t­her pro­blem with buy­ing brand­new pho­nes is that a sta­ble firm­ware (~ the ope­ra­ting sys­tem on the pho­ne) will pro­bab­ly only be released after a year. This isn't a Nokia-only pro­blem though, others like Apple have expe­ri­en­ced simi­lar issues.
The inte­res­ting part on this next purcha­se will be the ques­ti­on if I should get it like my N95 — with a 24month con­tract and a sub­si­di­zed pho­ne — or direct­ly buy it without a con­tract and paying the full price.
The pre-order pri­ce for the pho­ne cur­r­ent­ly is around EUR 360 and I am expec­ting this to chan­ge over the next com­ing weeks. Also, I think the cur­rent trend is that less pho­nes are being sub­si­di­zed the­se days and that mobi­le net­work ope­ra­tors and their resel­lers star­ted lea­sing out pho­nes, so you end up paying a hef­ty mon­th­ly fee + ~ EUR 15 for the pho­ne. You'll still find many cus­to­mers asking for "a free pho­ne" from their ope­ra­tor every two years (the way it has been in the past), but it is actual­ly che­a­per to get a pre­paid card & buy the pho­ne (unless of cour­se you'­re on a flat fee con­tract and using the pho­ne a lot). I don't call that much, but often check my mail via the pho­ne, so "cheap inter­net access" is my main issue. I also like the brow­ser on the iPho­ne, but then: I guess I am too stu­pid for App­le's Mono­cul­tu­re and Ope­ra­ting Sys­tem. The iPho­ne may have a gre­at brow­ser (the grea­test?), but a non-remova­ble bat­te­ry, a lou­sy came­ra and no taskma­na­ger (or is the­re?) are a no-go for me. Plus it is still too expen­si­ve in Europe.
I real­ly can't wait to get my hands on my own Nokia E72 becau­se it will even­tual­ly enab­le me to return to the mono­block design. The 2‑way sli­ders on the N95 are *inte­res­ting* but abso­lute­ly useless and it's about time for me to upgrade from a T9 key­pad to a full QWERTY (QWERTZ) keyboard.
The 2 best reviews so far are the one by Antoi­ne of AllA­bout­Sym­bi­an AllA­bout­No­kia (part 1,2,3,4,5 and his ver­dict) and Eldar's pie­ce on Mobi­le Review. The­se two reviews are also rea­son enough why I just want to own the pho­ne and won't do a review on it once it's here.. :-)
OH, and it HAS A FLASHLIGHT!