I assu­me that about 99% of all kni­ves and pan­gas sold in Kenya are Made in Chi­na. The remai­ning 1% are pro­bab­ly impor­ted kit­chen kni­ves and/or mul­ti­tools from the US and Europe.
Ever­yo­ne who owns a kni­fe pro­bab­ly knows that a dull/blunt kni­fe is almost useless, so the­re's a kni­fe shar­pe­ning ser­vice avail­ab­le in most pla­ces like this one we'­ve fea­tured over at Afri­Gad­get some time ago.
I also bought one of the­se rota­ting grin­ding stones from Uchu­mi (ex-super­mar­ket chain in Kenya) many years ago (for Kshs. 265/=, actual­ly) and have also been temp­ted to get one of the­se huge shar­pe­ning stones / hones for kit­chen kni­ves which also sold for some­thing like 70 bob back in the days (they are much more expen­si­ve in Euro­pe, btw — even though they are all Made in Chi­na). Shar­pe­ning a pan­ga (mache­te) with a rota­ting grin­ding stone is "ok" — for kit­chen kni­ves the flat grin­ding stone (~ hone) is the bet­ter (and often only) alter­na­ti­ve as you want to keep the ang­le of the edge.
This edge ang­le actual­ly is the most important part on a kni­fe, I think, at least when it comes to its sharpness.
Cheap and lazy as I am, I have in the past only used shar­pe­ning stones and other — cheap — shar­pe­ning tools that MAY work for the ordi­na­ry kit­chen kni­fe, but should NEVER be used on a hun­ting kni­fe, or — in my case — a multitool.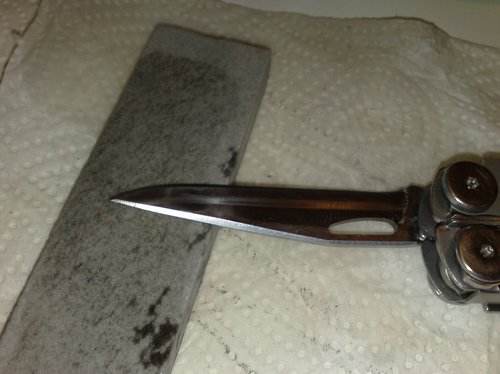 Arkan­sas oil-stone
Just in case you did­n't know: the shar­pe­ning pro­cess its­elf is a pecu­li­ar task on which you'll find various — dedi­ca­ted — web­sites and forums that sole­ly talk about how to best shar­pen a kni­fe. As far as I know, using a shar­pe­ning stone (with water or oil, some­ti­mes also some poli­shing pas­te) is the best way to shar­pen a kni­fe. This, howe­ver, requi­res some basic know­ledge on steel, how kni­ves are usual­ly made, what kind of steel was used on your kni­fe and how this steel will behave under hig­her tem­pe­ra­tures. Tho­se Japa­ne­se kit­chen kni­ves (we have one at home from back in the days) for examp­le are very sen­si­ti­ve to hig­her tem­pe­ra­tures abo­ve ~ 160°C (of cour­se, again, depen­ding on the steel mix­tu­re it is made of), so you abso­lute­ly have to make sure the hone is coo­led down and soa­ked in water any­ways. The majo­ri­ty of all other kni­ves in our kit­chen are Made in Ger­ma­ny, which means they are not as sen­si­ti­ve as the Japa­ne­se kit­chen kni­ves and also keep their sharpness to some extent. They aren't as chea­ply made as the ones from Chi­na as I am yet to see a decent kni­fe from Chi­na. My sis­ter actual­ly gave me a set of 5 real­ly good kit­chen kni­ves from Zwil­ling, Ger­ma­ny, as a pre­sent during last christ­mas, and I have to admit that coo­king real­ly is a joy with the­se new kni­ves. Good tools are a blessing!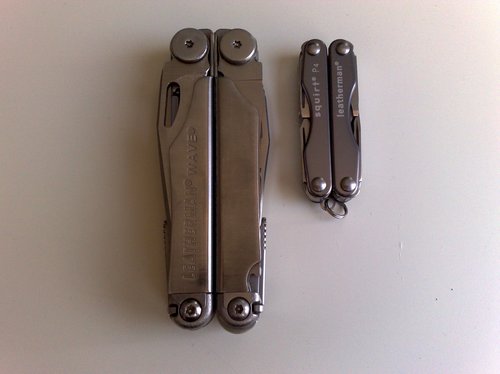 As men­tio­ned, I am a Mul­ti­tool guy. I have four Lea­ther­man mul­ti­tools (the Wave I, Wave II, Char­ge TTi and a small Squirt P4). You won't buy the­se tools for their kni­ves becau­se, well, the steel used on their bla­des isn't that gre­at (except for the Char­ge TTi which comes with an S30V blade).
The bla­de on my Wave II las­ted about four years until it beca­me too dull. Stu­pid and unknowing as I am, I of cour­se only tried the usu­al tools (Vic­to­ri­nox Shar­pe­ning Pen = hor­ri­ble, kni­fe shar­pe­ner from the kit­chen, Arkan­sas shar­pe­ning stone) — ther­eby kil­ling the edge ang­le on the knife.
Left with an unabi­li­ty to real­ly shar­pen my mul­ti­tool to a decent level, I brought it to a "pro­fes­sio­nal" shop — a very popu­lar gun & kni­ves shop in Frank­furt down­town. For some unknown rea­sons, the­se jerks com­ple­te­ly fucked it up, kil­ling the edge ang­le even more and retur­ning a somehow sharp kni­fe that loo­ked like being shar­pe­ned on a high speed shar­pe­ning wheel. Tha­t's exact­ly what I had tried to avoid on my Mul­ti­tool, so I backed off and told mys­elf: Argh.…maybe next time. This was half a year ago.
Ok, so I may be too Ger­man on this, but the­re's this moment when things just have to be per­fect. You eit­her do it right or never. So I ended up buy­ing this GATCO Edge­ma­te Pro­fes­sio­nal Kni­fe Shar­pe­ning Sys­tem for a hef­ty EUR 47.95 today any idi­ot like me can use to regain the much nee­ded edge ang­le on a bla­de. The gui­ding rods atta­ched to the hones are inser­ted into the holes on the clamp and will then gli­de over the edge at a con­stant ang­le. Sounds too com­pli­ca­ted? Here's a video on it…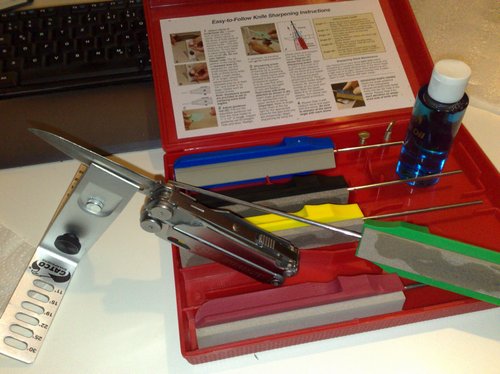 And you know what? The­se four dif­fe­rent hones on a gui­d­ance rod just work and allow you to set an edge ang­le of 11°, 15°, 19°, 22°, 25° and 30°. The­re also is a fifth rod for ser­ra­ted kni­ves — my mul­ti­tool also has a ser­ra­ted bla­de. I've been able to res­to­re the ang­le on my mul­ti­tool and also shar­pe­ned a real­ly dull kit­chen kni­fe with gre­at suc­cess. I under­stand that this set isn't meant to deli­ver razor bla­de sharpness (which would pro­bab­ly requi­re ano­t­her hone with even finer grit and/or pas­te and some lea­ther) but for ever­ything else — and espe­cial­ly for hun­ting kni­ves — this set is the best idi­ot-pro­of choice. Some­thing like EUR 50 are a lot of money just for shar­pe­ning a kni­fe, but I belie­ve that it is well inves­ted money that will enab­le me to enjoy sharp kni­ves and send all other useless shar­pe­ning devices into ear­ly retirement.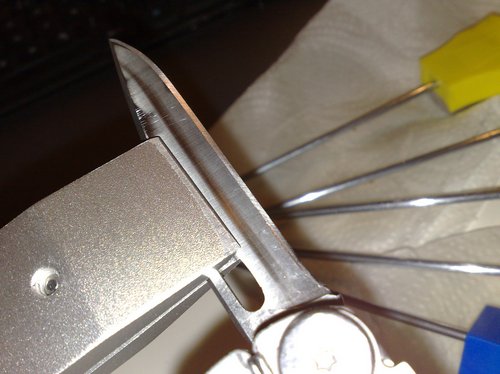 The bla­de on my Wave II during the shar­pe­ning pro­cess. The — still rough — 25° edge ang­le is alrea­dy visi­ble (all pics taken with a Nokia N95, btw).
UPDATE: I just recei­ved a call by the main Lea­ther­man dealer/importer in Ger­ma­ny who asked about the kni­fe on my Wave II and offe­red a free shar­pe­ning. Ama­zing! Told them I'd be glad to accept this offer and will send in mine asap the beco­me blunt again.