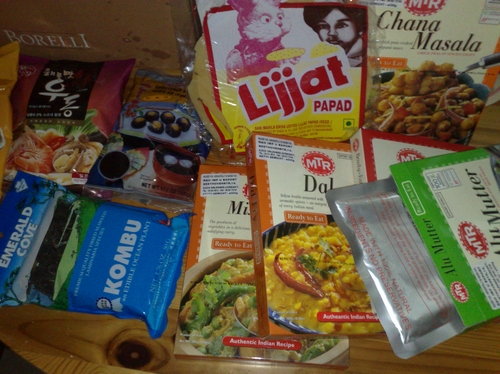 Buy­ing rea­dy-made food is a bit stran­ge to me, espe­cial­ly as it comes packed wit­hin mul­ti­ple lay­ers of paper, plastic and alu­mi­num foil, but.…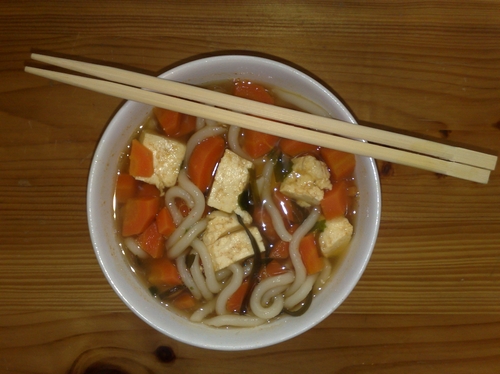 UDON nudoools actual­ly look like tapeworms..
…being able to crea­te a tas­ty UDON soup, enri­ched with fresh car­rots, sea­weed and tofu, in just 10 minu­tes is unbeataboool!
I real­ly dig the­se Indian rea­dy-2-eat food packa­ges. They are nice for tho­se moments when you don't want to cook for one per­son (+ I can't cook stuff in small por­ti­ons, so when I pre­pa­re aloo mut­ter or cha­na masa­la it will always last for at least two hungry eaters). One of the­se MTR packa­ge cos­ts EUR 1,80 — which of cour­se is some­whe­re in bet­ween of what you pay for the same dish in India and in an Indian restau­rant abroad.
@Kang-Ping: can you see that bag of red bean pas­te? Sweet & lovely!
This was sup­po­sed to be my first post from Kubun­tu 7.10 + Kon­quer­or and later on Fire­fox brow­ser, but some­thing went wrong + my Wor­d­Press 2.5 instal­la­ti­on has ten­den­ci­es of beha­ving like Rucy Kibaki, espe­cial­ly the media upload script will prol­ly need a user rights cor­rec­tion (i guess — or is the­re a bug?).
The best way to ruin your sato after­noon is by instal­ling Kubun­tu 7.10 and figu­ring out why the packet mana­ger is beha­ving like Jeff Koin­an­ge after being asked the mea­ning of Pere­stroi­ka on Omo-Pick-A-Box.
Well, tha­t's what wee­kends are made for, right?