…just when I thought about entering my idea about those biodegradable cotton swabs into a contest @ mission-sustainability.org, I came across this interesting brochure (PDF, ~ 3,6MB) via European Bioplastics – a "European branch association representing industrial manufacturers, processors and users of bioplastics and biodegradable polymers".
Inside the brochure, I found this picture by Novamont: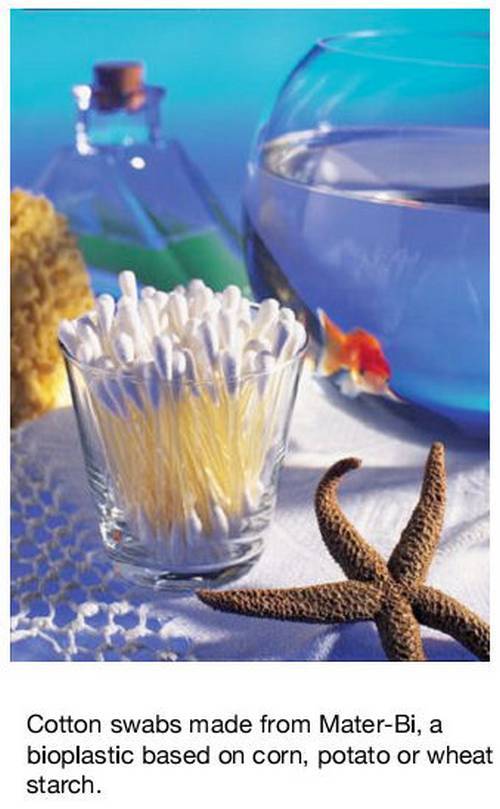 Well, seems like a smart company out there already knows what to do…
As for the contest: "We are interested in your very personal, your original actions for how to make your everyday life and that of others more sustainable. It can be ideas regarding everyday situations such as your consumption habits or your use of energy, it can be ideas for how you – together with others – could transform your immediate surroundings or area into a community. It may, though, be something completely novel, truly unique – something completely different and something nobody ever thought about!"
Just as important as describing to us your goals is the creative, visual implementation of your idea. We want to be able to see what effect your change in behaviour will have on others – and as the saying goes, a picture says more than a thousand words… You can send us graphics of what you want to achieve, photos of you putting your idea into action or drawings of how you imagine the world to be once you have reached your goal. Be funny, be serious, be wild and whacky or just original – we look forward to seeing your work!
You can submit a maximum of three actions, each accompanied by one visual representation. Everyone, from all countries and of all ages is invited to take part in the competition. You can post your ideas and their visual representations straight onto our website."
The closing date is August 31st, 2007.
Btw, bioplastics are a very interesting alternative – just think of all those plastic bags in Kenya and compare that with the ban of plastic bags in countries like Rwanda.