So you're passing through Mwea and see a woman selling rice. And look, there's another one selling rice. And another one. And another one. And another one. And another one. And another one. And another one. And another one. And….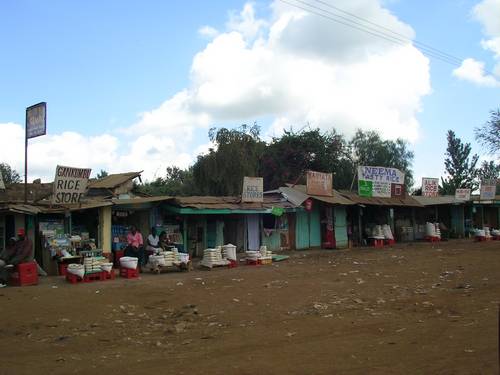 "Waititu", I asked my colleague the other day, "why are aaaaaalllllll these people selling rice? I mean, isn't this confusing for customers? Now where do I buy my rice? Which is the best place?"
"Oh, customers just buy their rice at one shop and then, if they like it, they just return to the same shop next time they're in need of rice. This is the way we do it in Kenya."
Aha.
And then you're proceeding towards Embu, where your next small step is to get at least one of those computers at the office online. The typical landline modem dial-in connection is just too slow, and you've thought about connecting one of the mobile phones of your colleagues to a computer via a data caboooool and going online using the GPRS (packet data) method. These guys need to be connected and are supposed to check their emails at least once a day.
You're taking a matatu to Nairobi and buy one of those data cables. The cable works…..sometimes…..sometimes it doesn't, and you just wish someone at the HQ who procured all these fancy computers could be around for some serious talks:
Of course none of those ******** TOSHIBA notebooks (hi M :-) comes with an InfraRed port. Please, the person in charge of procurement at the HQ should be sacked for blatant stupidity.
Now since the cable isn't that reliabooool, and since it somehow "walked away" (= someone took it), you think of the next best solution of connecting a mobile phone to a computer: InfraRed. Or as we pronounce it here in this area: InflaLed.
You're taking another matatu to Nairobi and strike a deal by just spending Ksh. 1.000/= on an imported InfraRed / USB to serial adapter. A small device that provides an InfraRed port on your computer via the USB port.
You're back at the office, connect it to a computer, and realize it doesn't work.
"Hmmm", you're thinking to yourself, "now that's Murphy's Law. Will I be able to find an InfraRed port here in Embu that JUST works?".
Good question, eh?
There are about 5 good shops selling a variety of interesting mobile phones – and about 20 smaller shops selling just the usual, fast-selling & low-budget mobile phones.
There are about 20 electricoooool shops selling tv sets, tv sets, tv sets, tv sets, radios, cassette players, cd stereo systems, tv antennas, solar panels and car batteries.
Is there ANY shop in Embu that sells computer spare parts? Something like hard disks, mainboards, computer cases, RAM, CPUs, optical drives, USB stuff, etc.?
No! Nothing.
And I ask you: why not? How come that computer parts are even cheaper in Nairobi than in e.g. Berlin, yaani here in this town upcountry – where people are also using computers, just as the two leading supermarkets in town are also using computerized barcode scanning cashier systems – there's not a single shop where you can buy such parts.
There's a market, there are customers, and there's is money. Alafu…..?