Aunty Mshairi, the following content is not for your eyes….
So I was just chatting with Sarah about cooking, garlic and cockroaches when I realized I should just check out the kitchen corner in my appartment. I had cooked some rice with garlic today, and the sufuria still needed to be covered.
Upon arrival in the kitchen, I found this: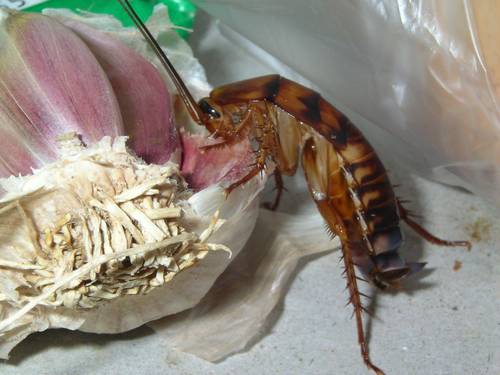 One brave Embu Gangsta Roach eating garlic. MY garlic.
While some parts of my brain suggested something like "WHAT THE FUCK??!!", the other, more civilized part upstairs suggested to pick my cam and take some evidence from the crime scene. In fact, this dear roach was SOOOOOOO busy with her task of eating MY garlic that I started talking to her.
I guess she doesn't understand German.
Yani, since when do these roaches like garlic? I thought they only party for beer and other sweet things…interesting….
(and no, I didn't kill her!)
UPDATE: Now that's one singoooool roach that will make you look like an idiot who never cleans his kitchen. Aterere….I'm a hunter, baby. I'll get ya! YEAH!
So there I went, with a broom, a sponge, some Doom and vicious thoughts of revenge in my head, trying to track down THIS particular roach that ate my garlic.
In other words: while cleaning the kitchen tonight, I managed to locate HER (yes, her? could be a male, KM, true – just look at those nini at the bottom) under the kitchen sink….and then paralyzed her with DOOM.
And yes, she's the one, she's the one! And she wasn't alone – her somehow darker brother came out as well. Duuuuude. Embu! Gangsta! Roaches!
I killed them both.
And this is how a garlic eating cockroach in Embu, Kenya became blog material 22 hours before she was eventually "promoted to glory".