I thought about renaming my blog from "Kikuyumoja's Realm" into "JKE's photo safari blog" for a moment, but then…
Harrycane, the kids & I went to the christmas bazar at the German Embassy/Church place on Riverside Drive in Nbo today, and despite of meeting some old friends I hadn't seen for a long long time, I also had a chance of meeting one of Kenya's finest artists: Bertiers.
Joseph Bertiers, this humble sign writer from Dagoretti who has actually won some prestigious awards in the past, is no stranger to me. I had this really funny poster on "toilet use" in my bathroom he made for the GTZ some 12 (?) years ago, I remember he made a painting of our graduation class in 1996 (Mathias, where is it? in Frankfurt?) and even fellow blogger / videojournalist Ruud Elmendorp made a short documentary on him some time ago. Bertiers' name was on my "things to do" list earlier this year when I came to apply for that internship in Embu. I urgently wanted to meet him and see his atelier.
Now, I gave him my card and wrote "Kikuyumoja" on it – and Bertiers instantly told me "yeah, Kikuyumoja's Realm, I know that site on the internet…".
Atereere…. :-)))))))))))
Kibs painting cats while Agwambo enjoys an orange drive.
WDR-Wim reporting live from the "rapids cats painting centre".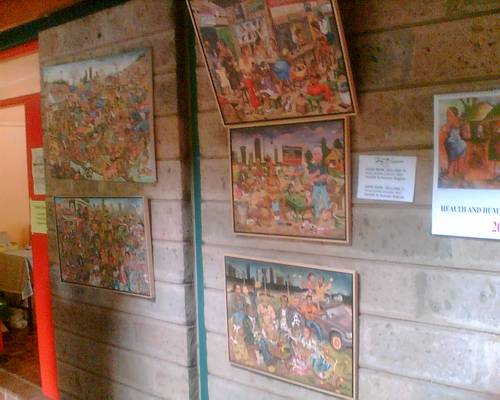 These paintings sell for about Ksh. 20.000 /= each, which of course is a proud amount of money. Yani, Bertiers ever-returning theme of "painting cats" is something we'll continue observing in Kenya's political scene – which still delivers free-of-charge daily templates for perfectly placed satire. Just imagine the Arthurs saga and their bling bling styles – that's free entertainment which needs to be turned into art.
Now, despite of the true political observations painted in oil, there are a lot of small and interesting details one discovers by closely looking at these paintings. And I think there's no better compliment for an artists if a crowd of young kids interestingly inspects these paintings for about 15 minutes. And even after some years, these paintings don't lose any of their energy.
Trust me: if you're interested in contemporary Kenyan art, and would like to get something unique – Joseph Bertiers is the man to ask.
@Bertiers: see I don't have transport at the moment and need to get back to Embu kesho, lakini asap there's more time, let's pls arrange for a visit at your studio, ok?