Saturday afternoon after some work on an urgent paper (which hindered me from going to Nyeri) I organized some cheap furnitures (cheap as in cheap quality and low – local – prices) for the kitchen + my room and also persuaded the stingy part in me to invest some mbeca for a decent 6 kgs K-GAS meko/gas cooker. The rest of the money was spent on a nice sufuria, flllying pan and vegetabols. And nyama, of course! After all, I urgently wanted to cook for myself and start with a decent steak or at least some beef – anything else but chicken and or – even worse – goat meat.
Roasted goat meat – mbuzi choma…as nice as it is – at 4 pm the city town was already covered by the smell of mbuzi choma and the butchery at our shopping complex was crowded with the usual saturday-evening-nyama-choma-customers who all had their share of the 5 cows which were slaughtered today. I opted for some beef and asked for some nice filet pieces. 1/2 kg for 80 Ksh. – sawasawa, ama?
Sukuma (already cut) and cabbage @ 10 bob each, some Kimbo cooking fat and my new cooking utensils – there you go, cooking your first meal in Embu downtown. Style!
Sukuma + cabbage + coriander + tomatoes + kimbo …
beef + salt + milk + "simba mbili" curry (the BEST curry out there!) …
A great meal, although the beef was wayyyyyy to stiff and should have been roasted instead. I think I won't cook any meat soon and order it choma @ the bar next door. The sukuma thingy was very delicious though and really made my evening. Also, I really dig this cheapo stainless steel plate. Very easy to handle.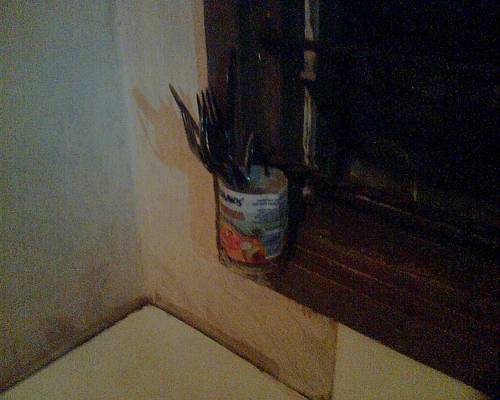 And while cleaning the dishes, I came up with this practical "cutlery holder" mounted to the window frame. It's simple, it's free, it wins! (thx, Hash :-).
p.s.: while writing these lines, power went off again and the cool thing is: hakuna shida! Notebook + mobile phone = both run on battery. Great…
That is, I once lost ~ 10 pages of written text due to a power failure on my late Atari 1040 STF (home computer) way back in 1994 in Nbo so it really means much to me to be somehow independent from these frequent power cuts…
p.p.s.: CIRU, Kui, Mich, Daudi, Mbuzimoja…karibuni in Embu! Pls come and I will cook for you! :-)