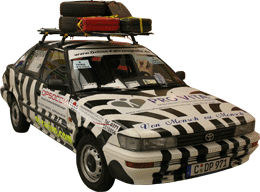 There are these two german waZUNGU from Chemnitz, Germany who are planing to take part in the next Plymouth-Banjul Challenge 2006 (PBC 06) – driving their '92 Toyota Corolla Liftback from Plymouth (UK) through France, Spain, Morocco, Western Sahara, Mauritania to the Gambia.

"… If you have a sense of adventure but relatively little cash, then the Plymouth-Banjul Challenge might be up your street!"
"Unofficially spoken of as 'The Ultimate Banger Challenge', another motley collection of cars costing less than £100 will be assembled to drive over 3,000 miles from the South coast of Great Britain to the West coast of Africa."
Yani, MY car is an old (i say OLD!) Volkswagen Golf 2 from 1989 with about the same mileage as this said Toyota Corolla and I think its market value would be something like 100,- EUR (~ 9.000 Kshs). The next big thing to repair will be the clutch (the pressure plate inside) and maybe new shocks, lakini, why shouldn't I take this car in 2006 and drive it up to…uhhhmm….Kenya?!
Lady Mbuzimoja, Lady Tembo, Mzeecedric – are you in for the challenge?