atten­ti­on: NERD CONTENT! :-)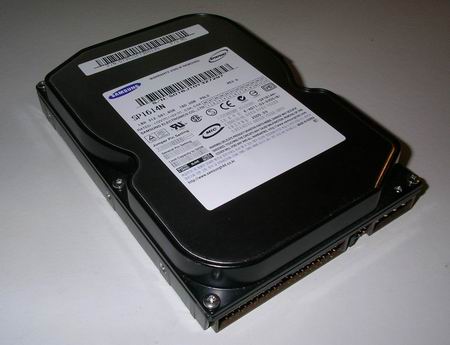 Ima­gi­ne a hard disk being a pie­ce of land that belongs to a far­mer. He has divi­ded it into dif­fe­rent par­ti­ti­ons cal­led C, D, E, F, G, H, I, J, K, L (~par­ti­tio­ning) and wants to use each of tho­se par­ti­ti­ons to grow healt­hy stuff. Befo­re he can grow anything, he needs to plough the who­le plot (~for­mat­ting) and then one day he deci­des to use par­ti­ti­on C as the site for his new house (~place of the ope­ra­ting sys­tem, i.e. WinXP).
The far­mer grows lots of healt­hy fruits and good vege­ta­ble and even installs a big wall sur­roun­ding his house (~fire­wall) and to pre­vent it from thugs (~virii) ent­e­ring his home and ste­aling his two vehi­cles, a colour tv set and other goods worth hours of hard work.
Then just one day, the impos­si­ble hap­pens and the land upon which his house was built, descents into the ground becau­se, as fur­ther stu­dies later on reve­a­led, the­re used to be a lake right under the house which was fil­led up with soil and so the hea­vy weight of the house cau­sed ever­ything to sink into the soil… This tra­ge­dy left the poor far­mer with a huge sham­ba that he could­n't care for becau­se his trac­tor was sunk as well. The remai­nings of his house were decla­red unfit for fur­ther use and he had to use all his savings to buy ano­t­her trac­tor in order to har­vest the fruits of his remai­ning land…

The­re's this 160 GB Sam­sung SP1614N (7200rpm/8 MB cache) hard disk dri­ve (HDD) I bought in April 2005. Yes­ter­day evening I tried to switch on my com­pu­ter and all it did was tel­ling me that a cer­tain Mr. Sam­sung had gone on a lon­ger vaca­ti­on. I tried to per­sua­de, I beg­ged this hard­disk to come back to work but all it gave me was an absent note, say­ing: "ntoskrnl.exe" not found. Yeah. No pro­blem, just pull out WinXP CD, reco­very mode, type in »expand X:/i386/ntoskrnl.ex_ C:« et voi­là.… Et not­hing! That damn con­fig direc­to­ry was­n't even avail­ab­le! Huuu.…. haku­na mata­ta, then I will have to refor­mat ever­ything. Takes time. Takes even more time. Stops at 32%. Ah. May­be a bad sec­tor. I have to run SPIN RITE 6.0 on it then. Spin­Ri­te ran the who­le night and when I woke up again, it still show­ed the same screen whe­re I had left it when I went to bed. Uhhhh. 32%.…34%. Ah. MAYBE I can still try to refor­mat it and hope­ful­ly NTFS (Micro­sof­t's pre­fer­red file sys­tem) will exclu­de any bad sec­tors. And yes, it actual­ly for­mat­ted the dri­ve this time, though it took about 2 hours. I then reinstal­led WinXP on it and once the com­pu­ter star­ted again, the hil­arious S.M.A.R.T. func­tion (Self-Moni­to­ring Ana­ly­sis and Repor­ting Tech­no­lo­gy) even­tual­ly rea­li­zed that some­thing could be wrong with this hdd. Yeah, as if I did­n't know…"S.M.A.R.T. sta­tus: Bad — back­up and res­to­re. Doooooooooooooooooh!
So I "just" bought a new HDD and reco­ve­r­ed the data from all the other — func­tio­n­ing — par­ti­ti­ons. For­tu­n­a­te­ly, no important data was lost (back­ups, folks, back­ups!). Howe­ver, it still bugs me a lot that a new HDD just fails to work right after 7 mon­ths in use… Tho­se folks over at Sam­sung are in for a goooooooooood explanation!
P.S.: I think one day, pro­duc­ti­vi­ty will be mea­su­red by the time span it takes to get a sys­tem up & run­ning again.