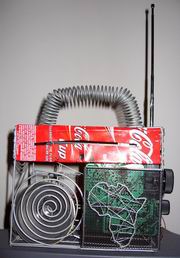 Music is life. Music takes a BIG part in my life. I love it. I could­n't live without it. It's not that I need this or that par­ti­cu­larrrrr ngo­ma all the time, but still, I would­n't be able to stand the average main­stream music crap they are play­ing on the radio. As for Ger­ma­ny — all big sta­ti­ons have somehow adop­ted this "the best of yes­ter­day, today and tomor­row" (sic!) slo­gan which equals, well, bull­shit. It all ends up in a huge crap­py mix of stuff that I don't want to lis­ten to.
(yes, I am VERY picky on that, sor­ry…)
Sin­ce most com­mer­cial radio sta­ti­ons play the average doo­bi­doo­bla­bla, some peop­le out the­re tune into inter­net radio sta­ti­ons, make their own radio pro­gram­me of even just lis­ten to their mp3s on mobi­le play­ers. As for me — my tas­te in music is so diver­se, I could­n't even descri­be it. It somehow ran­ges from house to folk, from indy rock to Sou­k­ous, from Punk, Rock and Blues to Hip­Hop, Reg­gae and Clas­si­cal music. Even tho­se Mas­hup­tu­nes. Anything is wel­co­me as long as it sounds good and isn't too com­mer­cial­ly exploited.
The other day while sur­fing on some blogs, I figu­red that some had this last.fm But­ton on their sites. Last.FM is simi­lar to Pandora.com — you type in the name of a band, artist or song you like and the machi­ne behind that web­site instant­ly plays a song by that band and others that (are sup­po­sed to) sound simi­lar.
Now, with this last.FM web­site, the­re's ano­t­her bonus: a plugin cal­led Audio­scrob­bler. This litt­le plugin sends the ID3 tag infor­ma­ti­on (meta­da­ta) of your mp3 files to this last.FM web­site (last.FM & Audio­scrob­bler mer­ged in August '05) and gene­ra­tes a sta­tis­tic of your very own music pro­fi­le — based on what you'­ve been lis­tening to on your com­pu­ter. I had actual­ly down­loa­ded an older ver­si­on of Audio­scob­bler on Octo­ber 1st in 2004 but till today(!), I have always remai­ned very scep­ti­cal about a plugin that finds its way into my beloved Winamp play­er (iTu­nes? No!) and sends out pri­va­te data to a web­site? Wooiii?? Who on earth would be inte­res­ted to know what Mr Kikuyu­mo­ja is lis­tening to on his com­pu­ter?
Ques­ti­ons. No ans­wers. Only other web­sites fea­turing this pecu­li­arrrr plugin. Hmm. Shall I give it a try? Yes. I did. Today.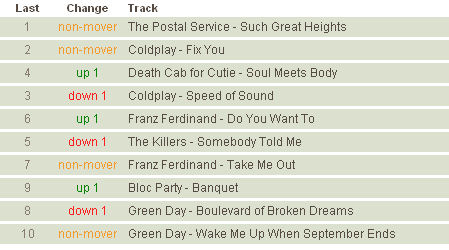 Now wha­t's this screen­shot doing here?? .…it shows the offi­cial charts as play­ed by users on last.FM. Hey hey hey — wha­t's that sup­po­sed to mean now? This Pos­tal Ser­vice, Cold­play, DCFC, FF, The Kil­lers, Bloggggg­Par­ty — do we con­si­der this main­stream music? NO! But tho­se are the most play­ed artists by users around the glo­be! Wooii???! How come our radio sta­ti­ons are tor­tu­ring us with main­stream **** and on the other hand the unof­fi­cial charts as repre­sen­ted by lis­teners around the world are from the indy or punk rock gen­re? Isn't it that most radio sta­ti­ons do have inter­net access — so they could just easi­ly access such charts to even­tual­ly adjust their play­lists and play what the majo­ri­ty wants to hear? Is it just this coun­try? Ques­ti­ons. No answers.
The good side of it: most lis­teners on last.FM are just as picky as I am. Nice :-)