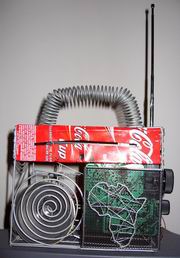 Music is life. Music takes a BIG part in my life. I love it. I couldn't live without it. It's not that I need this or that particularrrrr ngoma all the time, but still, I wouldn't be able to stand the average mainstream music crap they are playing on the radio. As for Germany – all big stations have somehow adopted this "the best of yesterday, today and tomorrow" (sic!) slogan which equals, well, bullshit. It all ends up in a huge crappy mix of stuff that I don't want to listen to.
(yes, I am VERY picky on that, sorry…)
Since most commercial radio stations play the average doobidooblabla, some people out there tune into internet radio stations, make their own radio programme of even just listen to their mp3s on mobile players. As for me – my taste in music is so diverse, I couldn't even describe it. It somehow ranges from house to folk, from indy rock to Soukous, from Punk, Rock and Blues to HipHop, Reggae and Classical music. Even those Mashuptunes. Anything is welcome as long as it sounds good and isn't too commercially exploited.
The other day while surfing on some blogs, I figured that some had this last.fm Button on their sites. Last.FM is similar to Pandora.com – you type in the name of a band, artist or song you like and the machine behind that website instantly plays a song by that band and others that (are supposed to) sound similar.
Now, with this last.FM website, there's another bonus: a plugin called Audioscrobbler. This little plugin sends the ID3 tag information (metadata) of your mp3 files to this last.FM website (last.FM & Audioscrobbler merged in August '05) and generates a statistic of your very own music profile – based on what you've been listening to on your computer. I had actually downloaded an older version of Audioscobbler on October 1st in 2004 but till today(!), I have always remained very sceptical about a plugin that finds its way into my beloved Winamp player (iTunes? No!) and sends out private data to a website? Wooiii?? Who on earth would be interested to know what Mr Kikuyumoja is listening to on his computer?
Questions. No answers. Only other websites featuring this peculiarrrr plugin. Hmm. Shall I give it a try? Yes. I did. Today.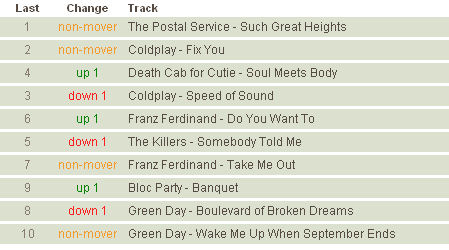 Now what's this screenshot doing here?? ….it shows the official charts as played by users on last.FM. Hey hey hey – what's that supposed to mean now? This Postal Service, Coldplay, DCFC, FF, The Killers, BlogggggParty – do we consider this mainstream music? NO! But those are the most played artists by users around the globe! Wooii???! How come our radio stations are torturing us with mainstream **** and on the other hand the unofficial charts as represented by listeners around the world are from the indy or punk rock genre? Isn't it that most radio stations do have internet access – so they could just easily access such charts to eventually adjust their playlists and play what the majority wants to hear? Is it just this country? Questions. No answers.
The good side of it: most listeners on last.FM are just as picky as I am. Nice :-)