I've just retur­ned home an hour ago and ope­ned up my snail mail. One of the enve­lo­pes con­tai­ned the most sty­lish gad­get I have ever recei­ved so far: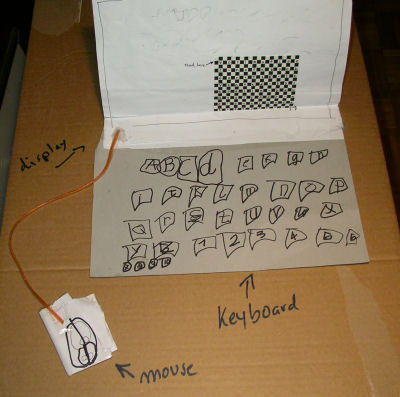 A note­book made out of paper.
I recei­ved this kewl device from Dada Mbu­zi (also known as Kikuyum­bu­zi) — her sis­ter made this very nice and eco-effec­ti­ve ver­si­on of a note­book upon see­ing Kikuyum­bu­zi working on her own Fuji­tsu-Sie­mens Ami­lo. Sin­ce she knows about my desi­re to get my hands on a new note­book (I sold my 400 MHz/128MB/4,3GB Acer from 1999 the other day), she con­se­quent­ly sent this to me.
A big ASANTE SANA to Kikuyum­bu­zi for pro­vi­ding me with this nini. I will start tel­ling you more about it as soon as I find the power switch on it…