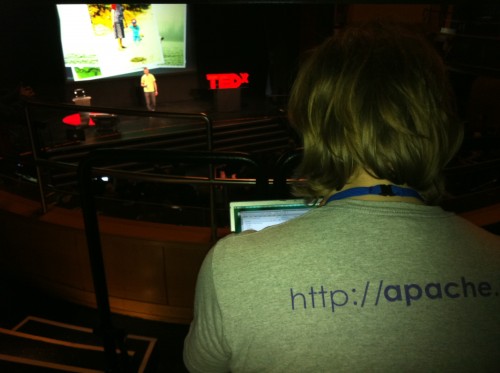 An unre­la­ted, but still epic snapshot I took at a recent local TEDx event.
Com­ing back to my sati­ri­cal he-said-she-said pie­ce on Pira­te Par­ty Kenya, I think the­re's 80% truth in it and that Kenya could also use such a modern poli­ti­cal par­ty. And this alt­hough I also belie­ve that demo­cra­cy as such still isn't the best opti­on for today­'s Kenya, at least not when it comes to the way it has been imple­men­ted in the past and when we look at the his­to­ri­cal struc­tu­re of socie­ties in East Africa.
I am not a mem­ber of the Pira­te Par­ty Ger­ma­ny becau­se I am try­ing to be inde­pen­dent and have in the past also con­tri­bu­t­ed to Ger­many's first hyper­lo­cal pro­ject frankfurt-gestalten.de (which is simi­lar to Mzalendo.com, but for (the City of) Frank­furt am Main only and is more about repu­bli­shing open data (e.g. han­sards from the local par­lia­ment) and cap­tu­ring citi­zen voices) and have as such tried to keep a neu­tral position.
I have, howe­ver, voted for Pira­te Par­ty during the last two local (Ger­man) elec­tions becau­se of the fol­lowing reason(s).
I also voted for them becau­se I am con­vin­ced of their con­cept. You'll have to under­stand that about 95% of the Ger­man media are cur­r­ent­ly try­ing to brand us floa­ting voters as "pro­test voters", who voted for the Pira­te Par­ty out of pro­test. This is SO wrong and I am stron­gly oppo­sed to this limi­ted point of view! The pro­blem is: most of the media did­n't get it. As much as they never unders­tood the need to update their views on the law which regu­la­tes the use of (online) con­tent. Wha­t's a free and open media when they are too stu­pid to under­stand a com­ple­te­ly dif­fe­rent approach to poli­tics? A new approach that also requi­res a dif­fe­rent bench­mar­king sys­tem if we are to com­pa­re the new opti­on with the tra­di­tio­nal alter­na­ti­ves. And plea­se remem­ber: Ger­ma­ny alrea­dy saw the intro­duc­tion of the Greens Par­ty ("Die Grü­nen") in the ear­ly 1980s, so our socie­ty here is alrea­dy fami­li­ar with new approaches.
I am cal­ling the Pira­te move­ment a modern par­ty becau­se I stron­gly belie­ve that their struc­tu­re is the logi­cal con­se­quence of what the inter­net has brought us so far. Such as an inter­na­tio­nal and time­ly respon­se on open issu­es that have in the past only been dealt with by a rela­tively small group. I see it as a respon­se to the suc­cess of the inter­net — this world wide net­work that is as revo­lu­tio­na­ry as let­ter­press, radio and tele­vi­si­on com­bi­ned. The under­stan­ding of the impact the inter­net has on all of us pro­bab­ly is some­thing that many of the cri­tics do not real­ly want to ack­now­ledge. As such, with new struc­tures that intro­du­ced a com­ple­te­ly new con­cept in com­mu­ni­ca­ti­on, it's also about time for a new and dif­fe­rent sys­tem. Eit­her way, it just hap­pens, whe­ther you like it or not. I also don't like ever­ything they put on Wiki­pe­dia, yet I often use it like many others.
What makes Pira­tes Par­ty spe­cial to me is the inte­gra­ti­on of modern tools and a com­ple­te­ly dif­fe­rent under­stan­ding of grass­roots demo­cra­cy — some­thing we alrea­dy know from the inter­net. "Liquid feed­back" is such a sys­tem and pie­ce of soft­ware that collects voices and for­wards votes to a per­son in the sys­tem that has more com­pe­tence on a par­ti­cu­lar sub­ject. Ever­yo­ne can cast his vote on all issu­es or dele­ga­te his vote to someo­ne else. It's still a rela­tively new approach, but the one that makes the dif­fe­rence to me. This alo­ne — the dif­fe­rent under­stan­ding of TRUE demo­cra­cy — is rea­son enough for me to give them my vote.
It is also this under­stan­ding why I just laugh at cri­tics who are asking me on "how can you vote for the Pira­tes — they don't even have a poli­ti­cal agen­da next to their inter­net stuff??! 1!11". Most cri­tics just repeat what they read somewhere.
And the Pira­te name? Well, both in Kenya and Ger­ma­ny, many if not all poli­ti­cal par­ties seem to have names that don't hold true to 95% of their dai­ly busi­ness. May­be the Anar­chist Pogo Par­ty of Ger­ma­ny (foun­ded in 1981 by two punks) is one of the few that is as con­se­quent in their approa­ches as the name dic­ta­tes. So eit­her way you may want to inter­pret the name and how it qua­li­fies for a bet­ter mar­ke­ting stra­te­gy (given that it sounds a bit anar­chic to most con­ser­va­ti­ve voters), it pro­bab­ly only mat­ters for mar­ke­ting rea­sons and as such, it isn't the worst.
In a recent elec­tion in two dif­fe­rent sta­tes wit­hin Ger­ma­ny, the Ger­man Pira­ten­par­tei scored bet­ween 7 and almost 9%, ther­eby secu­ring a few seats in local par­lia­ments. They cur­r­ent­ly have over 23.000 (!) mem­bers in Ger­ma­ny, which is qui­te a lot for such a young par­ty. Some­thing tells me that a) they are doing it right, b) the inte­rest to enga­ge in local poli­tics isn't dead and as important as it has always been and c) not all of their mem­bers are the ste­reo­ty­pi­cal IT folks with long hair who are into Ter­ry Prat­chett and/or have a para­no­id fear of ever­ything Goog­le Inc. does. All the­se mem­bers, rich and poor, old and young cer­tain­ly aren't enga­ging for the pro­test only.
It is for the­se rea­sons alo­ne, but also for many unmen­tio­ned more that I would to see poli­tics adop­ting more struc­tures that cor­re­spond to the tech­no­lo­gi­cal frame­work we cur­r­ent­ly expe­ri­ence on our pla­net. New struc­tures that enab­le crowd­sour­ced pro­ject approa­ches, some­thing that will hope­ful­ly also chan­ge the way we per­cei­ve to live in urban com­mu­nities (e.g. a moder­ni­zed infra­st­ruc­tu­re that plays along with our needs, not the other way round as it has been in the past). Pira­te Par­ty as such may not be the best opti­on with all its typi­cal start-up pro­blems, but it's the one that works and tha­t's all that mat­ters to me at the moment. If we could have the same in Kenya, I'd be very happy!