Einfach mal 9 Tage lang an gar nichts denken, die Sonne auf den vom üppigen Frühstück gut gefüllten Bauch scheinen lassen, nachher mit dem hässlichen, froschgrünen Mietwagen durch die Gegend cruisen und am Abend dann gebratenen Tintenfisch mit frischem Salat und einem kühlen cerveza genießen.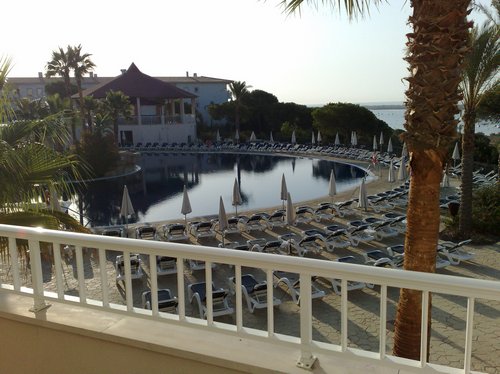 Die Liegen am Pool befinden sich in idealer Handtuchwurfweite vom Balkon.
9 Tage lang die vielen baulichen Mängel eines solch typisch spanischen Hotels versuchen zu verdrängen (sorry, Technikmensch) und das Netbook trotz relativ guter & kostenloser Inetanbindung (LAN & WiFi, ungesichert) nur für 2h statt 24h auspacken.
This actually is supposed to be an English blog post – but! you quickly realize how German you actually are, even if it's just Spain (where there are a lot of Germans). The fancy hotel we'd chosen for our much-awaited holiday (first since 2006) is located close to the Portuguese border, so we actually get two countries for one price plus a rented car which enables us to be mobile and tour the area. Great!