How many app­li­ca­ti­ons cur­r­ent­ly found on Sym­bi­an S60, iPho­ne OS and Win­dows mobi­le pho­nes do actual­ly work off­line?
Is the­re any chart online that com­pa­res the­se plat­forms towards the "off­line enter­tain­ment factor"?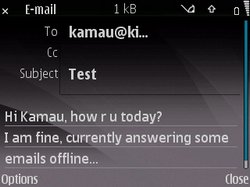 screen­shots: some of the stuff you can do in off­line mode on the Nokia E71 — lis­tening to music, watching vide­os, wri­ting e‑mails (dis­c­lai­mer: don't be foo­led by the 3G symbol :-)
Am asking becau­se I think the­re are more and more app­li­ca­ti­ons nowa­days that requi­re a data con­nec­tion (GPRS, UMTS, Wi-Fi) in order to work and at the same time we all know that a) data con­nec­tions are not yet avail­ab­le ever­y­whe­re and b) are some­ti­mes qui­te expen­si­ve for some users.
So wha­t's pos­si­ble in off­line mode?
ans­we­ring e‑mails
com­pi­ling sms drafts
wor­d­pro­ces­sing, spreads­heet ana­ly­sis, ebooks (PDF)
mul­ti­me­dia enter­tain­ment (lis­tening to some pre­l­oa­ded music, watching a video, (radio))
games
(unassis­ted) GPS
unplug­ging the head­pho­nes and teasing your seat neigh­bours with stu­pid ringtones :-)
Con­si­de­ring this off­line fac­tor and taking into account the ran­ge of app­li­ca­ti­ons the pho­ne has to offer that will work without any online con­nec­tion — how does your pho­ne per­form in this context?