How many applications currently found on Symbian S60, iPhone OS and Windows mobile phones do actually work offline?
Is there any chart online that compares these platforms towards the "offline entertainment factor"?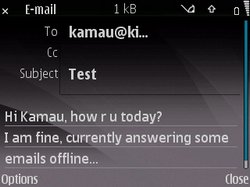 screenshots: some of the stuff you can do in offline mode on the Nokia E71 – listening to music, watching videos, writing e-mails (disclaimer: don't be fooled by the 3G symbol :-)
Am asking because I think there are more and more applications nowadays that require a data connection (GPRS, UMTS, Wi-Fi) in order to work and at the same time we all know that a) data connections are not yet available everywhere and b) are sometimes quite expensive for some users.
So what's possible in offline mode?
answering e-mails
compiling sms drafts
wordprocessing, spreadsheet analysis, ebooks (PDF)
multimedia entertainment (listening to some preloaded music, watching a video, (radio))
games
(unassisted) GPS
unplugging the headphones and teasing your seat neighbours with stupid ringtones :-)
Considering this offline factor and taking into account the range of applications the phone has to offer that will work without any online connection – how does your phone perform in this context?