On to the last part of my exten­ded Nokia E71 review!
It feels like the­re's so much more to men­ti­on on this pho­ne, espe­cial­ly if you regard it as your elec­tro­nic work­ho­se that not only has to deli­ver basic office func­tio­n­a­li­ty, but also mana­ge your busi­ness and pri­va­te life.
What I can tell so far is that it is a very valid can­di­da­te that could send my N95 into ear­ly reti­re­ment. IF only the came­ra was bet­ter on the E71, I'd immedia­te­ly switch and try to find a cheap con­tract online that sub­si­di­zes the E71. But it isn't. The came­ra modu­le (& it's Carl Zeiss len­ses) is the No. 1 rea­son why I'll keep my N95 for the time being and may­be switch to an N79 one day or, even bet­ter, wait for the upco­m­ing E72 & E75 models.
If I was still stuck with my old Nokia 6230i though and was­n't spoi­led by the mul­ti­me­dia capa­bi­li­ties of the N95 (e.g. video edi­tor on board), I'd pro­bab­ly take the E71 right on. Again, if you'­re inte­res­ted in taking pho­tos in dar­ker sur­roun­dings (~ in a restau­rant for a busi­ness din­ner), the­re are other, bet­ter came­ra pho­nes than the E71. As for the Nokia ran­ge of pho­nes, I'd recom­mend tho­se with a Xenon flash anyways.
So what about the "busi­ness & pri­va­te life" issue?
The Nokia E71 comes with two adjus­ta­ble home screens so that you can switch from a home to a busi­ness mode. I call it "mode" as all Noki­as also come with dif­fe­rent pro­files — so the work-aroun­d/­so­lu­ti­on to his has in the past been to sim­ply swit­ching pro­files via a short touch of the power but­ton on top. Pro­files, howe­ver, only con­tain dif­fe­rent sound settings.
[all screen­shots have been resi­zed from 320x240 to 250x187]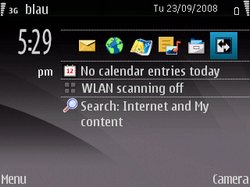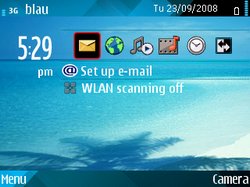 screen­shots: work & leisu­re home screens — note the dif­fe­rent short cuts on the stand-by menu
This new mode — Nokia also calls it the "work & leisu­re modes" — pro­vi­de two com­ple­te­ly dif­fe­rent home screens with dif­fe­rent wall­pa­pers, the­mes and short cuts on the home screen. Also, if you pre­fer the older S40 view and/or can't deci­de bet­ween the stand­by view with short cuts and that older S40 home­s­creen (empty screen), just con­fi­gu­re both modes accord­in­gly — so that you can switch screens at the touch of a button.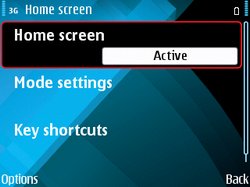 screen­shots: swit­ching pro­files & con­fi­gu­ring home screens
I haven't actual­ly used this as I am also one of tho­se guys who don't use a dock­bar on the desk­top (~ Apple OSX) or any Laun­chy tools for quick starts. To me, one home screen is enough. On the other hand, this simp­le switch pro­vi­des the fle­xi­bi­li­ty to turn your E71 from a pure busi­ness work­hor­se into a mul­ti­me­dia machi­ne without remap­ping the short-cuts on the stand­by / home screen.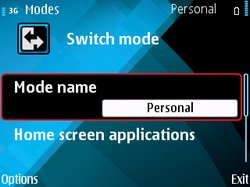 screen­shots: swit­ching modes & the (root) menu
Tal­king about tho­se spe­cial busi­ness needs — what else does the E71 have to offer?:
Prin­ting
Did you know you can actual­ly send your docu­ments from the pho­ne to a prin­ter? I do have a very nice HP Office­Jet 7210 prin­ter with a net­work inter­face, but it cur­r­ent­ly isn't con­nec­ted to my home net­work so I can't test this. So I can only assu­me it's working.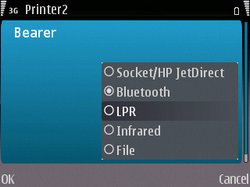 screen­shots: con­fi­gu­ring the prin­ter (note the various options!)
Text-2-Speech
I've alrea­dy men­tio­ned the Speech Syn­the­sis on my pre­vious post and also show­ed you a video of how tha­t's done. This is REALLY COOL! Of cour­se I could­n't resist and instal­led a Japa­ne­se ver­si­on along the man­da­to­ry Ger­man & Eng­lish output.

screen­shots: con­fi­gu­ring lan­guage packs for the Speech Synthesis
But still, this isn't all! You can just as well acti­va­te a func­tion cal­led "voice aid" whe­re this voice will also read out infor­ma­ti­on on recent calls, con­ta­cts, pro­vi­de a voi­ced dial­ler, clock and also let you put in voice com­man­ds. Voice com­man­ds! As men­tio­ned, it used to be nice on the 6230i, but I just don't know why Nokia chan­ged that with S60. Voice com­man­ds are a bit con­fu­sing (to me) as they are first read out by a syn­the­tic voice (which can be deac­ti­va­ted). My feed­back to Nokia: add some vibra­ti­ons to the dial­ler so that visual­ly impai­red users are also gui­ded around by a vibra­ting device.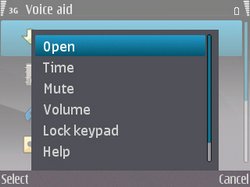 screen­shots: Voice aid on the E71 and the dialler
Deac­ti­vat­ing the syn­the­tic voice.…actually, this is what I like about the S60 plat­form and what many ppl for­get about it: Sym­bi­an S60 is so fle­xi­ble and dyna­mic, and you can just as well install a Mobi­le Python inter­pre­ter and wri­te your own litt­le pro­gramms. Now try that with an iPho­ne! And Goog­le's Android? Well.… tho­se who jum­ped the train for Goog­le's Chro­me brow­ser may like it, but I still feel a bit uncomfy about giving all my data into the hands of one com­pa­ny. I am of cour­se also eyeing to get my hands on a Goog­le G1 Android pho­ne (note the clock! lol), but if the­re's one thing I've lear­ned from the Nokia N95, then it's to wait for at least one year after a pho­ne has hit the mar­ket. Bes­i­des, who needs wid­ge­ts on a pho­ne screen? On an iPho­ne they do make sen­se, but other than that? Hmm…
See, the E71 is a busi­ness pho­ne, and com­pa­nies don't want to invest too much money IT mana­gers could­n't per­sua­de the purcha­sing dept. in buy­ing unre­li­able pro­ducts. I think the N95 was main­ly bought by freaks like me who are wil­ling to accept cer­tain flaws or bana­na soft­ware and even its pro­to­ty­pe-like design. Not so the E71, which just has to deliver.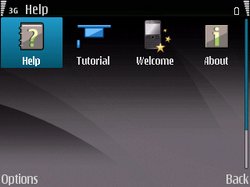 screen­shots: the pho­ne's inter­nal tuto­ri­al: take the manu­al with you!
And it deli­vers. It gives you VPN access to your com­pany's net­work (aptly named "intra­net" ), enab­les you to encrypt the pho­ne as well as the microSD memo­ry card and even pro­vi­des a mobi­le dic­tion­a­ry — which of cour­se may also be read out to you via the speech synthesis.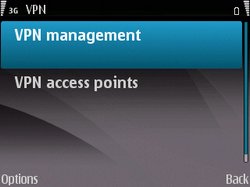 screen­shots: Encryp­ti­on & VPN-access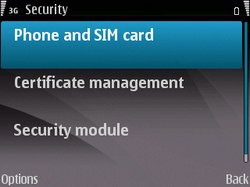 screen­shots: acti­va­te some secu­ri­ty measures
The swee­test fea­ture though is the remo­te lock : sim­ply send a pred-defi­ned sms to the device and the pho­ne will be locked. Great!
Need more soft­ware? Just search for it from the pho­ne or open the "Down­load!" app­li­ca­ti­on (@Nokia: this app­li­ca­ti­on isn't very user friendly..)

screen­shots: Goog­le search & Download!
The Wi-Fi is also very nice — I think it's even much bet­ter than the one on my N95 (which may be due to a dif­fe­rent anten­na posi­ti­on and other hard­ware impro­ve­ments). I've con­fi­gu­red the E71 with my Sip­ga­te (VoIP) account so I'm able to do Voice over IP / inter­net calls with a fixed num­ber from eit­her home or the office. Other than that, Fring also runs on the E71, so you can go on chat­ting via Sky­pe, Goog­le­Talk, ICQ, MSN, Twit­ter and so on right from the pho­ne. Fring is just gre­at, and with a true QWERTY pho­ne it makes much more fun to actual­ly type in messages while being mobi­le. No won­der they pre­l­oa­ded the latest Nokia pho­ne, the N96, with a fresh instal­la­ti­on of Fring!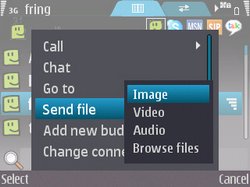 screen­shots: Fring in use on the E71
Ano­t­her nif­ty fea­ture I've alrea­dy come to appre­cia­te with the N95 is the bar­code rea­der (see the bar­code on the bot­tom of the right side­bar here) . You can of cour­se also down­load a rea­der to your pho­ne if it does­n't alrea­dy have one, but in this case, it's just right the­re on the menu and I will tell you why I like it so much: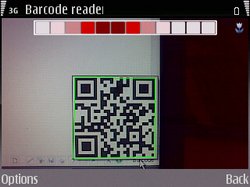 screen­shot: the QR-Code reader
The­re's this Fire­fox plugin that crea­tes on-the-fly 2D ("QR-") bar­codes of any page cur­r­ent­ly loa­ded and sits in the bot­tom right of your Fire­fox brow­ser win­dow. Let's say you'­re on a page that says "access this site with your mobi­le pho­ne's brow­ser to down­load our app­li­ca­ti­on direct­ly to the pho­ne" (e.g. Ope­ra­Mi­ni, Twib­b­le, etc.). Now, ins­tead of retyp­ing the URL into your pho­ne, just move your mou­se over the bar­code plugin and scan the gene­ra­ted bar­code with your pho­ne. Et voil? , the URL is rea­dy to be used on the phone!
GPS/Maps
Sure, the­re's Noki­a's Maps 2.0 app­li­ca­ti­on that works right out-of-the-box with a fast GPS chip. Nokia Maps chan­ged from the inti­al ver­si­on that came ship­ped with the old firm­ware on the N95, and while you can down­load maps from Noki­a's web­site and load them onto the pho­ne's memo­ry, others pre­fer other com­mer­cial solu­ti­ons — and I pre­fer Goog­le Maps. Goog­le Maps just does the job for me! Bes­i­des, it's free and much more intui­ti­ve for basic map­ping needs.

screen­shots: Goog­le Maps on the E71, dis­play­ing Waru­ku & area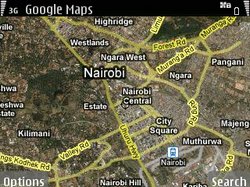 screen­shots: grea­ter Nai­ro­bi and an aeri­al view of the "jung­le" (~kibra)
Need­less to say I also down­loa­ded the won­der­ful Nokia Inter­net Radio app­li­ca­ti­on that pro­vi­des strea­ming radio sta­ti­ons from all over the world. Inclu­ding Radio Oka­pi and all Soma­FM streams for all my Sou­k­ous & Electronic/Indy needs.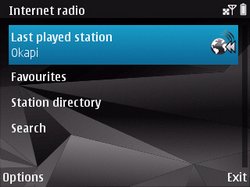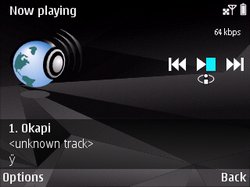 screen­shots: Nokia Inter­net Radio
Add Noki­a's Video cent­re, down­load various video pod­casts and the­re you have it: almost enough rea­sons for sen­ding my Nokia N95 into ear­ly retirement!

screen­shot: Noki­a's Video centre
Wha­t's mis­sing? Right! ==> Twib­b­le , the Twit­ter cli­ent for Sym­bi­an S60: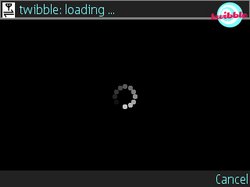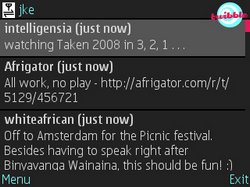 screen­shots: Twib­b­le on the E71
—
Tha­t's it! I could of cour­se also men­ti­on how I tes­ted the Psi­loc Con­nect app­li­ca­ti­on, the CO2 emis­si­on tool or Skye­Cal­ler Pro — three (com­mer­cial) app­li­ca­ti­ons avail­ab­le for down­load from Noki­a's S60 down­load web­site. But I'll stop here and will ins­tead tell you: if you'­re inte­res­ted in get­ting a decent QWERTY pho­ne that just get's the job done and pro­vi­des much more tac­ti­le feed­back than any touch­screen pho­ne will cur­r­ent­ly give you, go to your nea­rest dea­ler and touch the pho­ne with your own hands.
While tes­ting the E71 for the first time (in a shop), I thought that my fin­gers are too big for this tiny key­board. But don't be foo­led, typ­ing is easier than assu­med and I've been con­stant­ly com­pa­ring the QWERTY key­board with the restric­ted T9 text input on my N95, just to see which method I pre­fer. I am used to T9 text input sin­ce ages now, and am thus a bit fas­ter with the T9 method. Using two fin­gers on the E71 though, I am fas­ter than using only my right thumb on the T9 key­pad. And this after only a few days of using the E71! So if you want a QWERTY pho­ne — go for it! — and don't be afraid of the­se tiny keys.
Oh, and did I men­ti­on the awe­so­me lea­ther pouch the pho­ne comes ship­ped with? Tha­t's one acces­so­ry less to purcha­se extra, and a good one inde­ed: you can easi­ly flip the pho­ne out and see if the­re'­re any new messages.
So, com­pa­red to cars, the E71 is just like an Audi A6 Avant (while my N95 is like a Toyo­ta Pri­us now :-).
Hope you enjoy­ed this review!