On to the last part of my extended Nokia E71 review!
It feels like there's so much more to mention on this phone, especially if you regard it as your electronic workhose that not only has to deliver basic office functionality, but also manage your business and private life.
What I can tell so far is that it is a very valid candidate that could send my N95 into early retirement. IF only the camera was better on the E71, I'd immediately switch and try to find a cheap contract online that subsidizes the E71. But it isn't. The camera module (& it's Carl Zeiss lenses) is the No. 1 reason why I'll keep my N95 for the time being and maybe switch to an N79 one day or, even better, wait for the upcoming E72 & E75 models.
If I was still stuck with my old Nokia 6230i though and wasn't spoiled by the multimedia capabilities of the N95 (e.g. video editor on board), I'd probably take the E71 right on. Again, if you're interested in taking photos in darker surroundings (~ in a restaurant for a business dinner), there are other, better camera phones than the E71. As for the Nokia range of phones, I'd recommend those with a Xenon flash anyways.
So what about the "business & private life" issue?
The Nokia E71 comes with two adjustable home screens so that you can switch from a home to a business mode. I call it "mode" as all Nokias also come with different profiles – so the work-around/solution to his has in the past been to simply switching profiles via a short touch of the power button on top. Profiles, however, only contain different sound settings.
[all screenshots have been resized from 320×240 to 250×187]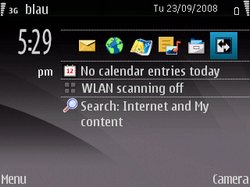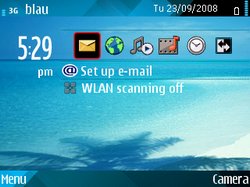 screenshots: work & leisure home screens – note the different short cuts on the stand-by menu
This new mode – Nokia also calls it the "work & leisure modes" – provide two completely different home screens with different wallpapers, themes and short cuts on the home screen. Also, if you prefer the older S40 view and/or can't decide between the standby view with short cuts and that older S40 homescreen (empty screen), just configure both modes accordingly – so that you can switch screens at the touch of a button.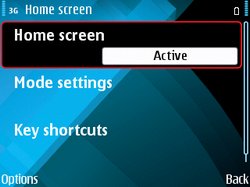 screenshots: switching profiles & configuring home screens
I haven't actually used this as I am also one of those guys who don't use a dockbar on the desktop (~ Apple OSX) or any Launchy tools for quick starts. To me, one home screen is enough. On the other hand, this simple switch provides the flexibility to turn your E71 from a pure business workhorse into a multimedia machine without remapping the short-cuts on the standby / home screen.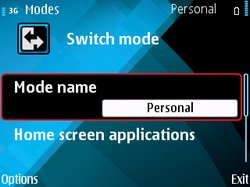 screenshots: switching modes & the (root) menu
Talking about those special business needs – what else does the E71 have to offer?:
Printing
Did you know you can actually send your documents from the phone to a printer? I do have a very nice HP OfficeJet 7210 printer with a network interface, but it currently isn't connected to my home network so I can't test this. So I can only assume it's working.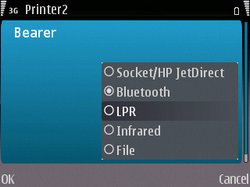 screenshots: configuring the printer (note the various options!)
Text-2-Speech
I've already mentioned the Speech Synthesis on my previous post and also showed you a video of how that's done. This is REALLY COOL! Of course I couldn't resist and installed a Japanese version along the mandatory German & English output.

screenshots: configuring language packs for the Speech Synthesis
But still, this isn't all! You can just as well activate a function called "voice aid" where this voice will also read out information on recent calls, contacts, provide a voiced dialler, clock and also let you put in voice commands. Voice commands! As mentioned, it used to be nice on the 6230i, but I just don't know why Nokia changed that with S60. Voice commands are a bit confusing (to me) as they are first read out by a synthetic voice (which can be deactivated). My feedback to Nokia: add some vibrations to the dialler so that visually impaired users are also guided around by a vibrating device.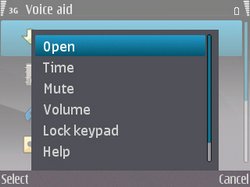 screenshots: Voice aid on the E71 and the dialler
Deactivating the synthetic voice….actually, this is what I like about the S60 platform and what many ppl forget about it: Symbian S60 is so flexible and dynamic, and you can just as well install a Mobile Python interpreter and write your own little programms. Now try that with an iPhone! And Google's Android? Well…. those who jumped the train for Google's Chrome browser may like it, but I still feel a bit uncomfy about giving all my data into the hands of one company. I am of course also eyeing to get my hands on a Google G1 Android phone (note the clock! lol), but if there's one thing I've learned from the Nokia N95, then it's to wait for at least one year after a phone has hit the market. Besides, who needs widgets on a phone screen? On an iPhone they do make sense, but other than that? Hmm…
See, the E71 is a business phone, and companies don't want to invest too much money IT managers couldn't persuade the purchasing dept. in buying unreliable products. I think the N95 was mainly bought by freaks like me who are willing to accept certain flaws or banana software and even its prototype-like design. Not so the E71, which just has to deliver.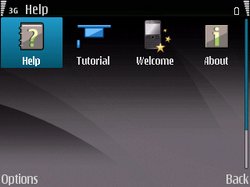 screenshots: the phone's internal tutorial: take the manual with you!
And it delivers. It gives you VPN access to your company's network (aptly named "intranet" ), enables you to encrypt the phone as well as the microSD memory card and even provides a mobile dictionary – which of course may also be read out to you via the speech synthesis.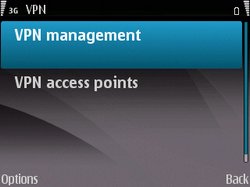 screenshots: Encryption & VPN-access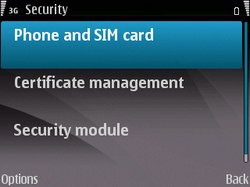 screenshots: activate some security measures
The sweetest feature though is the remote lock : simply send a pred-defined sms to the device and the phone will be locked. Great!
Need more software? Just search for it from the phone or open the "Download!" application (@Nokia: this application isn't very user friendly..)

screenshots: Google search & Download!
The Wi-Fi is also very nice – I think it's even much better than the one on my N95 (which may be due to a different antenna position and other hardware improvements). I've configured the E71 with my Sipgate (VoIP) account so I'm able to do Voice over IP / internet calls with a fixed number from either home or the office. Other than that, Fring also runs on the E71, so you can go on chatting via Skype, GoogleTalk, ICQ, MSN, Twitter and so on right from the phone. Fring is just great, and with a true QWERTY phone it makes much more fun to actually type in messages while being mobile. No wonder they preloaded the latest Nokia phone, the N96, with a fresh installation of Fring!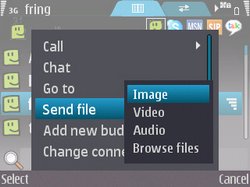 screenshots: Fring in use on the E71
Another nifty feature I've already come to appreciate with the N95 is the barcode reader (see the barcode on the bottom of the right sidebar here) . You can of course also download a reader to your phone if it doesn't already have one, but in this case, it's just right there on the menu and I will tell you why I like it so much: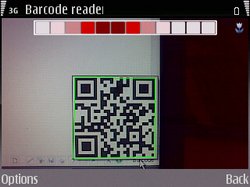 screenshot: the QR-Code reader
There's this Firefox plugin that creates on-the-fly 2D ("QR-") barcodes of any page currently loaded and sits in the bottom right of your Firefox browser window. Let's say you're on a page that says "access this site with your mobile phone's browser to download our application directly to the phone" (e.g. OperaMini, Twibble, etc.). Now, instead of retyping the URL into your phone, just move your mouse over the barcode plugin and scan the generated barcode with your phone. Et voil? , the URL is ready to be used on the phone!
GPS/Maps
Sure, there's Nokia's Maps 2.0 application that works right out-of-the-box with a fast GPS chip. Nokia Maps changed from the intial version that came shipped with the old firmware on the N95, and while you can download maps from Nokia's website and load them onto the phone's memory, others prefer other commercial solutions – and I prefer Google Maps. Google Maps just does the job for me! Besides, it's free and much more intuitive for basic mapping needs.

screenshots: Google Maps on the E71, displaying Waruku & area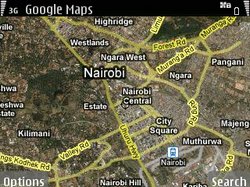 screenshots: greater Nairobi and an aerial view of the "jungle" (~kibra)
Needless to say I also downloaded the wonderful Nokia Internet Radio application that provides streaming radio stations from all over the world. Including Radio Okapi and all SomaFM streams for all my Soukous & Electronic/Indy needs.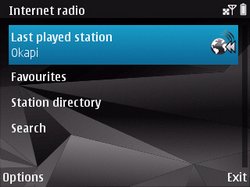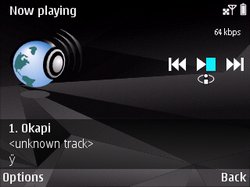 screenshots: Nokia Internet Radio
Add Nokia's Video centre, download various video podcasts and there you have it: almost enough reasons for sending my Nokia N95 into early retirement!

screenshot: Nokia's Video centre
What's missing? Right! ==> Twibble , the Twitter client for Symbian S60: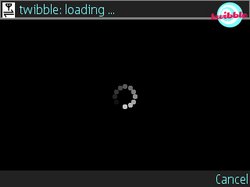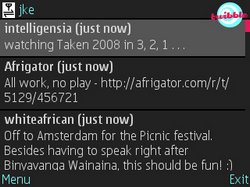 screenshots: Twibble on the E71
—
That's it! I could of course also mention how I tested the Psiloc Connect application, the CO2 emission tool or SkyeCaller Pro – three (commercial) applications available for download from Nokia's S60 download website. But I'll stop here and will instead tell you: if you're interested in getting a decent QWERTY phone that just get's the job done and provides much more tactile feedback than any touchscreen phone will currently give you, go to your nearest dealer and touch the phone with your own hands.
While testing the E71 for the first time (in a shop), I thought that my fingers are too big for this tiny keyboard. But don't be fooled, typing is easier than assumed and I've been constantly comparing the QWERTY keyboard with the restricted T9 text input on my N95, just to see which method I prefer. I am used to T9 text input since ages now, and am thus a bit faster with the T9 method. Using two fingers on the E71 though, I am faster than using only my right thumb on the T9 keypad. And this after only a few days of using the E71! So if you want a QWERTY phone – go for it! – and don't be afraid of these tiny keys.
Oh, and did I mention the awesome leather pouch the phone comes shipped with? That's one accessory less to purchase extra, and a good one indeed: you can easily flip the phone out and see if there're any new messages.
So, compared to cars, the E71 is just like an Audi A6 Avant (while my N95 is like a Toyota Prius now :-).
Hope you enjoyed this review!