What's eyeOS?
EyeOS is virtual desktop / operating system accessible through a browser. Or as they describe it on their website:
eyeOS is a new kind of Operating System, where everything resides on a web browser. With eyeOS, you will have your desktop, applications and files always with you, from your home, your college, your office or your neightboor's house. Just open a web browser, connect to your eyeOS System and access your personal desktop and all your stuff just like you left it last time.
[youtube Zt35LLcMlcM nolink]
So I've downloaded their latest release and installed it on my webspace. Note: I am still on 1&1 (1und1.de / 1and1.com) due to historic reasons (urgently need to switch to a cheaper host though – any recommendations that really work & are reliable? Uptime on 1&1 has been great in the past but they are just crazy about mySQL dbs and other extras. Automatization / user admin panel is still very nice on their system so any other cheaper service would need to offer a good admin panel as well. thx!) and eyeOS requires php 5 in order to run. 1&1 offers both php 4 and 5, but 4 is the default setting. In order to use php 5 on your 1&1 server, you'll need to rename all files from .php to .php5 and likewise all links / references / calls to other php files within the install.php & index.php. Did that and it just works fine: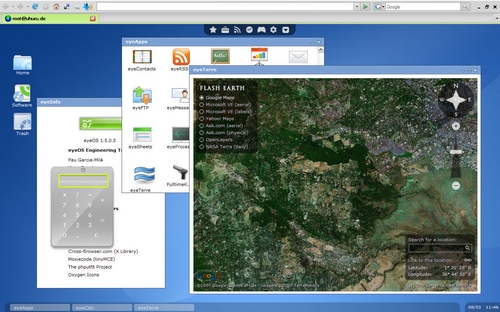 You can test it for yourself on eyeOS.info and I recommend to set your browser to fullscreen view (F11?) in order to fully enjoy the desktop.
So WHY is this interesting?
It's a personal, virtual desktop offering some basic progs like word (based on the tinyMCE editor as in WordPress) or a spreadsheet program, but also games, a calculator, etc – basically, everyting that will be developed for it – so there sure is much more to come.
There are moments when you are on a very restricted computer which doesnt provide much flexibility except for an inet connection. Sure you could use Google Documents or even PortableApps on a USB flash disk (I've introduced PortableApps at our office because ppl wanted to use Firefox instead of MSIE 6!!.0 without running into trouble with the IT dept.), but maybe there's no USB port available and/or you don't have a Google account?
It comes with an FTP client. The ftp port 21 is closed @ my place of work, so the only way to use ftp is by using a) an unsecured wifi connection (ftp is plain text anyways) or b) using such a remote ftp client.
It is platform independent! Access your eyeOS desktop via WinOS, MacOS, LinuxOS – any browser with JavaScript will do! Doesnt work via the Symbian S60 V3 browser (based on the Safari core) and OperaMini though.
You may want to access all your data in a customizable environment without worrying about carrying USB flash memory around.
Would this work on a server and low-cost terminals connected that just have a browser? => @ University – could be an interesting idea for local networks, if not already realized (haven't combed through their wiki actually, these are just my impressions so far).
There's no additional software needed! No need for special client software except for a working browser.
Imho, eyeOS is a very interesting alternative to….to what? To a virtual machine in the network via VMWARE or a remote VNC connection? Maybe. I think it rather indicates that the future is all about "being connected" = networked computers and that data will then be stored on a main server somewhere, accessible from anywhere in the world. Storing devices such as CDs, DVDs, USB flash disk are the best indicator to see how everything quickly changes from long-time archives to fast-and-forget memory. Following this line of thinking, the question of illegal downloades could one day just be solved as all multimedia files could remain on a central repository and usage (you dont need to physically"posses" data on your hard drive – you just want to use it, right?) would be paid for. Sure there would be ways to crack or bypass that but that's just another question.
As for now, as broadband / fast inet connection isn't available everywhere in the world, I tend to regard this only from a local area network perspective. Has this already been implemented at a local university? => Skunkworks Kenya / Kenyatta University?
I like eyeOS because it doesn't require much to work. It's simple, it's efficient, it wins.