Barbara of the GI in Nairobi forwarded the following invitation to a public forum, which? I? think? is? of? public? interest,? hence? the? desire? to? reblog? this? on? my? blog.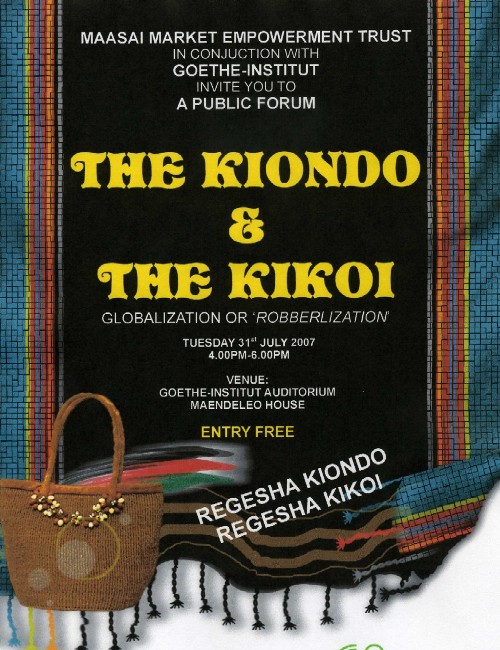 PRESS RELEASE
PUBLIC FORUM
"THE KIONDO AND THE KIKOI"
Tuesday 31st July 2007
4.00 pm to 6.00 pm
Goethe-Institut Auditorium
(=> Maendeleo House, Nairobi)
"The Maasai Market Empowerment Trust in partnership with Legal Research and Advisory Centre invites to a Public Forum "The Kiondo & The Kikoi".This is a cooperative effort in the highlighting and development of Intellectual Property Rights in Kenya.
The forum brings together artisans, designers, producers, legal officers, law enforcers, activists and policy makers to deliberate, trouble shoot and strategizse on how to tackle intellectual property issues specifically in regard to the Kiondo and Kikoi in an attempt to preserve the Kenyan heritage.The Maasai Market Empowerment Trust is a non profit making organization whose key xobjective is to uplift the standards of living of the people in the Curio-Crafts industry. It is registered as a public charitable trust and is led by a board of trustees drawn from the industry and from other strategic movements with similar ideals."
I? wish? I? could? just? attend? this? event,? especially? since? this? matter? of? Intellectual Property? Rights? is? something I had blogged about two years ago – after stumbling across an interesting paper by James Shikwati on this matter. I recently met someone of the? (liberal) FNFoundation during an event organized by the GTZ and was pleasantly surprised to find Shikwati's paper among those primary papers they displayed as proof of their work. Kenyanism everywhere :-)
Also, I am using a picture of a Kikoi I bought on Maasai Market as the header logo of my blog. I founded a Kikoi group on the German equivalent of Facebook, Studivz.de, and am having a particular interest in promoting this part of the Swahili culture as found on the Kenyan coast line. I never travel without one of my Kikois, and as such find myself at terrible unease to associate the brand name "Kikoi(y)" with a UK based privately held company.