The­re was this manage­ment work­shop for a gazett­able paper which made us book rooms @ Embu's Min­ni Inn. The place its­elf is very basic, but com­pa­red to my new flat in Embu down­town it is pure luxu­ry. Things are a litt­le bit dif­fe­rent over here. Whe­re­as Nai­ro­bi ppl would be spoilt enough to expect cer­tain things, Embu stan­dards are ori­en­ta­ted on the rural com­fort, mea­ning: anything that exceeds fet­ching water from the river is con­si­de­red luxury.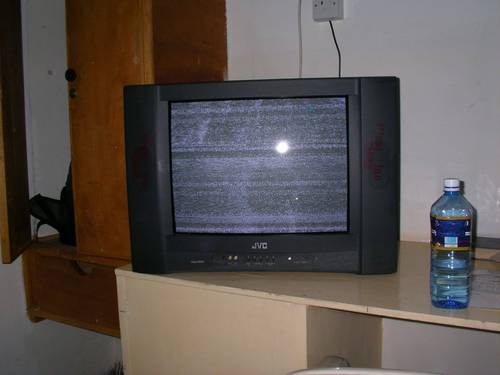 A per­fect examp­le for the typi­cal ken­ya­nes­que over­state­ment is that they'­ve put huge tv sets in each room — des­pi­te the fact that the­re's real­ly poor recep­ti­on of tv signals (at least) in this part of Embu. "Plea­se do not try to adjust tv chan­nels" it says on the room information.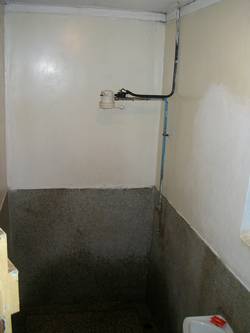 In the very same room you'll find a bro­ken toi­let seat and one of tho­se ita­li­an water hea­ters (!!) instal­led on the sho­wer which — of cour­se — is out of order. A brand new tv set and poor sani­ta­tio­nal faci­li­ties? Now how does that match?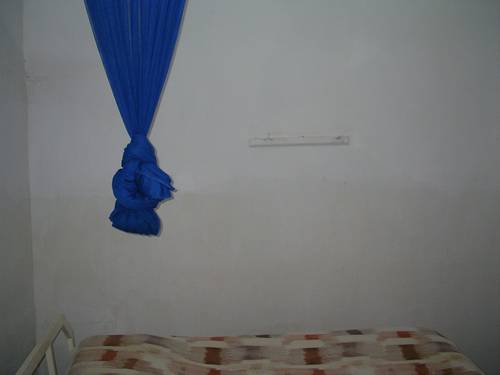 And the best part was this array of nails on a pie­ce of wood — nai­led to the midd­le of the wall BEHIND the bed which was sup­po­sed to be some sort of coat hooks. Aterere.…
The first night all guest were woken up at 1 am and 3 am but loud noi­ses com­ing from the Bar area. Sin­ce the Bar offi­cial­ly clo­ses down at 11 pm, it was obvious that the watch­man would be the one to be bla­med: an old aska­ri who does­n't speak Eng­lish and who tur­ned up the volu­me of the instal­led tv set (+ poor signal recep­ti­on!) in order to stay awa­ke and get some entertainment.
The first night we pray­ed for a power fail­u­re and things even­tual­ly sett­led at 3.30 am, the second night the noi­ses came back and so I went to the Bar at 4 am and found this old aska­ri sit­ting the­re like a dumb sheep. "Kelele.….mbaya.…na haku­na maji". When I woke up at 4, the­re was no water in the who­le place. How come? The hotel has 4 huge con­tai­ners and a fer­ro­ce­ment tank but the pump is a litt­le bit faul­ty and needs to be con­tin­ous­ly swit­ched on and off in order to work. The guy in char­ge of that (who??) appar­ent­ly for­got to take care of it.
"Sta­ti­on under new manage­ment" — one often reads this mar­ke­ting slo­gan on petrol sta­ti­ons. I wish this could be app­lied on Min­ni Inn as well. With the right manage­ment and some more dili­gence / speed by the employees, this place could rock. But ins­tead they pre­fer to let them­sel­ves go. Ok ok, they have never been to pla­ces like The Grand Regen­cy, Sere­na, Heming­way­'s (the toi­lets!), etc etc to see wha­t's pos­si­ble, and no one expects a midd­le class hotel to offer the same luxu­ry as a 4 star Hotel. Howe­ver, the­re are a few things that just requi­re litt­le amounts of money and some time in order to make guest feel very welcome.
Min­ni Inn Ltd., Embu
sin­gle room 250/= Kshs.
sin­gle room (self con­tai­ned) 500/= Kshs.
dou­ble room (self con­tai­ned) 1.000/= Kshs.
One of the few moments when peop­le are brought tog­e­ther in unity (watching soccer :-).
Uga­li, fried pota­toes and nya­ma, nya­ma, nyama.….
…you eat nya­ma all day long and end up lon­ging for such a pla­te full of vege­ta­booools na fruits.
My won­der­ful col­leagues have found a nice flat/room for me in Embu for 3.500/= /month. Very secu­re, with a nice view on Embu. The pre­vious ten­ant has been a Soma­li who slept on the floor and who left the place cove­r­ed with rub­bish when he moved out. Did he get his depo­sit back? If you do this in Ger­ma­ny, your landlord will track you down and kick your butt until it real­ly hurts. Sin­ce the place is so popu­lar with Embu folks, the landlord would­n't have probs ren­ting it out so clea­ning is a mat­ter left to the next ten­ant. Which would be me.