There was this management workshop for a gazettable paper which made us book rooms @ Embu's Minni Inn. The place itself is very basic, but compared to my new flat in Embu downtown it is pure luxury. Things are a little bit different over here. Whereas Nairobi ppl would be spoilt enough to expect certain things, Embu standards are orientated on the rural comfort, meaning: anything that exceeds fetching water from the river is considered luxury.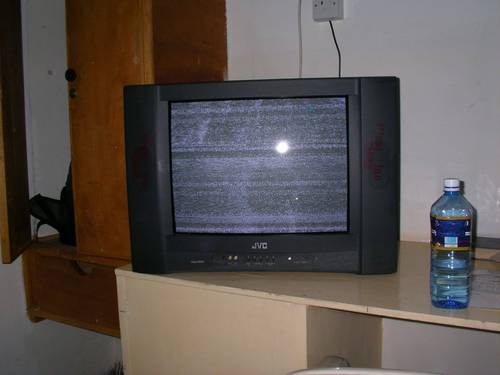 A perfect example for the typical kenyanesque overstatement is that they've put huge tv sets in each room – despite the fact that there's really poor reception of tv signals (at least) in this part of Embu. "Please do not try to adjust tv channels" it says on the room information.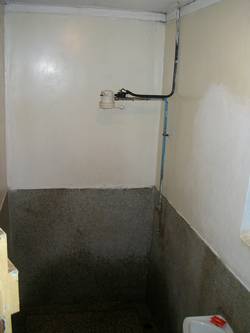 In the very same room you'll find a broken toilet seat and one of those italian water heaters (!!) installed on the shower which – of course – is out of order. A brand new tv set and poor sanitational facilities? Now how does that match?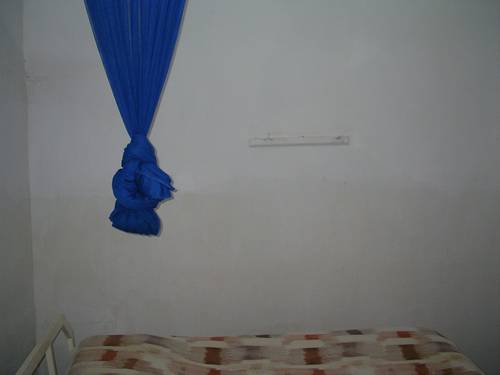 And the best part was this array of nails on a piece of wood – nailed to the middle of the wall BEHIND the bed which was supposed to be some sort of coat hooks. Aterere….
The first night all guest were woken up at 1 am and 3 am but loud noises coming from the Bar area. Since the Bar officially closes down at 11 pm, it was obvious that the watchman would be the one to be blamed: an old askari who doesn't speak English and who turned up the volume of the installed tv set (+ poor signal reception!) in order to stay awake and get some entertainment.
The first night we prayed for a power failure and things eventually settled at 3.30 am, the second night the noises came back and so I went to the Bar at 4 am and found this old askari sitting there like a dumb sheep. "Kelele…..mbaya….na hakuna maji". When I woke up at 4, there was no water in the whole place. How come? The hotel has 4 huge containers and a ferrocement tank but the pump is a little bit faulty and needs to be continously switched on and off in order to work. The guy in charge of that (who??) apparently forgot to take care of it.
"Station under new management" – one often reads this marketing slogan on petrol stations. I wish this could be applied on Minni Inn as well. With the right management and some more diligence / speed by the employees, this place could rock. But instead they prefer to let themselves go. Ok ok, they have never been to places like The Grand Regency, Serena, Hemingway's (the toilets!), etc etc to see what's possible, and no one expects a middle class hotel to offer the same luxury as a 4 star Hotel. However, there are a few things that just require little amounts of money and some time in order to make guest feel very welcome.
Minni Inn Ltd., Embu
single room 250/= Kshs.
single room (self contained) 500/= Kshs.
double room (self contained) 1.000/= Kshs.
One of the few moments when people are brought together in unity (watching soccer :-).
Ugali, fried potatoes and nyama, nyama, nyama…..
…you eat nyama all day long and end up longing for such a plate full of vegetabooools na fruits.
My wonderful colleagues have found a nice flat/room for me in Embu for 3.500/= /month. Very secure, with a nice view on Embu. The previous tenant has been a Somali who slept on the floor and who left the place covered with rubbish when he moved out. Did he get his deposit back? If you do this in Germany, your landlord will track you down and kick your butt until it really hurts. Since the place is so popular with Embu folks, the landlord wouldn't have probs renting it out so cleaning is a matter left to the next tenant. Which would be me.