Thx for ever­yo­ne's comments so far + all the good wis­hes. I real­ly appre­cia­te that.
First impres­si­ons: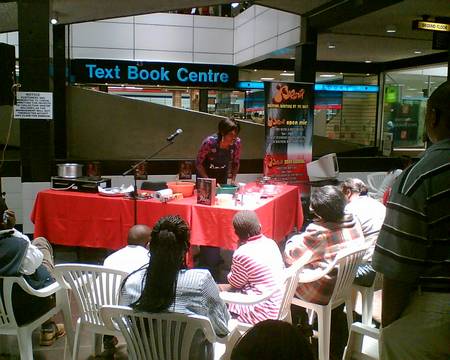 lite­ra­tu­re & coo­king @ Sarit Cent­re Satur­day morning
(they were play­ing Ukoo Fl. as back­ground tune…hoho…cool)
Micha­el Jack­son (top) look-ali­ke com­pe­ti­ti­on @ a local kinyozi…scary!
Now, upon arri­val, I was extre­me­ly lucky enough that Madame Mbu­zi­mo­ja offe­red me her "new" car for use while I am in Nbo (this week and next). Howe­ver, the word "new" stands for a real­ly worn out, old, ******* up pre-1990s Suzu­ki Sierra/Samurai (1.3l) that first of all needs to expe­ri­ence lots of ten­der, loving care (TLC) befo­re it could be send back on the road for lon­ger duties. The deal was that I get the car and pay for the repairs. A fair deal, I think.
I went to West­lands on Sato asub­uhi and tried to find some good shops whe­re I would get spa­re parts ("hel­lo, do you have spa­re parts?" — "yes, we do — what do you need?" — "well, I am loo­king for a new head lamp, a sea­led beam for my Suzu­ki…" — "Oh, I am sor­ry, we don't have car access­ories…" (lamp is not a spa­re part??)). Any­ways, West­lands tends to suck from time to time and the traf­fic jams were hor­ri­boooool so I con­ti­nued dri­ving off to KANGEMI.
Behind Kan­ge­mi the­re is an area cal­led Moun­tain View. When I left Nai­ro­bi 10 years ago, the­re was not­hing the­re, only stalls and 600/= rooms. Now the area has deve­lo­ped (loo­ks gre­at), and with lots of GoK ppl living the­re, I was told it is a nice place, electri­ci­ty + water are avail­ab­le. Plus, it takes you about 20 min to get to the city cent­re from the­re. I real­ly digg that area for its con­ve­ni­ent loca­ti­on. Any­ways, behind Moun­tain View the­re's a small gara­ge run by an old friend I had­n't seen sin­ce 10 years. Things chan­ge, but some remain the same even after such a long time. The gara­ge is still the­re and upon arri­val, I asked for Wachi­ra and he quick­ly rus­hed out from under­ne­ath a car.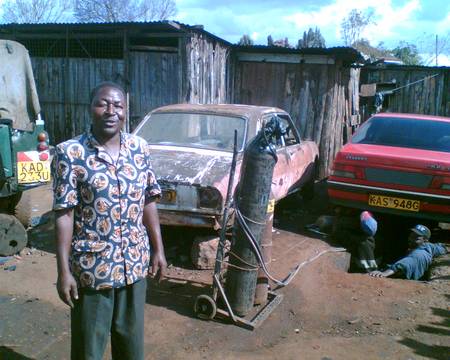 Wachi­ra of Moun­tain View Garage
(the Peu­geot 504 in the back­ground is used as a locker)
See­ing him again after all the­se years was gre­at and after we exch­an­ged some memo­ries of the times back then, I exp­lai­ned my probs with the Suzu­ki (head lamp, ther­mo­stat, holes and dents that nee­ded some wel­ding, etc.) and he quick­ly cal­led all his spe­cia­li­zed fun­dis (the electri­ci­an, the wel­der, the colour guy) to fix this and that. 2hrs later and we were done. Perfect!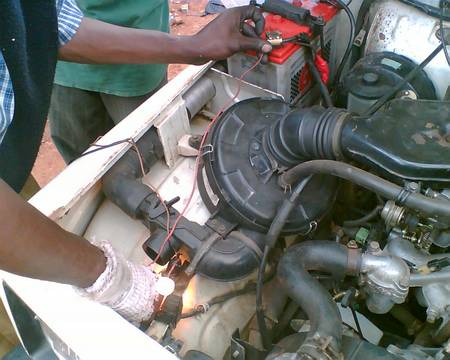 iden­ti­fiy­ing the eart­hing-mmprrobb­bree­emmm with a sim­poool lamp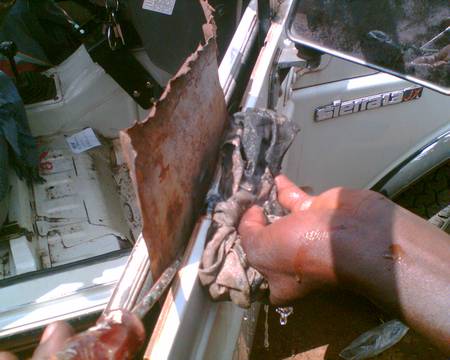 wel­ding the ram­shack­led door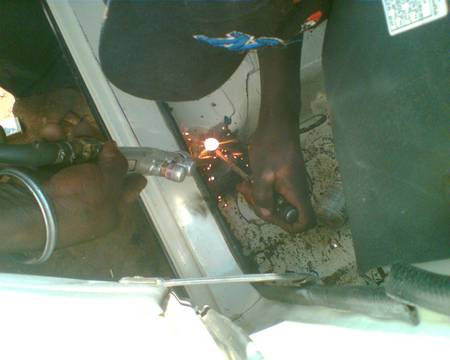 wel­ding a hole in the floor under­ne­ath the dri­vers seat…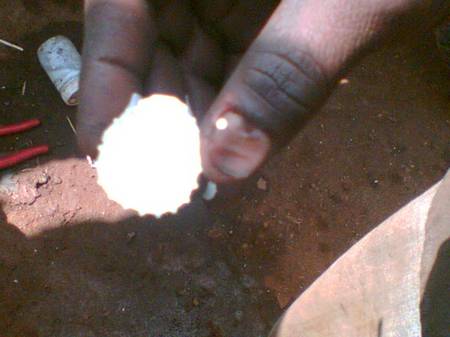 The fun­niest thing was the "colour-guy" — a young "trai­nee" had been sent to orga­ni­ze white paint to repaint the wel­ded spots and he retur­ned with a crown cap full of white paint (=ori­gin of Crown Paints?! :-). About 1ml of paint! ROFL!! Well, it worked so why worry? :-)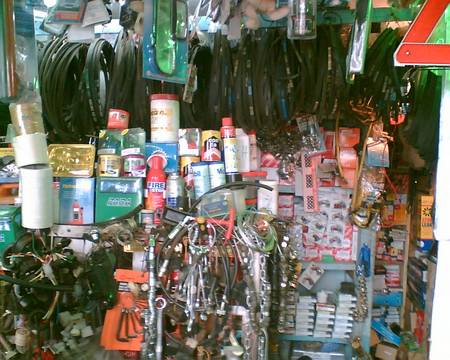 The ther­mo­stat was­n't in stock so we went back to the bridge/flyover in Kan­ge­mi whe­re a shop sells spa­re parts & acces­so­ry for Matatus.
Les­son lear­ned: some things might take some time but if you know what you want and whe­re to get it, you can save a lot of time, money and pain. Thx, Wachira!
Btw, did you know that they have been try­ing to install new street lights on the highway?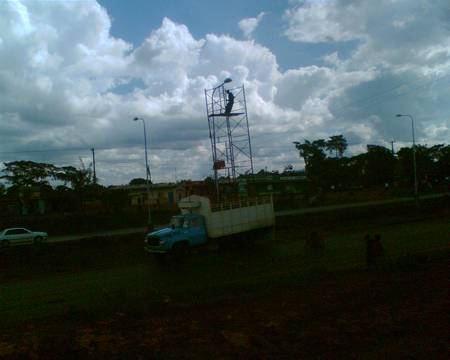 Wachi­ra told me that the com­pa­ny main­tai­ning the­se lamps had been too gree­dy to invest some money into a decent cra­ne. Well, this solu­ti­on works but given that they will always need to fix some lamps, they should real­ly look out for an alter­na­ti­ve solution.
AOB: Yeah, why not??
(Cool — blog­desk seems to be working. Blog­desk = off­line blog edi­tor that hel­ps to upload ever­ything at once while pro­vi­ding a WYSIWYG edi­tor tha­t's even bet­ter than the inter­nal wor­d­press editor.)
As for blog­ging from the road — I am 100% with you, Men­tal! Java House is one of the most expen­si­ve, yet also most comfy ways to get things online in Nbo unless of cour­se you are enjoy­ing Inet @ work (what I hope­ful­ly will by next week :-). Oh, did I alrea­dy men­ti­on their wlan access also works from the par­king lot? ^^
@Hash: does this qua­li­fy as afri­gad­get mate­ri­al? I even shot a short clip with my pho­ne which still needs some editing…