Thx for everyone's comments so far + all the good wishes. I really appreciate that.
First impressions: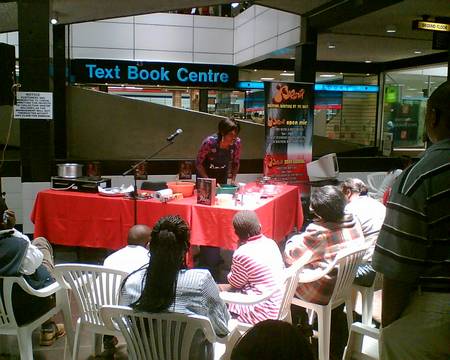 literature & cooking @ Sarit Centre Saturday morning
(they were playing Ukoo Fl. as background tune…hoho…cool)
Michael Jackson (top) look-alike competition @ a local kinyozi…scary!
Now, upon arrival, I was extremely lucky enough that Madame Mbuzimoja offered me her "new" car for use while I am in Nbo (this week and next). However, the word "new" stands for a really worn out, old, ******* up pre-1990s Suzuki Sierra/Samurai (1.3l) that first of all needs to experience lots of tender, loving care (TLC) before it could be send back on the road for longer duties. The deal was that I get the car and pay for the repairs. A fair deal, I think.
I went to Westlands on Sato asubuhi and tried to find some good shops where I would get spare parts ("hello, do you have spare parts?" – "yes, we do – what do you need?" – "well, I am looking for a new head lamp, a sealed beam for my Suzuki…" – "Oh, I am sorry, we don't have car accessories…" (lamp is not a spare part??)). Anyways, Westlands tends to suck from time to time and the traffic jams were horriboooool so I continued driving off to KANGEMI.
Behind Kangemi there is an area called Mountain View. When I left Nairobi 10 years ago, there was nothing there, only stalls and 600/= rooms. Now the area has developed (looks great), and with lots of GoK ppl living there, I was told it is a nice place, electricity + water are available. Plus, it takes you about 20 min to get to the city centre from there. I really digg that area for its convenient location. Anyways, behind Mountain View there's a small garage run by an old friend I hadn't seen since 10 years. Things change, but some remain the same even after such a long time. The garage is still there and upon arrival, I asked for Wachira and he quickly rushed out from underneath a car.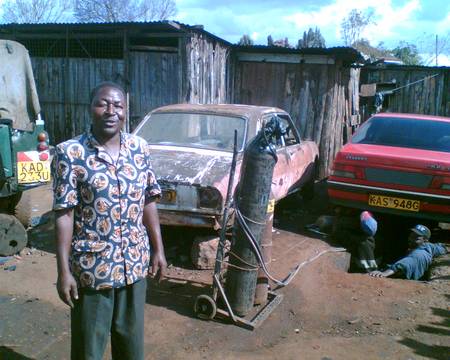 Wachira of Mountain View Garage
(the Peugeot 504 in the background is used as a locker)
Seeing him again after all these years was great and after we exchanged some memories of the times back then, I explained my probs with the Suzuki (head lamp, thermostat, holes and dents that needed some welding, etc.) and he quickly called all his specialized fundis (the electrician, the welder, the colour guy) to fix this and that. 2hrs later and we were done. Perfect!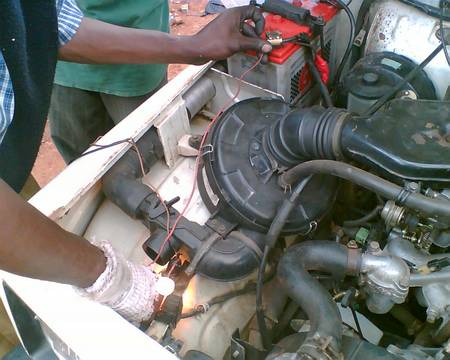 identifiying the earthing-mmprrobbbreeemmm with a simpoool lamp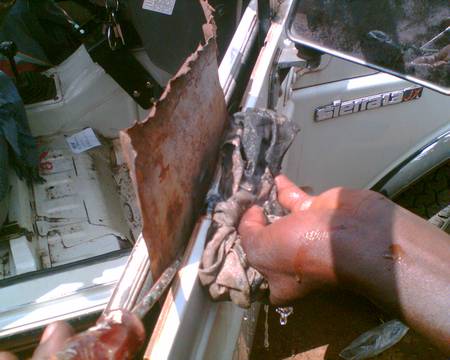 welding the ramshackled door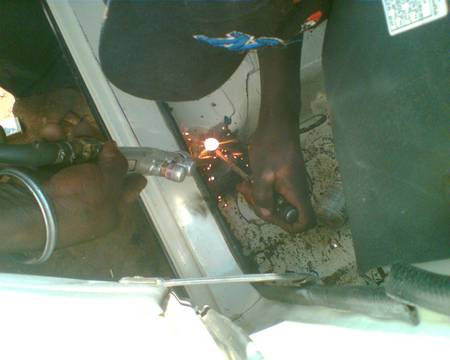 welding a hole in the floor underneath the drivers seat…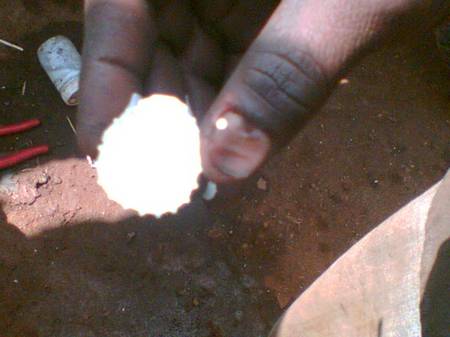 The funniest thing was the "colour-guy" – a young "trainee" had been sent to organize white paint to repaint the welded spots and he returned with a crown cap full of white paint (=origin of Crown Paints?! :-). About 1ml of paint! ROFL!! Well, it worked so why worry? :-)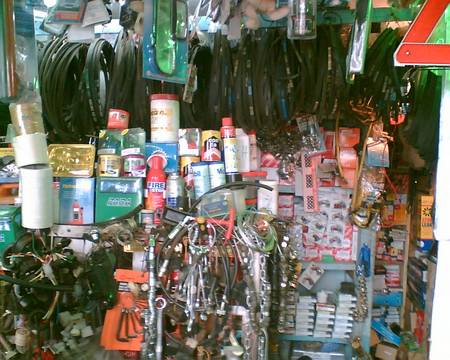 The thermostat wasn't in stock so we went back to the bridge/flyover in Kangemi where a shop sells spare parts & accessory for Matatus.
Lesson learned: some things might take some time but if you know what you want and where to get it, you can save a lot of time, money and pain. Thx, Wachira!
Btw, did you know that they have been trying to install new street lights on the highway?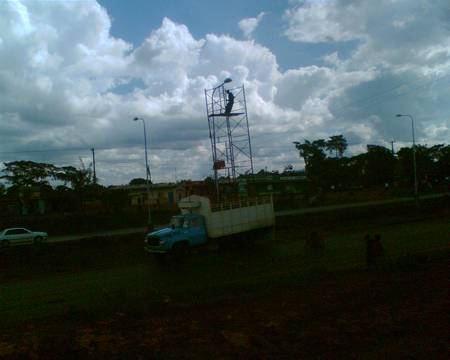 Wachira told me that the company maintaining these lamps had been too greedy to invest some money into a decent crane. Well, this solution works but given that they will always need to fix some lamps, they should really look out for an alternative solution.
AOB: Yeah, why not??
(Cool – blogdesk seems to be working. Blogdesk = offline blog editor that helps to upload everything at once while providing a WYSIWYG editor that's even better than the internal wordpress editor.)
As for blogging from the road – I am 100% with you, Mental! Java House is one of the most expensive, yet also most comfy ways to get things online in Nbo unless of course you are enjoying Inet @ work (what I hopefully will by next week :-). Oh, did I already mention their wlan access also works from the parking lot? ^^
@Hash: does this qualify as afrigadget material? I even shot a short clip with my phone which still needs some editing…